Doctor Strange in The Multiverse o Madness - The Loop
Play Sound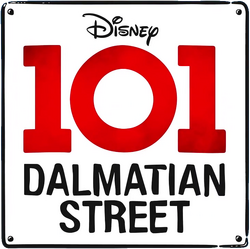 The following is a list of episodes of 101 Dalmatian Street, listed in the order they originally aired.
The show premiered in spring 2019 in the UK, Europe, Middle East and Africa, before airing in the rest of the world later the same year.
The series would also be distributed by the Disney+ streaming service in the US.
Series Overview
Season
Episodes
Originally aired
Season premiere
Season finale
1
52
March 18, 2019
February 22, 2020[1]
Season One (2019-20)
No. in
Series
No. in
Season
Title
Original Airdate
Production
Code
01
1
"Dog's Best Friend"
March 18, 2019
101
While cleaning the house after the pups made a mess, Dylan notices about his next door neighbour Clarissa having a human doing chores, and he wishes that he had a human "pet" to do all of his chores for him. Dizzy and Dee Dee overhear, and decide to bring him one of whom they nicknamed "Mr. Fuzzy". They take him to 101 Dalmatian Street, much to Dylan's surprise as he tries to get him out of the house. He eventually warms up to the human and sees this as an opportunity to train him to do chores, but to no avail. The commotion from Mr. Fuzzy wakes Doug up, who discovers Dylan let a human into the house and he immediately lectures him. Later, after making a bigger mess of the household, Dylan follows his father's advice and brings him back "with his own kind". He lures Mr. Fuzzy outside by stealing his phone and bringing it to the park, where the human meets a vendor from a dating app he was using, and the two look into each other's eyes.
2
"Boom Night"
March 18, 2019
102
On the scariest night of the Dog Calendar, Doug locks the house and tells Dylan to keep everyone safe in the house, but Dolly manages to sneak out anyway. When Dylan realizes that Dorothy has followed her, he has to overcome his fear of the Boom Night in search of her.
02
3
"Power to the Puppies"
March 19, 2019
103
Dolly & Dylan clash over puppy-sitting styles, so they call a snap election to decide who shall be Top Dog, only for Diesel, the most unsuitable leader, to win.
4
"Who The Dog Do You Think You Are?"
March 20, 2019
104
Dylan finds out he has royal ancestors. Trouble erupts, however, when he embraces his royal role and the other pups are forced to wait on him hand and paw.
03
5
"Walkies on the Wild Side"
March 21, 2019
105
After Dolly teases Dylan for being too domestic, Dylan is determined to show her he can be wild and enlists Fergus to bring out his inner wolf.
6
"May Contain Nuts"
March 25, 2019
106
Dolly gets inspired by master of parkour Sid the Squirrel and begs him to show her some moves.
04
7
"Winter Funderland"
March 26, 2019
107
When the snowstorm of the century doesn't pan out as promised, Dolly takes matters into her own paws and turns the house into a frozen wonderland.
8
"Snow Day"
March 27, 2019
108
London grinds to a halt because of snow, so the family has some fun; but crisis arises when Dylan and Dolly have to get the whole family ready.
05
9
"Perfect Match"
March 28, 2019
109
Dylan is petrified when Dolly's best friend Roxy reveals that she has a crush on him.
10
"All Fired Up"
April 1, 2019
110
Dolly spends the day with Doug at the fire station, but is disappointed with the boring mood there.
06
11
"Poetry Scam"
April 2, 2019
111
Dolly claims she wrote Dylan's poems to impress Hansel.
12
"Crushed Out"
April 3, 2019
112
Dylan is desperate to win over his uber-crush, hot dog, Portia. But when he finally gets the girl, it's a case of "be careful what you wish for".
07
13
"Girls' Day Out"
April 4, 2019
113
When Dolly & Delilah have a falling out on Mother's Day, Doug reckons a day at the doggy day spa will bring them closer together. This then turns into a disaster.
14
"The Woof Factor"
April 22, 2019
114
Dolly, Dylan and Deepak take Triple-D's place in a perfume commercial, and discover being cute celebrity pooches is more difficult than it seems.
08
15
16
"The Nose Job"
April 23, 2019 (Part 1)
April 24, 2019 (Part 2)
115/116
There's a crime in the park and the evidence points to 101 Dalmatian Street, so Dylan turns detective.

After the crime in the park, Dylan thinks he can handle the investigation alone, refusing help from his little bro Diesel, who has super sniffing skills.

09
17
"My Fair Dolly"
April 25, 2019
117
When Clarissa challenges Dolly to pass as posh at the Petiquette Pooch Cup, she takes things too far, goes makeover mad, gets human'ed up and almost forgets what matters most in the process.
18
"Flea-Mageddon"
April 29, 2019
118
There's a flea outbreak at 101 Dalmatian Street! Dylan springs into action by forcing the infected into quarantine. But the source of the infestation turns out to be quite the surprise.
10
19
"A Right Royal Rumble"
August 17, 2019
119
When Clarissa tries to hog the royal visit to Camden Town, Dolly's 'revolution' causes chaos and puts poor Pearl in a pickle in the process.
20
"Dal-Martians"
August 18, 2019
120
It's payback time, Dolly and Dawkins set know-it-all Dylan up to believe that aliens have landed in Camden and that he is the only one who stands between doggy-kind and imminent annihilation!
11
21
"A Date with Destiny...Dallas and Déjà Vu"
August 24, 2019
121
Dylan worries about safety when Triple-D star in a series of increasingly dangerous stunts for an advert campaign.
22
"The Wow of Miaow"
August 25, 2019
122
Dylan's allergy of cats causes Guru-Miaow devotee Deepak to leave home and move in with their feline neighbour Constantin.
12
23
"Fear Window"
August 31, 2019
123
Dolly is bedbound and entertains herself by spying on the neighbours.
24
"The Dog House"
September 1, 2019
124
Clarissa tricks the Dalmatians into going wild.
13
25
26
"A Summer to Remember"
September 7, 2019
129/130
The Dalmatian Family take a vacation to Cornwall.

Dylan, Dolly, Summer & Spike have to rescue Doug & lDelilah from a storm.

14
27
"Long Tongue Day"
September 8, 2019
125
The pups go to the pond on the hottest day of the year when they soon found out that its crowded. Dylan and Dolly trick everybody into thinking a kraken lives under there in order to have it for themselves.
28
"Doggy Da Vinci"
September 14, 2019
126
Da Vinci creates street art that causes a sensation among the humans in Camden.
15
29
30
"London, We Have a Problem"
September 15, 2019
127/128
Dylan befriends Hunter when they discover a common love for outer space, but Hunter has plans on his own to capture the Dalmatian family, capturing Dorothy first.

After Dorothy uses the Worldwide Woof back on Dylan and Dolly, Hunter tricks Dylan into having a good with him, and then captures the other Dalmatian pups.

16
31
"It's My Party"
September 21, 2019
131
Dylan, Dolly and Diesel throw a birthday bash for Triple D.
32
"Fox in the Dog House"
September 22, 2019
132
Dolly invites Fergus to get better after he gets hit by her skateboard.
17
33
"Fetch"
September 28, 2019
133
Dylan hires Fetch, an elegant electronic assistant, to help him organize the household.
34
"Don't Push Your Luck"
September 29, 2019
134
Dolly wants to win a skating contest, and hires Big Fee as her good luck charm.
18
35
"The Curse of the Ferrydog"
February 3, 2020
135
When Dylan begins excavating the backyard and unearths some ancient artifacts, including the bones of Cerberus, Dante teams up with Portia & Spencer to teach him a terrifying lesson.
36
"The Walls Are Alive"
February 3, 2020
136
The Pups begin disappearing one by one, but who could be responsible?
19
37
"Diamond Dogs"
February 4, 2020
137
Dolly and Dylan panic when Dorothy appears to have stolen Clarissa's new collar, so they plan to sneak into Clarissa's house to return the collar.
38
"Ride Along"
February 4, 2020
138
Dolly accompanies Pearl on a day's training and realizes that there is much more to police work than she thought.
20
39
"Poodlewolf"
February 5, 2020
139
Dylan's mind gets stuck in his favorite video game, Poodlewolf!
40
"The Longest Night"
February 5, 2020
140
Dolly and her gal pals teach the boys a lesson when they're excluded from an all-boys camping trip.
21
41
"Balancing Act"
February 6, 2020
141
When Dolly decides to go skating where she is not allowed to, it's up to the other pups to save her!
42
"Dawkins Strikes Back"
February 6, 2020
142
Dawkins is fed up with being underappreciated.
22
43
"Poodlefall!"
February 10, 2020
143
Hansel joins Dylan on a quest in PoodleWolf: The Board Game.
44
"Dotty Dancing"
February 10, 2020
144
Dylan asks DJ to secretly help him learn to dance.
23
45
"Yappily Ever After"
February 11, 2020
145
When Dolly performs a stunt that ends up injuring Hugo, Delilah makes her replace him as Clarissa's humble servant!
46
"D-Factor"
February 11, 2020
146
Clarissa enlists Dylan to perform at the annual summer party.
24
47
48
"Puppy Dreams"
February 20, 2020
151/152

Dylan, Dolly and the pups are having a restless night's sleep. Their dreams are filled with adventures in space, pranking their neighbors and dance lessons!

This episode is a compliation of the Season One shorts, with the Dalmatians' dreams being used as the framing device.

25
49
"Dante's Inferno"
February 22, 2020
147
When one of Dante's predictions comes true, he starts taking risks and puts himself in danger.
50
"Better the De Vil You Know"
February 22, 2020
148
Hunter is on a mission to get Cruella's fur coat.
26
51
52
"The De Vil Wears Puppies"
February 22, 2020
149/150
101 Dalmatian Street is under siege when the Cruella Devil arrives! Will they all become a fur coat? Or will they all unite to defeat their greatest enemy!?
Season One shorts
No. in
Series
No. in
Season
Title
Original Airdate
01
01
"Merry Pups"
December 14, 2018
Dorothy is excited to open one of her presents. However, Dylan doesn't let her as it's not time to open gifts yet. Dolly is currently eyeing the presents. Dylan puts on a "hat" (which appears to be a colander) and holds Dorothy's gift. Dorothy gets tired and goes off to bed. Dylan turns on the flashlight on his hat and holds a broom in an attempt to protect the presents. Dolly, Dizzy and Dee Dee try to sneak by and get their presents early, however. As Dolly eyes the presents she signals for Dizzy and Dee Dee to go. Dylan has stacked all of the presents on top of each other in order to get a better look at everything. He notices Dizzy and Dee Dee and sets up a system that will ring bells when Dizzy and Dee Dee touch a string. Dolly begins to run and manages to avoid them all, much to Dylan's shock. She ends up startled and it's revealed Dizzy and Dee Dee got tangled up. As Dylan runs off to reprimand them, Dolly uses the opportunity to snatch a gift. However, Dylan quickly notices and the two argue over a present. All their arguing shakes the tower so much that it falls and Dylan and Dolly get tangled up in the strings, too. One present remains on the ladder: Dorothy's. It falls and the four worry the ladder will fall and hit it. Luckily, it ends up not hitting it. Unfortunately, however, and random bolt of lightning comes and strikes it as the four look on, grimacing. Tomorrow however, when Dorothy wakes up the next day she's just happy to play with the string on top of the ashes that made up her present.
02
02
"Muddy Pups"
February 18, 2019
Dylan is currently cleaning an area, until Diesel (being his dirty usual self) comes to ruin it all, making the place messy. Dylan is worried about this and follows Diesel's trail to clean up all of the dirt before cleaning Diesel himself. Diesel digs a hole, however, to become dirty again. Dylan gets worried again and Diesel (being his dirty usual self again) comes out of a hole. Dylan then tries to get Diesel to make him clean again (in a Whack-A-Mole-like style). Dylan then gets dizzy and falls asleep. In his dream, he sees a room with many holes in it. Diesel is seen popping around the room. Dylan gets scared, confused and sees the room moving with even more holes, clones of Diesel popping around in addition. The room turns into a giant Diesel head that licks Dylan as the room fills with water. When the dream sequence is over, Diesel (as his normal self) licks Dylan to wake him up. When he wakes up, he is very surprised by how clean the area is, until he accidentally spills a bucket of water. However, Dylan then changes his mind about the room being clean when Diesel shakes himself and both make the area messy again.
03
03
"Prank Pups"
February 19, 2019
Dylan tries to play a prank on Hugo, Clarissa Corgi's human, but things get a bit out of paw.
04
04
"Ransom Pups"
February 20, 2019
Clarissa Corgi has got her paws on Dolly's rubber chicken, and now Dolly wants it back!
05
05
"Target Pups"
February 21, 2019
Dylan & Dawkins attempt to make modifications to the Food Machine.
06
06
"Yoga Pups"
March 15, 2019
Deepak is meditating on Dolly's skateboard, and Dolly is trying to get it back.
07
07
"Jurassic Pups"
April 1, 2019
Fergus and Dylan take on a not so little challenge... to BUILD a pre-historic dinosaur!
08
08
"Space Pups"
April 25, 2019
Dylan is trying to dock with the space station, but Dorothy is on board and chaos ensues.
09
09
"Disco Pups"
May 16, 2019
Dolly, Roxy and Snowball are trying to make a music video but Roxy can't quite get the hang of dancing...Will they find the perfect move to record?
10
10
"Diva Pups"
May 24, 2019
Destiny, Dallas and Deja Vu are the most stylish dogs in town and really know how to work the camera, but will their competitive sides get the better of these pawsome pups?
Animals vs. Humans shorts
In these shorts, Dolly and Dylan watch and comment on a collection of live-action videos about animals and humans on a certain theme.
No. in
Series
No. in
Season
Title
Original Airdate
01
01
"Music"
April 14, 2019
02
02
"Birthdays"
April 20, 2019
03
03
"Dancing"
April 21, 2019
04
04
"Cleaning"
April 25, 2019
05
05
"Play Time"
April 28, 2019
06
06
"Food"
May 3, 2019
07
07
"Driving"
May 5, 2019
08
08
"Extreme Sports"
May 8, 2019
09
09
"Nature"
May 23, 2019
10
10
"Relaxing"
May 31, 2019
11
11
"Skills"
June 4, 2019
12
12
"Sports"
June 12, 2019
13
13
"Water"
June 17, 2019
14
14
"Winter"
June 24, 2019
15
15
"Holidays"
July 3, 2019
References