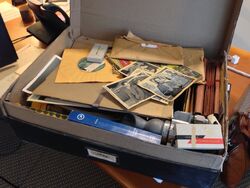 The 1952 Box is a mysterious, old box found deep within the the Walt Disney Studios Animation Building. Its contains various items and artifacts from the late 1960s. These items include reference material, concept art, photos, memos, books, comic books, newspaper clips, blueprints, machine parts, props, and other assorted relics.
The box reflects Walt Disney's unbridled optimism and hopes and dreams for a better tomorrow. The dreamy fascination with space, technology, and exploration; the drive to create innovative forms of entertainment; and the desire to harness the power of imagination to cultivate new ideas that could build a more vibrant and vital future.
The Box is the main inspiration for Brad Bird's film Tomorrowland.
Community content is available under
CC-BY-SA
unless otherwise noted.