20th Century Studios (formerly known as 20th Century Fox) is an American film studio which is a subsidiary of The Walt Disney Studios, a division of The Walt Disney Company. The studio is located on its namesake studio lot in the Century City area of Los Angeles. For over 83 years, it was one of the "Big Six" major American film studios formed from the merger of the Fox Film Corporation and Twentieth Century Pictures in 1935, until its acquisition by Disney in 2019. It is most recognizable for its logo being swanked by searchlights and a fanfare composed by Alfred Newman.
History
Pre-Disney acquisition (1935–2019)
The company began as two separate companies, Fox Film Corporation (founded on February 1, 1915, by William Fox) and Twentieth Century Pictures (founded in 1933 by Joseph M. Schenck and Darryl F. Zanuck). The two companies merged to form 20th Century Fox on May 31, 1935. Walt Disney had contacted 20th's previous incarnation, Fox Film Corporation, back in 1928 in an attempt to strike a distribution deal to use as leverage against Winkler Pictures head Charles Mintz - Winkler had contracted Disney to animate the Oswald the Lucky Rabbit cartoons, and the two had been in a dispute over payment.
In 1985, the studio was acquired by News Corporation. The studio was succeeded by 21st Century Fox on June 28, 2013, following the spin-off of its publishing assets.
Disney acquisition (2019–present)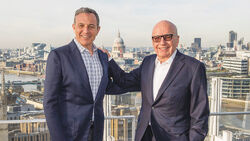 On December 14, 2017, The Walt Disney Company announced plans to purchase the entertainment assets of 21st Century Fox, which includes 20th Century Fox, for $52.4 billion. On May 23, 2018, it was reported that Comcast was planning to out-bid Disney with an all-cash offer for approximately $60 billion and on June 13, Comcast officially announced its $65 billion all-cash offer for Fox assets. One week later, Disney counterbid with a $71.3 billion offer. On July 19, 2018, Comcast officially announced that it was dropping its bid on the Fox assets. On July 27, 2018, Disney and Fox's shareholders approved the merger between the two companies. Although the deal was completed on March 20, 2019, 20th Century Fox will not relocate to the Walt Disney Studios in Burbank, but will instead continue to be headquartered on its studio lot in Century City, which is currently leased to Disney by the Fox Corporation, 21st Century Fox's successor, for seven years.
On January 17, 2020, it was announced that 20th Century Fox and Fox Searchlight Pictures would be renamed 20th Century Studios and Searchlight Pictures respectively. The renaming was done to avoid brand confusion with the then-recently formed Fox Corporation.[1]
Films produced before Disney's acquisition
20th Century Studios has a gigantic library of films, but some of its biggest franchises are Avatar, The Simpsons, X-Men, Fantastic Four, Kingsman, Alien, Ice Age, Rio, Planet of the Apes, its sequels, its remake, and reboot film series, Predator, The Sound of Music, Deadpool, The X-Files, Titanic, Anastasia, FernGully, Home Alone, Die Hard, Diary of a Wimpy Kid, Alvin and the Chipmunks, Marley & Me, Dr. Dolittle, the non-musical comedy version starring Eddie Murphy (and its follow-up films), Jingle All the Way, Garfield (of which the franchise was acquired by Viacom a few months after), Star Wars (the first six films before Disney bought the entire franchise), Tooth Fairy, and Borat.
Additionally, the company co-distributed anime films in the Dragon Ball franchise with Toei Company from 2013 to 2018 (while Sony/Aniplex's owned Funimation have International distribution rights), including Dragon Ball Z: Battle of Gods, Dragon Ball Z: Resurrection 'F', and Dragon Ball Super: Broly.
When Walt Disney Pictures and Walden Media had a disagreement about the budget of The Chronicles of Narnia: The Voyage of the Dawn Treader, Walden Media took the film to 20th Century Fox.
Mosts of the films made before Disney's acquisition can be streamed on Disney+ (or its sub-hub Star in International markets), including Hello, Dolly! and The Sound of Music.
Films distributed by Disney under their ownership
Upcoming
Additionally, Disney also now owns the rights to 20th Century Fox's pre-acquisition film library, with the exception of films originally released by Fox, but sold to other studios, including DreamWorks Animation's 2013-2017 library, which is now owned by Universal Studios, and the Terrytoons library, which is now owned by Paramount Pictures.
Gallery
References
External links
v - e -

d
Studio Lots
Walt Disney Studios • Golden Oak Ranch • The Prospect Studios • Fox Studios Australia