20th Century Fox is an American film studio that is a subsidiary of Walt Disney Studios, a division of The Walt Disney Company. The studio is located on its namesake studio lot in the Century City area of Los Angeles. For over 83 years, it was one of the "Big Six" major American film studios; formed from the merger of the Fox Film Corporation and Twentieth Century Pictures in 1935
History
Independent era
20th Century Fox was founded by William Fox, Joseph M. Schenck and Darryl F. Zanuck in 1935. In 1985, the studio was acquired by News Corporation, which was succeeded by 21st Century Fox in 2013 following the spin-off of its publishing assets.
Disney acquisition
On December 14, 2017, The Walt Disney Company announced plans to purchase 21st Century Fox, which includes 20th Century Fox, for $52.4 billion. On May 23, 2018, it was reported that Comcast was planning to out-bid Disney with an all-cash offer for approximately $60 billion and on June 13, Comcast officially announced its $65 billion all-cash offer for Fox assets. One week later, Disney counterbid with a $71.3 billion offer. On July 19, 2018, Comcast officially announced that it was dropping its bid on the Fox assets. On July 27, 2018, Disney and Fox shareholders approved the merger between the two companies. Although the deal was completed on March 20, 2019, 20th Century Fox will not relocate to the Walt Disney Studios in Burbank, but will instead continue to be headquartered on its studio lot in Century City, which is currently leased to Disney by the Fox Corporation, 21st Century Fox's successor, for seven years.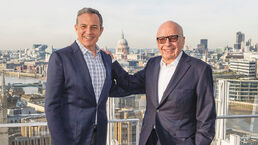 Gallery
Films
20th Century Fox has a gigantic library of films, but some of its biggest franchises are Avatar, The Simpsons, X-Men, Fantastic Four, Kingsman, Alien, Ice Age, Rio, Planet of the Apes, Predator, Deadpool, Titanic, Home Alone, Die Hard, Diary of a Wimpy Kid, Alvin and the Chipmunks, Marley and Me, Doctor Dolitte, Jingle All the Way, Garfield, Tooth Fairy and Night at the Museum.
External Links