"3 Big Problems" is the fourteenth episode of the first season of Penn Zero: Part-Time Hero. It premiered on March 23, 2015.
Synopsis
The team zaps into a world where they are enormous monsters and must convince the human President of a nearby island nation that the monsters mean them no harm.
Plot
Trivia
Penn is an allusion to Godzilla, Sashi is an allusion to Mothra and Megaguirus, and Boone is possibly alluding to King Kong.
Maria Bamford (Arrested Development) guest stars as the President.
This episode is a homage to giant monster franchises.
The part time-heroes are giant monsters, just like Rippen and Larry are giant babies in "Babypocalypse".
When Penn thinks that he is a lizard, he asks if his job is selling car insurance, an obvious reference to the Gecko mascot featured in numerous Geico commercials.
The Foxtel TV guide mistakenly called this episode "4 Big Problems".
Gallery
v - e - d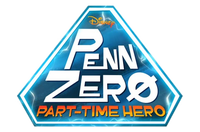 Locations
Middleburg • Middleburg Central High • The Odyssey • Fish Stick on a Stick • North Pole • Knight World • Superhero World • Arabian World • Plush Toy World • Clown World • Dinosaur Cowboy World • Cereal World • Old English World • Giant Monster World • Zombie World • Space World • Ocean World • Color World • Musical Fairy Tale World • Caveman Spy World • Future Barbarian World • Ultrahyperball World • Demon World • Alien World • Galaxy World • Temple World • Dragon World • Gothic Mystery World • Plant World • Animal Barbarian World • Toy World • Outer Space Court World • Robot World • Pirate World • Fairymania World • Steampunk World • Ball World • Ghost World • Rock, Paper, Scissor World • Beast World • Anime World • Sitcom World • Nothingness • Most Dangerous World Imaginable • Least Dangerous World Imaginable
Objects
Multi-Universe Hologram Uplink • Multi-Universe Transprojector • Pigoilet • The QPC Unit • Vortex Tops • Specs