Spider-Man: No Way Home Trailer Dropped - The Loop
Play Sound
A.R.F. is a supporting character in the Disney Junior animated series Puppy Dog Pals. He is a robot dog invented by Bob to spend time with Bingo and Rolly while he is away at work and to help clean their messes. He often accompanies Bingo and Rolly on their adventures. In his debut episode, A.R.F., his main function was to clean up after Bingo and Rolly (strictly), but he has been upgraded frequently throughout the series.
Background
Personality
Though he is very smart, A.R.F. has a habit of talking about himself and others in third-person, rarely even using pronouns. A.R.F. is always prepared to help in any way he can, he even transforms into a motorbike just to carry the pugs around town. Possibly because he is a robot, A.R.F. never gets angry, as shown in "Hissy's Big Day" when he was trying to untangle Bob's garden hose and didn't get frustrated. Even though he doesn't get mad, A.R.F. does get sad, as shown in his debut episode when he knew the pugs had to clean up his mess because he wasn't able to.
Physical appearance
A.R.F. is a chrome blue robot dog with a dark blue nose. His shoulders have visible axles while his hind legs have visible knee joints. He has a large round snout and instead of eyes, he has a screen that displays two blue circles. 
v - e -

d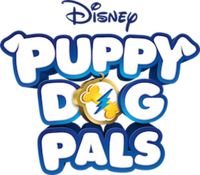 Songs
Puppy Dog Pals theme • Going on a Mission • Fire Truck Time • Waddle Waddle Waddle • Clean Up Time • This is How You Jump • Fix This Day • You're My Best Friend • Keep on Tryin' • Coolin' Out • Feels Like We're Flying • At the Pumpkin Patch • On Halloween Night • Captain Dog • Scuba Doggin' • Dig • Bury It! • Bizzy Beaver Builds a Dam • Gonna Get to the Bottom of This • Walkin' the Bob • Surfin' Puppies • Bubble Wrapped! • Tangled Up! • Looking for Bob's Bird • Andiamo (Let's Go!) • Gotta Get the Ball! • The Race is On • Let's Hit the Road • We Need to Be Quiet • Doesn't Take Much • Gotta Make the Latkes • Watch Out • You Still Look Pretty Little to Me • Ol' Snapper • Catch That Squirrel • Diggin' Again • The Hunt for Hissy • Four Leaf Clover • Dry Cleaner Puppy Party • Slow Down Grandma • If You Have a Pet • Looking for a Boomerang • Olivia! • Birthdays Are the Best • You're Dancin' • Our New Best Friend Keia • I Would Do Anything • Guess Who's Got a Brand New Doghouse? • The Fang Fairy • Snow Monkeys • You Need Some Rest • Puppies on the Moon • Super Bouncy Pups • Spy Puppies • The Alpine Puppy Yodel • We're Bringing Dinner to Bob • There's Always Room for Another Friend • It's Christmas (And We're Heading Home) • Gary the Gecko's Lemur Song • His Name is Zeus • The Fetchin' Wind is Hard to Do Blues • Three Pups in Paris • Hong Kong Pups • Dog Washing • Whodunnit?