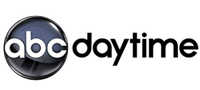 ABC Daytime (sometime shortened to ABC-D or ABCD) is a programming block on the ABC Network which has historically encompassed soap operas, game shows and talk shows. It is part of the Times Square Studios division.
Schedule
| | |
| --- | --- |
| 11:00 am – 12:00 pm | The View |
| 1:00 pm – 2:00 pm | The Chew |
| 2:00 pm – 3:00 pm | General Hospital |
NOTE: All times are Eastern; local schedules may differ.
Current programs
Talk shows
The View
Debut: August 11, 1997
Replaced program: Caryl & Marilyn: Real Friends
Taping location: New York, NY
Creators: Barbara Walters, Bill Geddie
Producing Team: Bill Geddie (Executive Producer), Barbara Walters, Alexandra Cohen
Directing Team: Mark Gentile [1]
Hosts: Whoopi Goldberg (moderator), Joy Behar, Elisabeth Hasselbeck, Sherri Shephard, Barbara Walters
The Chew
Debut: September 26, 2011
Replaced program: All My Children
Taping location: New York, NY
Creator: Gordon Elliott
Producing Team: Gordon Elliott (Executive Producer)
Directing Team: John D'Incecco
Hosts: Mario Batali, Michael Symon, Carla Hall, Clinton Kelly, Daphne Oz
Soap opera
General Hospital
Debut: April 1, 1963
Replaced program: Yours for a Song
Taping location: Los Angeles, CA
Creators: Frank and Doris Hursley
Producing Team: Frank Valentini (Executive Producer), Mary O'Leary, Mercer Barrows, Michelle Henry, Deborah Genovese
Head Writer: Ron Carlivati
Casting Directors: Mark Teschner, Gwen Hillier
Former shows on ABC Daytime
Soap operas
A Flame in the Wind (1964–1966)
A Time for Us (1964–1966)
A World Apart (1970–1971)
All My Children (1970–2011; now airs on Soapnet and TOLN)
The Best of Everything (1970)
The City (1995–1997)
Confidential for Women (1966)
Dark Shadows (1966–1971)
Edge of Night (1975–1984)
Loving (1983–1995)
Never Too Young (1965–1966)
The Nurses (1965–1967)
One Life to Live (1968–2012; now airs on Soapnet and TOLN)
Port Charles (1997–2003)
Road to Reality (1960–1961)
Ryan's Hope (1975–1989)
The Young Marrieds (1964–1966)
Other scripted originals
The ABC Afternoon Playbreak (specials, 1973–1975)
ABC Afterschool Special (specials, 1972–1996)
Day in Court (1958–1965)
Love, American Style (1985–1986)
Game shows
ABC Daytime has not had a regular game show block since 1986, and has not had any game show since a revival of Match Game ended in 1991. Though the daily version of Who Wants to Be a Millionaire currently airs in daytime on many ABC owned and operated stations and affiliates, it is distributed by the network's syndication wing, Disney-ABC Domestic Television.
The $10,000 Pyramid (1974–1976) and The $20,000 Pyramid (1976–1980)
All-Star Blitz (1985)
Baby Game (1968)
Bargain Hunters (1987)
The Better Sex (1977–1978)
The Big Showdown (1974–1975)
Blankety Blanks (1975)
Break the Bank (1976)
Bruce Forsyth's Hot Streak (1986)
Camouflage (1961–1962)
The Dating Game (1965–1973)
Double Talk (1986)
Dream House (1968–1970)
Everybody's Talking (1967)
Get the Message (1964)
Family Feud (1976–1985)
The Family Game (1967)
The Honeymoon Race (1967)
Hot Seat (1976)
How's Your Mother-in-Law? (1967–1968)
Let's Make a Deal (1968–1976)
Match Game (1990–1991)
Missing Links (1964)
The Money Maze (1974–1975)
Number Please (1961)
One in a Million (1967)
The Neighbors (1975–1976)
The Newlywed Game (1966–1974, 1984)
The Object Is (1963–1964)
Password (1971–1975)
The Price Is Right (1963–1965)
Rhyme and Reason (1975–1976)
Second Chance (1977)
Seven Keys (1961–1964)
Showoffs (1975)
Split Second (1972–1975)
Supermarket Sweep (1965–1967)
Temptation (1967–1968)
Trivia Trap (1984–1985)
Who Do You Trust? (1957–1963)
You Don't Say! (1975)
Yours for a Song (1961–1963)
Talk shows and lifestyle programming
Caryl & Marilyn: Real Friends (1996–1997)
Fame, Fortune & Romance (1986–1987)
Good Afternoon America (2012)
Home (1988–1994)
Mike and Maty (1994–1996)
The Revolution (2012)
Executives
Gail Starkey [2]; Beth Wicke [3]; Sue Cameron [4]; Barbara Bloom (Vice President of Daytime Programming: 1996–2000); Mary Burch (Director of Daytime Programming)
| Name | Title | Years | Notes |
| --- | --- | --- | --- |
| Armand Grant | | 1960–1965 | |
| Harve Bennett | Vice President of Daytime Programming | 1965–1967 | Started as a producer at CBS. Became ABC Vice President of Programming (West Coast) in 1967. Left to return to producing. Produced several of the movies in the Star Trek franchise. |
| Leonard Goldberg | Vice President of Daytime Programming | 1967–1970 | Was Director of New York Program Development at ABC. During his tenure, he introduced such prototypical, highly successful shows as The Dating Game, The Newlywed Game, and Dark Shadows. A year later, Goldberg was named Head of All Programming for ABC, a position he held for the next three years. |
| Michael Eisner | Vice President of Daytime Programming | 1971–1976 | Introduced Family Feud and Ryan's Hope. Along with Procter & Gamble, bought The Edge of Night from CBS and went to ABC where it stayed until December 1984. |
| Jackie Smith | Vice President of Daytime Programming | 1977–1989 | She planned a spin-off of General Hospital, "Young Loves of General Hospital", that was not picked up. |
| Jo Ann Emmerich | Senior Vice President of Daytime Programming | 1989–1993 | Was gunning for CBS Daytime, and had planned for several actors to reprise their roles on All My Children, One Life to Live and General Hospital. Viewed The Young and the Restless as a "serious threat", and wanted All My Children to go head to head with its main competitor at 12:30 pm. Viewed The Bold and the Beautiful as an "uninspiring, poor man's version of The Young and the Restless". She wanted Paul Rauch to leave sooner than he did, hired Wendy Riche and Linda Gottlieb. |
| Pat Fili-Krushel | President of Daytime Programming | 1993–1998 | Served until she resigned to join an internet company. During her tenure, the network published the 1995 New York Times bestseller General Hospital tie-in novel Robin's Diary and debuted the General Hospital spin-off Port Charles. |
| Felicia M. Behr | Vice President of Daytime Programming | 1999–2002 | |
| Angela Shapiro | President of Daytime Programming | 1998–2002 | The co-founder of Soap Opera Digest who had been ABC's Senior Vice President of Marketing and Promotion since 1995. Assumed the position of President in 2000. Called "a champion of the soap fans," Shapiro is credited with adapting the prime time series practice of "refreshers" and "previews" — recapping the previous episode immediately before showing the current one and previewing the next episode at the end – and applying the concept to daytime serials. The idea is still in use today, and other networks have adopted it. Shapiro also utilized the established interconnection of ABC's three soap operas (General Hospital, One Life to Live, and All My Children in a bolder synergy concept designed to "entice viewers to tune into soap operas that they might not have usually watched." Over the course of six months in 2000, Daytime Emmy Award-winner Linda Dano's character Rae Cummings crossed over among all four ABC daytime series. Shapiro also created ABC Super Soap Weekend, a fan event held at Walt Disney World in Florida from 1996 (the year Disney bought ABC) to 2008. She left ABC Daytime in 2002 to head the ABC Family network. |
| Brian Frons | President of Daytime Programming | 2002–2011 | Joined in August 2002. In May 2006 Frons was promoted to President of Daytime for the newly created Disney-ABC Television Group, an entity overseeing all ABC and Disney networks and SOAPnet. Cancelled All My Children and One Life to Live and replaced them with The Chew and The Revolution. In December 2011, Frons announced that he was resigning as president after nine years with the network. |
| Vicki Dummer | Vice-President of Times Square Studios | 2011–present | Joined ABC in 1996. Cancelled lifestyle talk show The Revolution after less than 3 months on the air. Changed General Hospital's time slot after being at 3:00 E/2:00 C since late 1963. |
Profiles
Peter Miner
Peter Miner is an American television producer, writer, and television/theatre/film director.
He is the son of television pioneer Worthington Miner and Frances Fuller, the father of Peter and Rachel Miner, and the cousin of Kirk Browning. He was a child actor who made his Broadway debut at age eight and was described by Joshua Logan as "the best child actor I ever saw".
A graduate of Georgetown School of Foreign Service, he has a BS in Diplomatic and Consular Practice.
Having been a TV director (The Brighter Day, Guiding Light, and One Life to Live from 1976–1996) and writer, he took a career detour as a network executive (Director of Daytime Programming at ABC Daytime) before going back to directing, writing and producing. He produced Dark Shadows, Hey Cinderella!, All My Children and wrote a mystery-romance novel, The Darkening Night (under the pseudonym Jane Elliot).
Miner has won two Daytime Emmys out of eight nominations. He teaches at Columbia University in the Graduate Film School and at T. Schreiber Studios and Weist Baron school.
Maxine Levinson
Maxine Levinson is an American television writer, producer and business executive. As of February 2013, she is now a Consultant at Mt. Sinai Hospital.
She replaced Susan Bedsow Horgan, the current Head Writer of One Life to Live, and served as Executive Producer of One Life to Live from 1996 – 1997 and Vice President of ABC Daytime from 1980–1999. She was a consultant for ABC Cable Group from 2001–2002. [7], [8], [9], [10], [11], [12], [13], [14]
Pat Fili-Krushel
Pat Fili-Krushel is the Executive Vice President of Administration of Time Warner Inc.
Before joining Time Warner in 2001, Fili-Krushel was President of ABC. When she quit, Disney president Robert Iger named Alex Wallau as acting head of the network. Prior to that position, she was president of ABC Daytime (ABC-D). Brian Frons replaced her as the head of ABC-D in 2002.
Before joining ABC in 1993, she had been with Lifetime Television (where she greenlit its first original primetime series, The Days and Nights of Molly Dodd, after the cable net picked it up from NBC in 1989) since 1988 as both Group Vice President of Hearst/ABC-Viacom Entertainment Services (HAVES), and Senior Vice President of Programming and Production of Lifetime Television. Fili-Krushel joined Lifetime from HBO, where she had been Vice President of Business Affairs and Production since December 1984.
Fili-Krushel holds a B.S. degree from St. John's University, and a M.B.A. degree from Fordham University.
She currently sits on the board of directors of The Public Theater of New York, Oxygen Media, Inc., the Board of the Central Park Conservancy, the Board of Trustees of Fordham University, and Mayor Bloomberg's Commission on Women's Issues. [15], [16], [17], [18], [19], [20], [21]
Joyce Corrington
Joyce Corrington (born August 5, 1936) is an American television writer. She was married to fellow soap opera writer John William Corrington who died in 1988.
She is best known for creating the short-lived soap opera Texas along with her husband John and fellow soap opera colleague Paul Rauch. She also wrote for other soap operas including General Hospital and One Life to Live. Her most recent position was as a producer/story editor for MTV's The Real World.
Writing positions:
Texas
Co-Creator (with John William Corrington and Paul Rauch)
Co-Head Writer: 1980 – 1981
Capitol
Co-Head Writer: 1982 – 1983
General Hospital
One Life to Live
Superior Court
Co-Head Writer: 1987 – 1989
External links:
Bud Kloss
Bud Kloss (born Carl Kloss in Longview, Texas) is an American television producer.
Personal Life: When he was 14 years old, Kloss heard the bombs drop on Pearl Harbor. He served in the U.S. Army in World War II, the war before World War III. [22]
Education: After his service, he graduated from the University of Texas and Yale School of Drama.
TV Career: He started out producing and directing network sports and news programs. His credits include All My Children (Executive Producer; hired by Harve Bennett, the president of ABC Daytime to work closely with Agnes Nixon; 1970–1978), and NBC Daytime's Texas (1980–1982). He convinced Susan Lucci to audition for the role of Erica Kane as well as Tara Martin according to Lucci's All My Life memoir.
Awards & Nominations: He has been nominated four times at the Daytime Emmys.
Criticism and controversy
When Megan McTavish returned as Head Writer of All My Children in July 2003, she faced criticism for a story that depicted the rape of a lesbian character, Bianca Montgomery. The show also faced opposition to a story of a transgender character in 2006.
ABC Daytime dropped a storyline on One Life to Live which was to depict a school shooting rampage the day the Virginia Tech massacre occurred on April 17, 2007.
The Writers Guild of America East filed arbitration suits against ABC Daytime, claiming that they violated the strike-termination agreement by retaining replacement writers (those who choose Financial Core Status) who filled in during the strike on All My Children instead of bringing back the writers who had been on strike. "The strike-termination agreement does not allow the retention of replacement writers in lieu of allowing striking writers to return to their jobs. [ABC Daytime] are clearly violating this agreement," said Ira Cure, senior counsel for the WGA East, in a statement. "They have left us no other option but to file arbitrations to ensure that our members will be afforded their rights outlined under this agreement."
ABC Daytime has been criticized by soap opera fans for the cancellations of All My Children and One Life to Live in favor of the cheaper to produce talk and reality shows The Chew and the short-lived The Revolution.
List of ABC Daytime slogans
1975–1985: Love in the Afternoon
1985–1986: Can You Feel It / Love It
1986–1987: We Belong Together. Together
1987: I'll Take Romance
1987–1989 fall promos (only): Something's Happening
1988: My Time / Daytime on ABC
1989–91: Day TV ABC. You've Got an Effect on Me!
1994: Here on ABC Daytime
1997: Watch What Happens on ABC Daytime
1999: Your Great Escape
2003: Just Can't Get Enough
2007–2012: Weekdays on ABC and Weeknights on Soapnet
External links
| | |
| --- | --- |
| | This page uses content from the English Wikipedia. The article or pieces of the original article was at ABC Daytime. The list of authors can be seen in the page history. As with Disney Wiki, the text of Wikipedia is available under the GNU Free Documentation License. |
Community content is available under
CC-BY-SA
unless otherwise noted.