"After all these years, what do you tell everyone on such a big day"
―Sofia

"A Big Day" is a song sung by Princess Sofia and all her family and friends in the Sofia the First finale, "Forever Royal". Throughout the song, everyone expresses how excited they are to see Sofia, Amber, and James graduate from Royal Preparatory Academy, and recall how far they have come over the past few years.
Lyrics
Sofia: It's not that far from our village to the castle
But it seems that I've come such a long way
At first, I thought I wasn't ready to be royal
But I proved I belong
I proved I'm here to stay

So when I stand in front of all those who I care about
I want to rise and shine but still there is a little doubt
I really want to wow 'em
But I'm not sure just how I'm
Gonna find the right things to say
On such a big day

Miranda: I never thought you would wind up being a Princess
But I'm proud how very much you have grown
You may have started as a young girl from the village
But you proved you are strong
You proved it on your own

So when you stand in front of all those whom you care about
I know you'll rise and shine
Of that I haven't any doubt
Just like the stars above you
Forever will I love you
I'm sure you'll discover the way
On such a big day

Amber: It's such a big day
I must prepare myself for when I am the Queen
And now I finally know exactly what that means
I must have a good heart to be a big success
But first I must start with the Queenliest dress

James: I wish that I could wear my armor to the school
Oh, how I wish to show them all my Knightly moves
I just have to wait until the time is right
When we celebrate at the party tonight
Amber and James: The party tonight

Roland: I can't believe you are really graduating
I remember cradling you in my arms
Baileywick: It's time to go
We cannot keep the whole school waiting
Roland: Ha! What would we do without our Baileywick alarm?

Robin: Oh, here she comes
The Princess we have all been waiting for
Mia: On this special day, let's show her what we have in store
Clover: There's nothing that can beat food
To put you in a sweet mood
What a tasty way to say "Hooray"
On such a big day

Sofia: You know I love your crispy pink apple tarts
And so I thank you from the bottom of my heart
Cedric: Remember, Princess, you made rubies just for me
Sofia: Sure!
Cedric: In this tiara now
They'll fit you to a T
Sofia: It's beautiful!
Cedric: Whoa!

Sofia: Seeing all my friends and Royal Family
Miranda: Amber, James, and Rollie dear
Sofia: Guess it means we'll soon be on our way
Roland: So happy everyone is here
Sofia: But as long as I have all of you beside me
Amber: Where were you hiding that pink dress?
Sofia: I know I'll work it out
I know I'll be okay

All: So as we go to honor all those whom we care about
For all that you've achieved
It's time to give a cheer and shout
Our proudest graduation
We give congratulations
Sofia: I'm sure I'll find the right thing to say
Miranda: I'm sure you'll discover the way
All: Now let us be off and away

On such a big day
A big day
Such a big day
Trivia
During the first verse, Sofia makes callbacks to songs from the first season.
v - e - d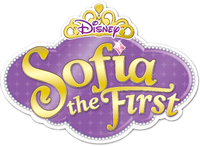 Characters
Princess Sofia • Queen Miranda • King Roland II • Prince James • Princess Amber • Princess Hildegard • Cedric the Sorcerer • Wormwood • Baileywick • Robin • Mia • Clover • Whatnaught • Goodwyn the Great • Winifred the Wise • Jade • Ruby Hanshaw • Princess Clio • Prince Zandar • Princess Jun • Prince Hugo • Minimus • Princess Vivian • Crackle • King Marcus and Queen Cecily • Trolls• Lucinda • Prince Jin • Magic Carpet • Jasper • Prince Khalid • Meg and Peg • Madam Ubetcha • Prince Desmond • Miss Nettle • Sir Gillium • Professor Popov • Helen Hanshaw • Oona • Queen Emmaline • Cora • Plank • Aunt Tilly • Wilbur the Wombeast • Sven • Emperor Quon • Empress Lin-Lin • Rex • Prince Axel • King Garrick • Electra • Vaughan and Vance • Marla • Sir Bartleby • Sir Maxwell • Sir Finnegan • Gwen • Chef Andre • Sofia the Worst • Lady Joy • Lord Gilbert • Wu-Chang • Jade Jaguar • Sir Dax • Boo • Princess Lani • Mamanu • Kamea and Halia • Praline • Freedo • Princess Zooey • Princess Astrid • Slickwell • Greylock the Grand • Princess Ivy • Dragons of Enchancia • Winter • Whiskers • Glacia the Ice Witch • Elliot, Amy, and Kurt • Tizzy • Master Erwin • Bryce Twigley • Button, Benngee, and Brody • Mossy • Carol of the Arrow • Jane • Princess Kari • Miss Elodie • Fluke • Slim • Shelly • Flip • Mantacorn • Onyx and Opal • Wendell Fidget • Mrs. Fidget • Saffron • Muck, Gunk, and Grime • Spruce • Ballerina • Mazzimo • Prince Roderick • Gavin • Kazeem • Sergeant Fizz • King Habib and Queen Farnaz • Chief Gnuckles • Flinch • Grotta • Elfonso • Elfred • Milo the Snake • King Henrik • Cordelia the Conjuror • Calista • Morgana • Crispy • Barley • Sassofras • Professor Zacharias Fleeber • Grand Mum • Gemina and Argus • Count Barnstorm • Sir Oliver • Sir Jaxon • Willawing • Kai • Princess Charlotte • Morris • Zinessa • King Philip and Queen Everly • Lily • Indigo • Marty and Maple • Mandy • Grimtrix • Wriggley, Pumpkin, and Chester • Skye • Piccolo • Baron Von Rocha • Professor Pecullian • Sea Monsters • Malachite and Fig • Omar • Prisma • Azurine • Orion • Vega • Chrysta • Sizzle • Cinder • Singe • Mare of the Mist • King Roland I • Roma • Giggling Goblin • Captain Quivers • Twitch • Vor • Nerissa


Elena of Avalor: Princess Elena • Princess Isabel • Francisco • Luisa • Shuriki • Alacazar • Zuzo • Mateo • Migs, Luna, and Skylar • Rafa • Chancellor Esteban • Armando • King Raul and Queen Lucia • Naomi Turner
Guest Characters: Flora, Fauna, and Merryweather • Cinderella • Jasmine • Magic Carpet • Belle • Ariel • Aurora • Snow White • Mulan • Rapunzel • Tiana • Merida • Olaf • Merlin • Archimedes
Community content is available under
CC-BY-SA
unless otherwise noted.