"A Fistful of Foodstamps" is the third segment of the first episode of The Shnookums and Meat Funny Cartoon Show.
Synopsis
The Wrong Riders return to Bonehead to pillage the town and get revenge on Sheriff Tex Tinstar. (The first of a 13-episode serial.)
Trivia
*The title may be a pun on the title of the Clint Eastwood western Movie
"A Fistful of Dollars"
.
v - e - d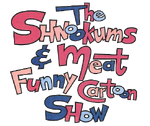 Characters
Shnookums and Meat • Toulouse • Pith Possum • Doris Deer • Obediah the Wonder Raccoon • Commissioner Stress • Lieutenant Tension • Dr. Paul Bunion • Easter Bunny Impostor • Shirley Pimple • Tex Tinstar • Smelly Deputy Chafe • Percy Lacedaisy • Floyd the Insane Rattlesnake • Wrongo • Ian and Clem • Krusty Rustknuckle
Community content is available under
CC-BY-SA
unless otherwise noted.