A Frozen Holiday Wish (previously known as Cinderella's Holiday Wish) is a seasonal castle stage show at Magic Kingdom, Hong Kong Disneyland, and Shanghai Disneyland.
Magic Kingdom
Cinderella's Holiday Wish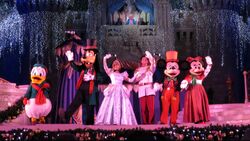 From 2008 to 2013, Mickey Mouse, Minnie Mouse, Donald Duck and Goofy appear onstage to mirthful holiday music, admiring the festive lights illuminating Main Street, U.S.A. Fairy Godmother suddenly appears as they bandy about illuminating Cinderella Castle and told them that Cinderella's rightfully decided and she insists.
Spawn the princess herself, with Prince Charming. All agree with Cinderella that her castle should sparkle the way her beloved glass slippers do like shimmering ice and snow. With a wave of Fairy Godmother's wand and guests joining in to make the wish come true, the castle magically morphs into a glorious wintry confection, twinkling in the sky. "The castle suddenly shines like a glistening blanket of ice," explained Disney show writer/director Alan Bruun. "Guests won't believe their eyes at the spectacle as Cinderella's holiday wish comes true."
A Frozen Holiday Wish
A year later, the new show features Anna and Elsa, with special appearances by rugged mountain man Kristoff and lovable snowman Olaf, the show culminates in Queen Elsa, with the assistance of the guests, using her incredible powers to present a gift to everyone in the kingdom, transforming the castle into a glimmering ice palace for the holidays."
On December 22, 2019, the show gave its final performance at Mickey's Very Merry Christmas Party.
Hong Kong Disneyland
As dusk falls in the park, a citizen of Arendelle will announce the arrival of Princess Anna on Castle Hub Stage! A series of performers, in Frozen-themed outfits, will lead a royal processional for Anna, accompanied by music from the fist film. They will be joined by Olaf, who will make an amusing and comical arrival. Ultimately, Elsa joins everyone to cast a magic spell, causing snow to appear. It's sure to be a magical and happy moment for everyone!
Shanghai Disneyland
Queen Elsa is here to grant holiday wishes! Every night, her powers will transform Mickey Avenue into a winter wonderland, complete with a magical snowfall! Join the happy crowds to celebrate the season. Tap toes to the cheerful music and let the Christmas spirit into the heart.
In 2017, a similar show entitled "When We're Together" Castle Tree Lighting Ceremony premiered. Behold with wonder as the façade of Enchanted Storybook Castle comes to life with dazzling projections that light up the night. Hosted by the lovable snowman Olaf, with Anna and Elsa, the holiday tradition will spread smiles from ear to ear during a magnificent illumination of the tree wishing everyone the happiest of holidays with the song "When We're Together" from Olaf's Frozen Adventure.