"A Game of Cat and Mouse" is the third episode of the second season of Penn Zero: Part-Time Hero. It premiered on July 11, 2017.
Synopsis
The trio is transported onto a space ship where its human inhabitants are set to arrive on a new planet to colonize. However, Penn finds himself in the form of a mouse and must save the ship from Rippen, transformed into a cat, who seeks to plunge it into a black hole.
Trivia
Bill Nye makes a guest appearance as himself.
This episode resembles the classic 40s-50s cartoon, Tom & Jerry.
When Rippen came out as a robot cat, it was a parody of the Terminator.
This is the second time someone other than Sashi or Larry has explained the mission, the first one was in "Alpha, Bravo, Unicorn". 

It reveals that Phyllis has a hologram inside her throat.

When Rippen did same as Kitty Galore's Henchmen is Paw from Cats & Dogs: The Revenge of Kitty Galore.
In this episode Penn and Rippen's voice actor are replaced by Best Voice Actor is Dee Bradley Baker who voiced as Animals sound. When Penn sound like a mouse and Rippen sound like a cat.

Penn is brief speaking before zap.
Gallery
v - e - d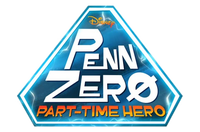 Locations
Middleburg • Middleburg Central High • The Odyssey • Fish Stick on a Stick • North Pole • Knight World • Superhero World • Arabian World • Plush Toy World • Clown World • Dinosaur Cowboy World • Cereal World • Old English World • Giant Monster World • Zombie World • Space World • Ocean World • Color World • Musical Fairy Tale World • Caveman Spy World • Future Barbarian World • Ultrahyperball World • Demon World • Alien World • Galaxy World • Temple World • Dragon World • Gothic Mystery World • Plant World • Animal Barbarian World • Toy World • Outer Space Court World • Robot World • Pirate World • Fairymania World • Steampunk World • Ball World • Ghost World • Rock, Paper, Scissor World • Beast World • Anime World • Sitcom World • Nothingness • Most Dangerous World Imaginable • Least Dangerous World Imaginable
Objects
Multi-Universe Hologram Uplink • Multi-Universe Transprojector • Pigoilet • The QPC Unit • Vortex Tops • Specs