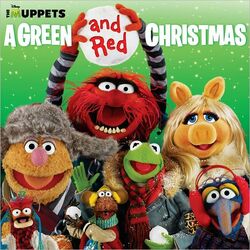 A Green and Red Christmas is a 2006 Muppet Christmas album featuring twelve holiday songs, including covers of classic Christmas tunes as well as newly written tracks.
Although A Green and Red Christmas is the third album released after The Walt Disney Company purchased the Muppets in 2004 (following Best of the Muppets and a re-release of The Muppet Christmas Carol soundtrack in 2005), it is the first full album of originally recorded Muppet material since Kermit Unpigged in 1994.
The album also marks the return of new music from Rowlf the Dog and the Electric Mayhem, albeit without Janice who is only heard musically (she was last heard singing in The Muppets at Walt Disney World in 1990).
In the early part of December 2006, Kermit appeared on Good Morning America and The 9 to promote, talk about, and sing songs from the album.
The album won a Grammy Award for Best Musical Album for Children on February 8, 2008.
The album was re-released on November 1, 2011 to coincide with the theatrical release of The Muppets. Two additional tracks were added to this version as well as new cover art.
Track list
#
Song
Performed by
1
'Zat You, Santa Claus?
Dr. Teeth and the Electric Mayhem
2
A Red and Green Christmas
Kermit the Frog and Miss Piggy
3
The Christmas Party Sing-Along
Rowlf the Dog
4
Merry Christmas Baby
Pepe the King Prawn
5
The Man with the Bag
Floyd Pepper, Animal and Zoot
6
Santa Baby
Miss Piggy
7
It's the Most Wonderful Time of the Year
Gonzo the Great and Rizzo the Rat
8
North Pole Comedy Club
Fozzie Bear and Statler and Waldorf
9
Run, Run Rudolph
Dr. Teeth and The Electric Mayhem
10
Christmas Smorgasbord
The Swedish Chef
11
The Christmas Queen
Miss Piggy
12
Have Yourself a Merry Little Christmas
Kermit the Frog
Songs added for the 2011 re-release
13
I Wish I Could Be Santa Claus
Gonzo and Fozzie
14
Jingle Bells
Andrea Bocelli with the Muppets
Cast
Credits
Producer: Ed Mitchell and Ted Kryczko
Creative Director: Steve Gereded
Album Designer: Sean Tejaratchi
External links
Community content is available under
CC-BY-SA
unless otherwise noted.