"A Tale of Two Wizards" is the eighth episode of the second season of Penn Zero: Part-Time Hero. It premiered on July 17, 2017.
Synopsis
A return to the Knight World causes issues for Boone when he meets a wizard who turns out to be much better than him.
Trivia
The title card is reference to the 1981 Nintendo game.
The title obviously references Charles Dickens' 1859 novel, A Tale of Two Cities.
Boone's favorite holiday is national flipflop day.
Ryan's complaints about a "fellowship" with three missions lasting "9 hours" is a direct reference to criticism of The Hobbit series of movies by Peter Jackson - the idea that the original books was stretched out to 3 movies (lasting 9 hours) when it could have been accomplished in two.
Boone is allergic to Griffin.
Gallery
v - e - d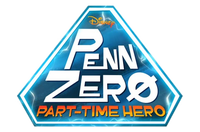 Locations
Middleburg • Middleburg Central High • The Odyssey • Fish Stick on a Stick • North Pole • Knight World • Superhero World • Arabian World • Plush Toy World • Clown World • Dinosaur Cowboy World • Cereal World • Old English World • Giant Monster World • Zombie World • Space World • Ocean World • Color World • Musical Fairy Tale World • Caveman Spy World • Future Barbarian World • Ultrahyperball World • Demon World • Alien World • Galaxy World • Temple World • Dragon World • Gothic Mystery World • Plant World • Animal Barbarian World • Toy World • Outer Space Court World • Robot World • Pirate World • Fairymania World • Steampunk World • Ball World • Ghost World • Rock, Paper, Scissor World • Beast World • Anime World • Sitcom World • Nothingness • Most Dangerous World Imaginable • Least Dangerous World Imaginable
Objects
Multi-Universe Hologram Uplink • Multi-Universe Transprojector • Pigoilet • The QPC Unit • Vortex Tops • Specs