"LET'S BURN THIS PLACE TO THE GROUND!!!"
―Abby
Abby Park is a main character in Disney•Pixar's 2022 animated feature film, Turning Red. She is one of Mei's best friends.
Background
Personality
Abby is a fun loving, yet chaotic preteen who is very supportive of her friends. She can also be quite aggressive, as shown when she confidently punches Mei when she requested for it. She can also be very angry at herself if she makes a mistake. However, she isn't the brightest in terms of intelligence, as she sometimes gives misinformation by remembering things wrongly, although she likes to help Mei. She loves to hug Mei whenever she is in red panda mode since she is very fluffy, and she loves to stick with Mei anytime the whole way which makes her want to give up her 4*Town ticket for Mei. Abby is constantly energized and can get mad more easily than Mei, which can sometimes distract her.
Physical Appearance
Abby is a short, heavyset, Korean-Canadian 13-year-old teenage girl with fair skin, brown eyes with the bright purple eyeshadow, and long, straight, black hair that forms into a brown ombre. She wears a glittery purplish-pink headband, golden-heart earrings, a purplish-pink turtleneck sweater with purple overalls that feature different colored (mostly in the palette of dark pink and orange) flowers on it. She also has the word "cool" in hot pink stitch on one leg above the flower, and a smiley face on the other. She also wears white socks and auburn shoes, while she has a lavender watch on her right arm and a rainbow friendship bracelet on her left.
Appearances
Abby is first seen shouting at some kids in Korean for not throwing out a piece of trash correctly, and then greets Mei. They all get together and thrill together. Abby then runs into Mei and her friends again as she leaves for school. She and her friends stop Mei when she is talking and peek through the Daisy Mart window to see Devon, the store clerk. While looking happily at Devon, Abby talks about one moment where Her mom gave Devon a haircut, and she claimed it was super soft. Mei gets grossed out after seeing Devon and Abby calls him A Hot Hobo. Mei shows the girls a 4 Town magazine and Abby along with the rest immerse themselves in the experience of 4 Town. When Miriam asked Mei to join them for karaoke, Abby gives her the puppy eyes along with Priya and Miriam, however Mei refuses to go. After joining in singing "Nobody like U", Mei leaves too soon making the excuse that she has to do other stuff, while Abby along with Miriam and Priya agree that Mei is totally controlled by her parents.
A few days later, Abby and her friends run up to Mei when she arrives at school and notice that she isn't acting right. Abby takes notice of her scent and wonders if she went to the gym (unaware that Mei has a red panda form at the moment). Abby and the girls start mentioning to Mei that Tyler told everyone at school about the Daisy Mart accident and that Mei is a pervert, much to Mei's obvious anger. After Mei stayed looking at Carter Murphy-Mayhew, they realize that there are copies of Mei's drawings with Devon glued in the lockers and noticed that Tyler was putting them around the school. Abby, Miriam and Priya get angry and start screaming at Tyler for annoying Mei with the drawings but they get confused when Mei flees from the place.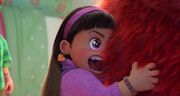 That same day in the afternoon, Abby along with Miriam and Priya go to Mei's house and ask her if she is alright. She then exclaims that 4 Town is coming to Toronto, Which leads Mei to expose her Panda form by accident. The girls screams and then gets caught up in it as Mei tells everyone of her friends to calm down. Abby then notices that she became a red panda and finds it very, VERY fluffy. Abby along with her friends are slightly confused when Mei tells that this red panda form is some kind of "Inconvenient genetic thingy", and then comforts her when she breaks down in tears. After clarifying the panda's doubts, Abby is asked what day 4 Town is coming to Toronto, she answers "May 18th". Mei then tells all of them to go to the concert without her. Abby then hears Miriam beatboxing, and getting swept in the beat; starts to beatbox along with her and they all then sing an acapella version of "Nobody like U". They then all hug as Mei turns into a human, Abby gets disappointed that her red panda form is gone. She then pinches Mei's check out of nowhere as Mei notices that her transformation isn't taking effect. She then is asked to hit her in the arm, But directly goes for her face. Abby is disappointed when Mei realizes that she and her friends are the ones that help maintain the panda. The girls decide to talk to their parents so they can go to the 4 Town concert and keep Mei's panda a secret. When they hear Ming walking to room, Mei pushes Abby, Miriam, and Priya out of the house so Ming won't see them.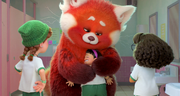 During dodgeball Abby tells her friends that her parents think that it was "stripper music", and then grabs a flying ball with her mouth. She then notices Ming's presence, and then witnesses Mei using her power at Tyler and then takes her into the bathroom. She tells her that they are gonna make it to the concert and to "Fight the Power". She then has to think of a way of how they are gonna get money for the tickets themselves, Abby then requests Mei that she needs help thinking with "Some panda". She then hug's Mei as she transforms, and then notices Stacy and her own group of friends come in. She hides Mei in the stall and then corrects one of Stacy's friends that she is a red panda along with Miriam, Priya and Mei. She then notices that Stacy and her friends love the panda, and then her along with her friends find the exact plan to get those dollars for the tickets. She participates in the plan of "Operation 4 Town shakedown" And then works with her friends to gain lots of money. She then works with her friends on some red panda pendants, and then exclaims that she's starting to blackout and temporarily faints. She then notices that Tyler wants to spread the rumor and takes notice that he wants to have a party with Mei's panda form in it. She then goes to the party with Miriam and Priya.
Later on Abby gets super bored that Mei hasn't arrived yet, until she does...but in a cheaply made red panda outfit. She then talks with Mei and agrees with her other friends that if Mei doesn't go, She doesn't go. Mei then turns into a red panda and gets the party going. Abby has a fun time and then chills on the roof with Miriam, Priya and Mei. She gets upset when Tyler was looking for Mei, but gets excited that her and her friends are gonna go to the concert soon....until hearing from the radio that 4 Town is coming on May 25th instead. Abby gets infuriated at this and screams in Korean and tears the paper apart. Abby along with her friends try to calm Mei down when she transforms into a panda and is outright scared when she attacks Tyler. When Ming shows up to take her daughter away, she scolds her along with her friends and Abby is visibly upset when Mei doesn't stand up for them. After Mei and Ming leave Tyler's house, they all decide to go to the concert without Mei.
At the night of the concert, Abby is very sad that Mei cannot go alongside them as they get tickets. While at the concert, she, Priya, and Miriam are suddenly surprised when Mei shows up. Mei apologizes to them for not standing up for them earlier, but Miriam denies that they are part of their group until Abby and Priya tell her that she took care of Robaire Jr. while they were away. After hugging each other as they are happy to get together again, Miriam notices that Tyler is at the 4*Town concert and the girls are thrilled to learn he likes 4*Town, immediately giving him a hug and happily welcome him into their "sisterhood". As the concert starts and 4*Town show up, Abby swoons over Tae Young. Abby and her friends cried with joy hearing 4*Town sing until the concert is destroyed by Ming and Abby evades alongside her friends. When Mei challenges her mother for the first time, Abby is noticeably happy for her and cheers her on when she's twerking to distract Ming. After Ming is knocked unconscious from his fight with Mei and the Lees were trying to sing for the ritual, Abby, her friends, and 4*Town join in to help with the ritual by singing "Nobody Like U". Some time after the event, everything returns to normal and Abby, Priya, Miriam, and Tyler all meet Mei a the temple tour and they all go for karaoke.
Gallery
Trivia
Abby is represented by the color purple. Negative traits of the color are being overly emotional, arrogant, and mostly immature. However just like the rest of Mei's friends, she is very supportive of her. She also has some pink in her color scheme to signify her playfulness and concern for her friend.
Just like Jin Lee, Abby shares her last name with her voice actress.
According to Abby, her mother works at a hair salon.
Domee Shi debunked the theory that Abby and Boo from Monsters, Inc. were the same person, but did suggest that they could be related.[1]
References
External links
| | |
| --- | --- |
| | This page uses Creative Commons Licensed content from the Pixar Wiki. The list of authors can be seen in the page revision history (view authors). As with Disney Wiki, the text of the Pixar Wiki is available under the CC-BY-SA license. |