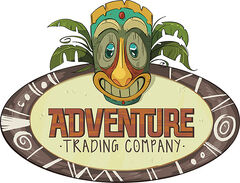 Adventure Trading Company was a limited play-test experience that ran in August 2014 at Disneyland's Adventureland.
Both the Trading Company and Legends of Frontierland served as low-tech tests for the role-playing guest experiences planned for Star Wars: Galaxy's Edge.
Summary
The Adventure Trading Company game was built around collecting Jujus, hand-crafted talismans representing different adventurer ideals. Similar to scavenger hunts at Epcot's festivals, guests would purchase a quest from the Trading Company's headquarters at the Indiana Jones Adventure Outpost and complete a series of tasks tied to different attractions within Adventureland, Pirate's Lair on Tom Sawyer Island, and Trader Sam's Enchanted Tiki Bar, after which guests could share their story of adventure and receive their prizes.
Talismans included:
The Eye of Mara Juju - Representing Knowledge, earned by translating a sacred tablet of Maraglyphic texts.
Bird Juju - Representing Observation, earned by photographing birds as a talent scout for the Enchanted Tiki Room.
Tiki Mask Juju - Representing Friendship, earned when helping the crew at Trader Sam's Enchanted Tiki Bar by delivering a recipe
Pirahnahahaha Juju - Representing Humor, earned when completing the Jungle Navigation Company's Skipper Handbook activity book and telling a joke to a cast member at the attraction's exit.
Elephant Juju - Representing Tracking, earned by helping find a lost shipment of Juju reported on in The Daily Gnus paper.
Snake Juju - Representing Courage, earned when drinking a glass of Venomade at the Bengal Barbecue
Treehouse Juju - Representing Discovery, earned when deciphering petroglyphs at Tarzan's Treehouse
Pineapple Juju - Representing Goodwill, earned after taking an oath to become a Goodwill Ambassador in Adventureland.
Despite the experience's short life, it has been referenced in later Adventureland projects such as the Skipper Canteen at the Magic Kingdom and the Tales from Adventureland book series.
Community content is available under
CC-BY-SA
unless otherwise noted.