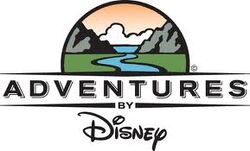 Adventures by Disney
(ABD) provides planned and guided family vacations to various domestic and international destinations. It is jointly managed between Walt Disney Parks and Resorts, and the Walt Disney Travel Company, Incorporated. Both of these are units of The Walt Disney Company.
Format
On an Adventures by Disney vacation, guests are taken on themed expeditions that often feature activities designed just for kids (or 'Junior Adventurers').
Two Disney-trained Adventure Guides (Cast Members) look after a group of no more than 40 guests on an Adventure, and are described as being 'part concierge, guide and storyteller'. Local guides also join the vacations at various points and give guests firsthand knowledge from someone native to the area.
History
Adventures by Disney's first operating season was in summer of 2005 and featured just 2 destinations (Wyoming and Hawaii - both in the USA). These were both invitation-only trips which gave the Company an idea of whether the business would work. This grew to 7 destinations in 2006, 12 destinations in 2007, 17 destinations in 2008, 22 destinations in the 2009 season. The new trips for the 2012 season will be added in August 2011.
Locations
Asia, Africa & Australia
Central & South America
Eastern Costa Rica, 6 Nights
Ecuador and Galapagos Islands, 8 Nights
Galapagos Islands Cruise, 8 Nights
Peru, 8 Nights
Western Costa Rica, 6 Nights
Europe
Amalfi Coast and Tuscany, 7 Nights
England and France, 7 Nights
France, 7 Nights
Germany, 8 Nights
Greece, 9 Nights
Ireland, 7 Nights
Italy and Switzerland, 7 Nights
Italy, 8 Nights
Italy Signature, 8 Nights
North America
Alaska, 7 Nights
Alaskan Wonders with Disney Cruise Line®, 7 Nights
Montana and Alberta, Canada, 6 Nights
Pennsylvania, District of Columbia and Virginia, 7 Nights
Southern California, 5 Nights
Wyoming, 6 Nights