This article is about the Hercules: The Animated Series character. For other uses, see Ajax (disambiguation).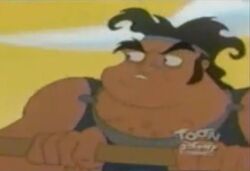 Ajax is a character in the TV series Hercules. He is a bulky barbarian student at Prometheus Academy who has terrible hygiene and bad manners and can only speak in grunts. As a joke despite this he is also very popular with Galatea, Anaxarete and Tempest.
Trivia
Ajax is named after Ajax the Great of Greek mythology. He is the son of King Telamon and Periboea and fought in the Great Trojan War. When Ajax's commander, Achilles is killed in battle, he and Odysseus fight over his armor. Ajax is bested in combat, but is unable to accept defeat and slaughters many of his comrades. Ashamed of his deed, he kills himself with his own sword.