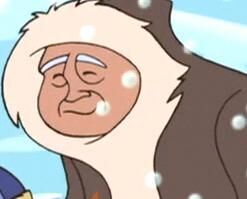 Akute is a minor character from the episode, "Bueno Nacho" of the animated television show Kim Possible.
History
Akute gave Kim Possible, Ron Stoppable, and Rufus a ride to an undisclosed location in northern North America (likely Alaska) to investigate a sighting of Dr. Drakken. They end up finding Dr. Drakken and Shego, along with henchmen, stealing a laser drill operating next to an oil pipeline. The ride was a favor for Kim saving Akute's life from a "small iceberg" (according to Kim).  
Abilities
Akute appears to be a proficient musher, being able to keep from upsetting the sled after Shego forced the dogs to cause the sled to enter a spin.
Equipment
Akute ownes and/or operates a dog sled with a four dog team.
Gallery
External Links