"You'd think she would remember all this from the first time."
Alice Kingsleigh is the protagonist of the 2010 film, Alice in Wonderland and its sequel, Alice Through the Looking Glass. She is a curious and imaginative young woman, who cannot conform to the values of the society in which she lives.
Appearances
Shortly after finding out she is about to be proposed to, a 19-year-old Alice flees an engagement party. In doing so, she discovers a rabbit named Nivins McTwisp wearing a blue waistcoat. Intrigued, Alice decides to follow it, only to stumble down his rabbit hole. She falls into Underland, a post-apocalyptic fantasy land, where various animals have apparently been expecting someone called "Alice". While Nivins claims that she is Alice, the other animals are under the impression that she is "The wrong Alice".
She then meets up with Tarrant Hightopp, who is happy to see her, but Alice does not remember him. When the Red Queen's minions come to him looking for her, Tarrant gives Alice a potion that shrinks her, then hides her in a teapot and pretends that he has never seen her, after Stayne leaves. Alice gives Tarrant a piece of her clothes, and Tarrant then makes a strapless dress for her and gives it to her. Tarrant takes Alice on a journey to Marmoreal and explains the Red Queen's reign of terror over Underland on the way. Soon, the Red Queen's minions pick up Alice's scent and start chasing them. With no other options and the enemy approaching, Tarrant puts Alice atop his hat and flings it across a river to the opposite side (saving her from the Red Knights), but then draws attention to himself, and gets captured in the process. He is then taken away as Alice watches on. Alice then hides inside Tarrant's hat and spends the night there. Later, she is found by Bayard, who wants to take her to the White Queen, but Alice insists upon helping the Hatter, so they go to the Red Queen's Castle.
She enters the castle, then she is found by Nivins McTwisp. He gives her a piece of cake to make her grow, but she outgrows the clothes she was wearing. The Red Queen notices an abnormally large girl near one of her hedges and investigates. At this point, Alice discovers that she is naked. Nivins McTwisp, who had been a page to The Red Queen since he was captured by the Knave of Hearts, tries to come up with an excuse for what this girl is. While hesitating, he says "um," which the Red Queen takes this literally. Alice, while posing by the name of Um from Umbridge, explains to the queen that she towers over everyone in Umbridge and that because of that, she is a laughing stock. The Red Queen, who is now under the impression that Um is a beautiful but misunderstood and shy giantess, gives her a warm welcome, stating that "Anybody with a head that large is welcome in my court."
While inside the castle, Alice finds Tarrant, who is still held captive, having to make hats for the Red Queen. Not feeling all right with his work, Tarrant begins kicking some of the hats, but Alice calms him down, telling him the same thing her late father said to her about all of the best people being bonkers, and giving him back his hat. With help from McTwisp, Alice finds the location of a Vorpal sword that is known to be the only one that can kill the Red Queen's Jabberwocky. However, the sword is located inside the pen of the Bandersnatch, who had earlier scratched Alice's arm. Knowing what to do, she comes to Mally and takes one of the Bandersnatch's eyes which had earlier been taken out by Mally, before carefully getting into the Bandersnatch's pen. As the Bandersnatch wakes up, Alice immediately gives it back its eye, but as she tries to open the chest containing the Vorpal sword, the Bandersnatch attempts to attack. At that moment, Alice shows her scratched arm, which makes the Bandersnatch starting to regret what it had done.
After waiting until the next morning, Alice gets the key for the chest, getting out the Vorpal Sword. She comes back to the room where Tarrant is, using the Vorpal sword to break his chains. However, at that moment, Stayne arrives and sees them, getting into a fight with Tarrant. As Mally shouts out to Alice to run, she accidentally lets out Alice's actual name, enabling Stayne and the Red Knights to chase her and surround her around the pen. Just then, the Bandersnatch arrives and helps to take out the Red Knights, before taking Alice to the White Queen's Castle, also taking along Bayard. Upon arrival, the White Queen is glad to have the armor complete with the Vorpal sword, and makes a potion to make Alice small enough to fit in the armor, then takes her to see Absolem, who admits that she is almost the right Alice that the others were commenting about. Meanwhile, with the help of Chessur, Tarrant manages to prevent getting executed, fleeing along with his friends to get to the White Queen's Castle.
On Frabjous Day, the day the Jabberwocky is to be slayed, everyone prepares for battle against the Red Queen and her Red Knights. Still feeling that she is in a dream and cannot do it, Alice goes to Absolem, who is about to enter his pupa stage. Absolem states that he cannot help her unless he knows who she really is, which makes Alice state her full name and life. Absolem then realizes that she is the same Alice who came to Underland thirteen years earlier, having called it "Wonderland". This also makes Alice realize that Underland and everything in it is real, and she feels ready to join the battle. As she begins to fight the Jabberwocky, she practices thinking of six impossible things her father had taught about, and the others begin to battle the Red Queen, the Red Knights and the Jub Jub Bird. Jumping from a spiral staircase on some ruins, Alice slices the Jabberwocky's head off, which makes the Red Knights able to turn against the Red Queen, who along with Stayne gets exiled by the White Queen. Inside the dead Jabberwocky is a type of blood that will allow Alice to travel back to the real world. Knowing that she has to set things right over there, she drinks the vial of blood, but promises to come back soon. Arriving back at the engagement party, Alice admits that Hamish Ascot is not the right man for her to marry, but agrees to be his father's apprentice and do Charles' business of expanding his trade route. As she sets off on the boat sailing to China, she encounters a blue butterfly whom she recognizes to be Absolem.
Onboard the Wonder of London on the Straits of Malacca, Alice explains to Mr. Phelps that surrendering to a group of pirates will risk in defeat and upon encountering shallow waters, Phelps commands the captain to give full sail in order to survive the obstacles the Wonder is encountering. Having survived the storm and escaped fro, the pirates, Alice explains to Phelps that the only way to achieve the impossible is to believe it is possible as the Wonder sails back to London.
After arriving back in London from Asia, Alice notices that she has to handle problems with her family like Time being an obstacle to her family. As Alice and her mother are planning for an invitation, she talks to her about a proposition for Hamish to which her mother explained that Hamish married last year. Arriving at the Ascots' residence, she encounters an older Hamish explaining that she came back from Asia. As Alice plans to bring out a plan for further expeditions, Hamish decides not to continue these plans, explaining that no other company is in charge of hiring her to which Alice tries to counter his denial that she owns ten percent of the company to which Hamish tries to clarify about the bond he will redeem for her father's ship the Wonder of London. Hamish offers Alice to retire the vessel in order to redeem the house. Later during an argument, Alice is told that she must face the changes the company will do to the Wonder to which Alice refuses. Arriving at the conservatory, she encounters Absolem in the form of a butterfly as she follows him into a study area. Alice follows Absolem through the looking glass as she ends up in Underland once again.
Additionally, by going through a different way back to Underland, she learns from Absolem that problems have also occurred there under the clutches of Time, warning her to hurry. Alice ends up in the spot where a party takes place at with the White Rabbit, the March Hare, Mally, the Bandersnatch, the Tweedle Boys, the White Queen, Bayard the Bloodhound, and the Chessur. Arriving at the spot, Bayard explains to Alice about the Hatter's tragic flashback in Tulgey Wood. Reminding her of Bayard's story, she goes to the Hatter's house where she discovers that he misses his lost family. As she encounters him, the Hatter explains to Alice that he misses his family. Discovering his terrible state, he explains to Alice that the only way to save him is to find his missing family, to which she believes that his family died under the clutches of the Red Queen. Alice later notices that the Hatter is in risk of dying, causing her to alert her friends about this and the only way to save him is to find his missing family. The White Queen advises Alice to travel back in time in order to save him and his family via Chronosphere, an object that powers the Grand Clock of All Time to which Bayard explains that only Alice can use the Chronosphere to which Alice sets out to travel back in time to find the Hatter's family and save him from death.
Arriving at the area where Time would be at, Alice plans to find Time's castle, borrow the Chronosphere, travel back to Horunvendish Day where the Hatter's family is alive, and save the Hatter's family from being killed in order to save the Hatter from death to which Chessur warns her to not alter the present. Alice then enters Time's castle in a plan to save the Hatter. Thereupon, Alice encounters Time and follows him to the Underlandians Living area and later to the Underlandians Deceased area, both areas linked to life and death of Underland citizens who are currently living and are now deceased during their lifetime. After Time introduces himself to Alice, she explains to him that his friend the Hatter is in risk of dying to which Time refuses at first. She then follows Time to a large chamber of clockworks, including the Grand Clock of All Time. As Wilkins approaches Time, he introduces his fellow workers to her as the Seconds. During a private conversation with Time, Alice explains to her about Tarrant Hightopp, her best friend, as well recapping the Hatter's tragic flashback and the moment Alice slayed the Jabberwocky on Frabjous Day. Alice asks him that if he can borrow the Chronosphere, to which Time warns her that she could alter the past, the present, and the future of Underland in case she does so. As Time summons Wilkins to escort her out, he escorts her to go back the way she came. Alice later notices the Red Queen entering Time's castle as she enters the Chronosphere area herself in order to keep Time and Wilkins busy.
Grabbing the Chronosphere, Time notices what Alice has done to the Grand Clock as Alice notices an army of Seconds trying to stop her by forming into monstrous-looking alter-egos known as "Minutes" pursuing her. Escaping from an army of Minutes, Alice boards the Chronosphere while evading the army of Minutes to which Alice escapes. Having escaped from the army of Minutes, Alice ends up in the Ocean of Time where she discovers multiple past events to which she travels to the past Horunvendush Day only to be stopped by Time, demanding Alice to give him back to Chronosphere before everything else stops. Having escaped from Time, Alice ends up in the past Toomalie Day event.
Alice finds herself and discovers a past version of the Hatter who introduces himself as Tarrant and later attends the failed coronation of Iracebeth. She later talks to him to return to his family and warn them about Horunvendush Day and as Tarrant leaves in sorrow.
As Alice travels to the past Fell Day event, she encounters a younger Tarrant who explains to her that his father makes the best hats in Witzend. He later brings Alice to his father Zanik's workshop just as Tarrant's father explains that in order to make a hat like him, it must be done properly and very carefully to which after a short conversation, she leaves his workshop. She later notices the clock on the stroke of six and followed by an incident of Iracebeth's injury in the past. After remembering what Time taught him and noticing none of the Hightopp family's name seen in the Underlandians Deceased area, Time arrives and confronts Alice for the catastrophe she caused. Alice manages to evade from Time. Alice, however, finds herself in a hospital as her mother explains to her that she has been acting strangely to which Alice escapes from Dr. Bennet and the hospital workers and into the Ascots' residence so she can use the Chronosphere.
Alice later travels back to the past Horunvendush Day event and sees the Hightopp family captured by an army of Armored Cards, reminding Alice to return to the present to explain the Hatter the evidence of his family to which she gets no response from him, still near death. However, the Hatter wakes himself up, because Alice believed in him. Alice tells him the evidence about what the Red Queen did to his family to which he and Alice plan to reach the Red Queen's castle and save his family.
Approaching the Red Queen, Alice, the Hatter, and the rest of Alice's friends, reach the Red Queen's castle to find the Hatter's family. Entering, Alice sees the Red Queen's ant farm with the outline of a hat, linked to Tarrant's missing family just as Alice finds his missing family members who are all shrunk in diminutive size. The moment, however, is disrupted when the Red Queen summons two Vegetable Soldiers to seize her. With Alice's friends captured by the Vegetable Guards, Alice tries to stop the Red Queen from using the Chronosphere to prevent further catastrophe, to which the Red Queen refuses, just as she boards the Chronosphere, causing a catastrophe in all of Underland.
Furthermore, a Vegetable Courtier opens the cage where Alice and the Hatter are imprisoned at to which Alice devises a plan to take Time back to his castle and retrieve the Chronosphere in order to save the universe of Underland. Traveling back to the Fell Day event where the Red Queen and the White Queen are at, Alice and the Hatter grab the Chronosphere. Retrieving it, the two stare down at the approaching time rust due to the damage the Red Queen caused.
Alice, the Hatter, the White Queen, and the Red Queen (who was turned into rust) board the Chronosphere and travel through the Ocean of Time back to Time's castle as the time rust continues engulfing across Underland. Alice enters the area where the Chronosphere is to be housed at, but she ends up being turned into rust while trying to save Underland. With Underland restored, Alice is restored back to life along with everyone in Underland. Alice follows Time to the Underlandians Living area just as she apologizes to Time for the disaster she caused to which Time accepts her apology. Afterwards, the Hatter allows Alice to return to the real world, bidding a farewell to her friends in Underland.
Returning to the real world, Alice tells Hamish that Time is not her family's enemy and explains to her mother that even though she cannot change the past, she can learn from it, allowing her mother to sign the contract. Alice's mother, however, breaks the contract, telling Hamish that Alice can do whatever she can. Later, the company Alice works at is renamed "Kingsleigh & Kingsleigh Trading Company" as Alice and her mother later board the Wonder together after retaining it back.
Video games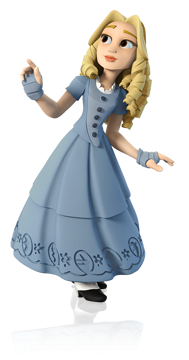 Alice is playable in the Toy Box of the third Disney INFINITY game, released on May 24, 2016.[2] To use her, the player must have their console connected to the internet to install an update patch that contains the data for the character. When she is placed on the Disney INFINITY base, the player unlocks her costume, INterior poster, and the Through the Looking Glass sky and terrain.
In her skill tree, she is one of the characters who can make a Super Jump. After making a regular jump or a Super Jump, she can glide back to the ground by using her dress as a parachute. Compared to the other characters in the game, she has two special moves. "Eat Me Attack" allows Alice to grow larger so to help her defeat her enemies, but she moves slower and can only do a limited number of attacks. "Drink Me Attack" makes Alice shrink so that she appears invisible to enemies. While she can move faster, she can only do simple attacks. Her melee skills include summoning Tweedle Dee and Tweedle Dum, and using a flamingo in her Melee Combo attack. If the player does a Melee Combo attack successfully, Chessur can be summoned to distract enemies.
Gallery
Trivia
References
v - e - d

Disney
Mickey Mouse & Friends: Mickey • Minnie • Donald • Daisy • Goofy • Pluto • Fifi • Pete • Clarabelle Cow • Horace Horsecollar • Willie the Giant • Chip and Dale • Mortimer Mouse • Chief O'Hara • Detective Casey • Butch the Bulldog • Golden Harp • Father Time • Peter Pig


The Lion King: Simba • Nala • Shenzi, Banzai, and Ed • Ostrich • Gazelle • Rhino • Hippo • Zebra • Blue Beetle • Grub • Zazu • Rafiki • Timon • Pumbaa • Mufasa • Scar
Tangled: Rapunzel • Flynn Rider • Stabbington Brothers • Pub Thugs • Attila • Vlad • Big Nose • Hook Hand • Ulf • Shorty • Pascal • Maximus • Mother Gothel • The King • The Queen • Captain of the Guards • Warthog • The Lantern
Wreck-It Ralph: Ralph • Vanellope • Felix • Sgt. Calhoun • King Candy • Taffyta Muttonfudge • Candlehead • Surge Protector • Gene • Nicelanders • Rancis Fluggerbutter • Other Sugar Rush Racers • Sour Bill • Blue Racer • General Hologram
Big Hero 6: Hiro Hamada • Baymax • Robert Callaghan • Go Go Tomago • Honey Lemon • Wasabi • Fred • Fred's Dad • Tadashi Hamada • Cass • Yama • Alistair Krei • Heathcliff • Abbigail Callaghan • Attila • Sergeant Gerson • Cass
Zootopia: Judy Hopps • Nick Wilde • Flash • Clawhauser • Gazelle • Yax • Bogo • Mayor Lionheart • Bellwether • Doug • Finnick • Mr. Big • Mr. Otterton • Manchas • Gideon • Jerry Jumbeaux Jr. • Nanga • Priscilla • Mr. Hopps • Mrs. Hopps • Business Lemming • Duke Weaselton • Fru Fru • Kozlov • Officer McHorn • Wrangled • Wreck-It Rhino • Pig Hero 6
The Jungle Book: Mowgli • Kaa • Baloo • Akela • Raksha • Gray • Shere Khan • Colonel Hathi • King Louie • Bandar-Log Monkey • Flying Squirrel • Crocodile • Peacock • Vulture • Elephant • Bee Hive
Alice Through the Looking Glass: Alice Kingsleigh • Dormouse • Tweedledee and Tweedledum • Cheshire Cat • Bandersnatch • Bayard • White Queen • March Hare • White Rabbit • Mad Hatter • Absolem • Time • Wilkins • Humpty Dumpty • Red Queen • Borogrove • Frog Delivery Man • Gentleman Fish • Vegetable Soldier • Vegetable Servant • Vegetable Executioner • Armored Chess Piece
Pirates of the Caribbean: Jack Sparrow • Will Turner • Elizabeth Swann • Joshamee Gibbs • Tia Dalma • James Norrington • Marty • Cotton • Bootstrap Bill Turner • Pintel • Ragetti • Angelica • Blackbeard • Prison Dog • Maccus • Davy Jones • Helmsman • Philip Swift • Syrena • Captain Salazar • Ghost Lesaro • Shansa • Henry Turner • Carina Smyth • The Redhead • Murtogg • Mullroy • Treasure Chest • Stray Cat • Tiny • Pirate With Pigs • Ghost Shark • Ghost Seagull • Auctioneer
Aladdin: Aladdin • Jasmine • The Sultan • Prince Achmed • Gazeem • Razoul • Rajah • Iago • Abu • Genie • Jafar • Magic Carpet • Pink Flamingo • Beggar Jafar • Golden Scarab Beetle • Magic Lamp • Snake Charmer • Golden Camel
The Nightmare Before Christmas: Jack Skellington • Sally • Lock, Shock, and Barrel • Oogie Boogie • Santa Claus
Mulan: Mulan • Yao, Ling, and Chien Po • Fa Li • Fa Zhou • Hayabusa • Khan • Cri-Kee • Little Brother • Mushu • Shan Yu • Captain Li Shang • The Emperor of China • The Matchmaker • General Li • Grandmother Fa • First Ancestor Fa • Chi-Fu • Great Stone Dragon
Moana: Moana • Sina • Frigatebird • Chief Tui • Gramma Tala • Pua • Frigatebird • Kakamora Chief • Maui • HeiHei • Ghost Matai • Eel • Tamatoa • Frog Monster • Sloth Monster • Eight Eyed Bat • Chicken Feed • Maui's Hook • The Ocean
Beauty and the Beast: Belle • Maurice • Chip Potts • Mrs. Potts • Gaston • LeFou • FrouFrou • Chapeau • Plumette • Beast • Cogsworth • Lumiere • The Enchantress
Lilo & Stitch: Lilo Pelekai • Nani Pelekai • David Kawena • Mrs. Hasagawa • Mertle Edmonds • Stitch
DuckTales: Scrooge McDuck • Donald Duck (Classic) • Huey, Dewey, and Louie • Webbigail Vanderquack • Mrs. Beakley • Beagle Boys (Big Time, Burger, and Bouncer) • Gyro • Darkwing Duck • Falcon Graves • Pixiu Chinese Dragon • Peghook's Ghost • Launchpad McQuack • Hack and Slash Smashnikov • Gizmoduck • Shadow Magica • Ma Beagle • Flintheart Glomgold • Pharaoh Toth-Ra • Headless Man-Horse
Community content is available under
CC-BY-SA
unless otherwise noted.