"Alpha, Bravo, Unicorn" is the second episode of the second season of Penn Zero: Part-Time Hero. It premiered on July 11, 2017.
Synopsis
The trio return to Dragon World, which finds itself under attack by unicorns who threaten to destroy their dimension. However, before they fight them, they must convince Blaze, who has fallen into a slump from a previous defeat from the unicorns, to get back on his feet to help them.
Plot
Trivia
This is the first time someone other than Sashi or Larry explain the mission.
Dragon World is visited for the third time in this episode , the second being "Where Dragons Dare" and "Save the Worlds".
Yael Stone guest stars as General Bighorn. 
Blaze watching a TV a green dragon holding a chocolate cake is a reference to Guy Fieri.
The title "Alpha, Bravo, Unicorn" refers to the use of the words "Alfa [sic], Bravo, Charlie, etc.," to represent the letters A, B, C, etc., in the "International Radiotelephony Spelling Alphabet"; this alphabet was devised to enable military radio operators to use different sounding words to represent letters which might be confused because they sound similar over a radio. (Thus if a radio operator had to specify something unfamiliar to the person he was talking to, such as a town named "Debraszaville," rather spelling it confusingly "D, E, B, R, A, S, Z, A, V...," etc., he would spell it "Delta, Echo, Bravo, Romeo, Alfa, Sierra, Zulu, Alfa, Victor..." etc.). "U" in this alphabet was actually represented by the word "Uniform" rather than "Unicorn."
Gallery
v - e - d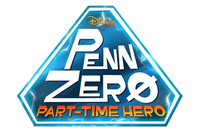 Locations
Middleburg • Middleburg Central High • The Odyssey • Fish Stick on a Stick • North Pole • Knight World • Superhero World • Arabian World • Plush Toy World • Clown World • Dinosaur Cowboy World • Cereal World • Old English World • Giant Monster World • Zombie World • Space World • Ocean World • Color World • Musical Fairy Tale World • Caveman Spy World • Future Barbarian World • Ultrahyperball World • Demon World • Alien World • Galaxy World • Temple World • Dragon World • Gothic Mystery World • Plant World • Animal Barbarian World • Toy World • Outer Space Court World • Robot World • Pirate World • Fairymania World • Steampunk World • Ball World • Ghost World • Rock, Paper, Scissor World • Beast World • Anime World • Sitcom World • Nothingness • Most Dangerous World Imaginable • Least Dangerous World Imaginable
Objects
Multi-Universe Hologram Uplink • Multi-Universe Transprojector • Pigoilet • The QPC Unit • Vortex Tops • Specs
Community content is available under
CC-BY-SA
unless otherwise noted.