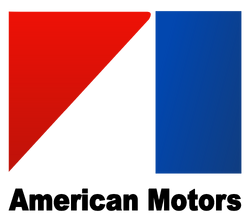 American Motors Corporation (AMC) was an American automobile company formed by the 1954 merger of Nash-Kelvinator Corporation and Hudson Motor Car Company. At the time, it was the largest corporate merger in U.S. history. It was not owned by Disney, but it was a sponsor for the Disneyland TV show. As such, in late 1954, a few commercials were created featured Disney characters riding in and talking about AMC cars in the 1950s-style animation, designed by Tom Oreb.
Oreb streamlined the design of the characters for these commercials. Mickey Mouse, for instance, was given a big "adult" suit, and his head was more triangular, while his iconic ears were shaped accordingly as well. Commercials he appeared in were directed by former Mickey director Charles A. Nichols, with Clarence Nash, the voice of Donald Duck, voicing Mickey. Donald himself appeared in a few ads as well.
According to background designer Victor Haboush, the commercials did not last long, however, because one young viewer wrote Walt Disney to criticize him for giving in to modern art, which he thought was Communistic. Walt was so upset by the reaction that he decreed right then and there that there would be no more of such commercials to be made, ending the unit that produced them.
Characters featured
(Note: this may or may not be complete)
Gallery
Still images
Videos
Releases
Four of the commercials, two featuring Mickey Mouse (one with Pluto and the other with Minnie Mouse and Morty and Ferdie Fieldmouse) and two featuring Jiminy Cricket (one with Pinocchio and Geppetto), were released on a DVD about mid-century modern animation, distributed by Thunderbean Animation, LLC.