The Arcade Prizes are the digital points, medals, coins, and trophies players win in Litwak's Arcade through the digital/game characters in Disney's 2012 animated feature film, Wreck-It Ralph.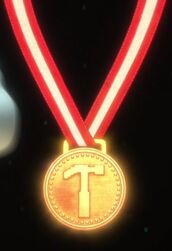 After players help Felix fix Ralph's damage on the Nicelanders' home, the clouds part to revel a gold medal that places itself around Felix's neck, before the Nicelanders throw Ralph off their roof. After each game and when the arcade is closed for the night, Felix places the medal(s) he got that day with the other medals that he won through the years.
From the perspective of the players, it has Felix's name engraved on the gold, while in the game itself, Felix's hammer is on it.

Main article: Medal of Heroes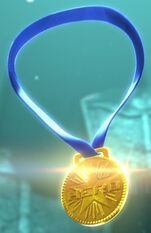 As Sergeant Calhoun and her team help the player(s) get past the Cy-Bugs and up to the tower in Hero's Duty, General Hologram rewards the players with a gold medal with the word "Hero" on top of a star on the front and an American eagle is on the back.
What the people in the game do with the medal (or medals) after each game is unknown. They either place it back in the tower or keep it with the other past medals, while a new medal regenerates.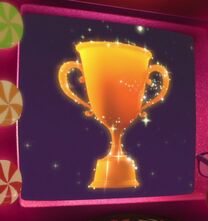 The Winner's Cup is rewarded to the Sugar Rush Racer that comes in first place, through a player or on their own as they challenge the players.
When the race boards reloads for the next daily racers, the racers place gold coins into the cup so they could pay their way into the race and when a racer wins the cup, they also win the coins in it.