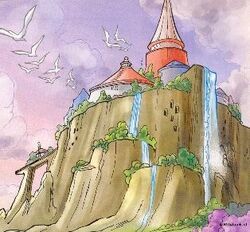 Arkhanta is a fictional location in W.I.T.C.H.. It is one of the worlds where the W.I.T.C.H. end up as messengers of Kandrakar. Almost like in Meridian the people live simple and peaceful life plowing the lands. Apart from the green lands and woods there are swamps, where the beautiful, but evil nymphs, called banscáils or banshee's.
In the Comic
The ruler of Arkhanta is Ari, who raised his kingdom to prosperity by catching a banscáil and using its power. Before becoming a ruler, Ari was a happy farmer, content with his life, but after the death of his sweet wife, and the arrival of his son, Maqi's illness, changed his life.
When the wisest men in the land couldn't help Maqi, Ari decided to capture a banscáil, for the old tales told that when a banscáil is captured, it has to grant every wish of the person who has captured it. ua couldn't cure Maqi, and something inside Ari crumbled.
By the powers of Yua, Ari build up for himself the great Scarlet Citadel and made himself the ruler of Arkhanta. Ruled by grief and anger Ari announced war between Kandrakar, for he thought that the illness of Maqi was caused by the Oracle. After a lot of twists the W.I.T.C.H. girls managed to free Yua from the rule of Ari and save Maqi.
After Yua left, Ari lost all of his possessions and the grand Scarlet Citadel. He is still King, for the people thought of him as a good ruler. For Ari himself was a poor farmer, he also used the power of Yua to make the land plentiful.
Traditions
There is a yearly harvest festival to show the peoples appreciations for their King Ari, by bringing to the city of Urdath (which is a city near the palace) gifts to show their thanks and appreciation. The food is from the fields, and the famous black grapes of the land are squished by leg power, and is either made to wine or juice.