Artemis Fowl
is an upcoming
2020
fantasy film adaptation of the first novel from the book series of the same name. The film will be directed by
Kenneth Branagh
and was set to be released on
May 29
,
2020
, until the COVID-19 crisis resulted in the film being pulled from theatrical release in favor of a
Disney+
debut.
[1]
Synopsis
When Artemis Fowl, a brilliant collector of ancient artifacts, is captured by a nefarious evildoer, his son, child genius Artemis Fowl II, will have to team up with LEP-RECON officer Holly Short and zany conman Mulch Diggums in order to rescue him. Along with his bodyguard and assistant, Domovoi Butler, Artemis II finds a conspiracy that threatens the entire world.
Cast
Ferdia Shaw as Artemis Fowl II
Lara McDonnell as Holly Short
Josh Gad as Mulch Diggums
Tamara Smart as Juliet Butler
Colin Farrell as Artemis Fowl I
Judi Dench as Commander Root
Hong Chau as a fairy
Miranda Raison as Angeline Fowl
Nikesh Patel as Foaley
Joshua McGuire as Briar Cudgeon
Chi Lin Nim as Trouble Kelp
Jean Paul Ly as Nguyen Xuan
Matt Jessup as Budd
Michael Abubakar as Burr
Simone Kirby as Mrs. Byrne
Sally Messham as Sky Willow
Bernando Santos as a groomsman
Adrian Scarborough as the Goblin Chief
Development
In July 2013, Walt Disney Pictures announced that an Artemis Fowl film covering the events of the first and second novels of the series would be produced by Disney and The Weinstein Company, with the screenplay by Michael Goldenberg. Robert De Niro and Jane Rosenthal signed onto the project as executive producers.[1] On September 1, 2015, Variety reported that Kenneth Branagh had been hired to direct the film for Disney, with Irish playwright Conor McPherson as screenwriter and Judy Hofflund as an executive producer.[2] On September 12, 2017, Disney announced that the film adaptation will be released on August 9, 2019. The following month, Disney removed Harvey Weinstein as the producer of the film and terminated its production partnership with The Weinstein Company following a sexual misconduct scandal involving Weinstein.[3] Colfer supports the changes from the source material in the film.
Pre-Production
On September 18, 2017, it was reported that Judi Dench was in talks for an unspecified role.[4] On December 20, 2017, it was announced that Irish newcomer and grandson of Robert Shaw, Ferdia Shaw, had been cast as Artemis Fowl II, alongside Dench as Commander Root, Josh Gad as Mulch Diggums, Lara McDonnell as Captain Holly Short, and Nonso Anozie as Butler. [5]
Gallery
Videos
Trivia
As it was originally slated for a theatrical release, this film is excepted to be the first Disney+ original film to use the 2019 MPA logo in the end credits.
Sources
External links
v - e - d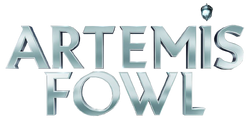 Media
Films:
Artemis Fowl
Books: Artemis Fowl • Artemis Fowl: The Arctic Incident • Artemis Fowl: The Eternity Code • Artemis Fowl: The Opal Deception • Artemis Fowl: The Lost Colony • Artemis Fowl: The Time Paradox • Artemis Fowl: The Atlantis Complex • Artemis Fowl: The Last Guardian
Community content is available under
CC-BY-SA
unless otherwise noted.