'Artemis Fowl' Teaser Trailer
Artemis Fowl
is an upcoming
2020
fantasy film adaptation of the book series of the same name. The film is directed by
Kenneth Branagh
and will be released on
June 12
,
2020
 on 
Disney+
. Originally intended to be released in theatres, the film was moved to a release on Disney+ as a result of the COVID-19 pandemic.
Synopsis
"Your family has taken something of great value from us. Return it to me or I will destroy everything you love."
―Opal Koboi
Disney's Artemis Fowl, based on the beloved book series by Eoin Colfer, is a fantastical, spellbinding adventure that follows the journey of 12-year-old genius Artemis Fowl, a descendant of a long line of thieves, as he seeks to find his father who has mysteriously disappeared. With the help of his loyal protector Butler, Artemis sets out to find him, and in doing so uncovers an ancient, underground civilization—the amazingly advanced world of fairies. Deducing that his father's disappearance is somehow connected to the secretive, reclusive fairy world, cunning Artemis concocts a dangerous plan—so dangerous that he ultimately finds himself in a perilous war of wits with the all-powerful fairies.[1]
Cast
Ferdia Shaw as Artemis Fowl II
Lara McDonnell as Holly Short
Josh Gad as Mulch Diggums
Tamara Smart as Juliet Butler
Colin Farrell as Artemis Fowl I
Judi Dench as Commander Root
Hong Chau as Opal Koboi
Miranda Raison as Angeline Fowl
Nikesh Patel as Foley
Joshua McGuire as Briar Cudgeon
Chi Lin Nim as Trouble Kelp
Jean-Paul Ly as Nguyen Xuan
TBA as Fairy Healer
Matt Jessup as Budd
Michael Abubakar as Burr
Simone Kirby as Mrs. Byrne
Sally Messham as Sky Willow
Bernando Santos as Groomsman
Adrian Scarborough as the Goblin Chief
Development
In July 2013, Walt Disney Pictures announced that an Artemis Fowl film would be produced by Disney and The Weinstein Company, with the screenplay by Michael Goldenberg. Robert De Niro and Jane Rosenthal signed onto the project as executive producers.[1] On September 1, 2015, Variety reported that Kenneth Branagh had been hired to direct the film for Disney, with Irish playwright Conor McPherson as screenwriter and Judy Hofflund as an executive producer.[2] On September 12, 2017, Disney announced that the film adaptation will be released on August 9, 2019. The following month, Disney removed Harvey Weinstein as the producer of the film and terminated its production partnership with The Weinstein Company following a sexual misconduct scandal involving Weinstein.[3] Colfer supports the changes from the source material in the film.
Pre-Production
On September 18, 2017, it was reported that Judi Dench was in talks for an unspecified role.[4] On December 20, 2017, it was announced that Irish newcomer and grandson of Robert Shaw, Ferdia Shaw, had been cast as Artemis Fowl II, alongside Dench as Commander Root, Josh Gad as Mulch Diggums, Lara McDonnell as Captain Holly Short, and Nonso Anozie as Butler.[5]
Gallery
Videos
Trivia
This film is the first Disney+ Original that was filmed as a theatrical release.
As it was originally slated for a theatrical release, this film is expected to be the first Disney+ original film to use the 2019 MPA logo in the end credits.
Sources
External links
v - e - d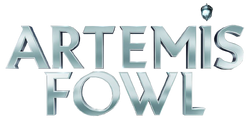 Media
Films:
Artemis Fowl
Books: Artemis Fowl • Artemis Fowl: The Arctic Incident • Artemis Fowl: The Eternity Code • Artemis Fowl: The Opal Deception • Artemis Fowl: The Lost Colony • Artemis Fowl: The Time Paradox • Artemis Fowl: The Atlantis Complex • Artemis Fowl: The Last Guardian
v - e - d

Shorts
Marvel Studios: Expanding the Universe

• Lamp Life
Community content is available under
CC-BY-SA
unless otherwise noted.