"Even miracles take a little time."
This article features media from Walt Disney Company or its subsidiaries that has yet to be released.
To prevent speculation, please add reliable sources to the unreleased media. Any information that is not backed up by citations may be removed.
Thank you and have a magical day!

Artemis Fowl II is the protagonist and title character of the 2020 film Artemis Fowl and Disney Press's graphic novel adaptations of said book series. He is played by Ferdia Shaw.
He is a young Irish criminal mastermind who lost his family fortune, and thus ventures into the realm of magical beings in order to kidnap Holly Short so he can ransom her for a large enough sum to restore his family fortune. This, in turn, leads him to find a conspiracy that threatens the world of magical beings.
v - e - d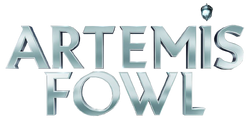 Media
Films:
Artemis Fowl
Books: Artemis Fowl • Artemis Fowl: The Arctic Incident • Artemis Fowl: The Eternity Code • Artemis Fowl: The Opal Deception • Artemis Fowl: The Lost Colony • Artemis Fowl: The Time Paradox • Artemis Fowl: The Atlantis Complex • Artemis Fowl: The Last Guardian
Community content is available under
CC-BY-SA
unless otherwise noted.