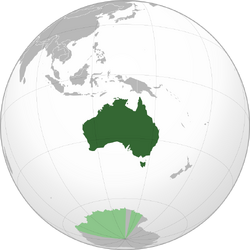 Australia, officially the Commonwealth of Australia, is a country in the Southern Hemisphere comprising the mainland of the Australian continent, the island of Tasmania, and numerous smaller islands in the Indian and Pacific Oceans. It is the world's sixth-largest country by total area. Neighboring countries include Indonesia, East Timor, and Papua New Guinea to the north; the Solomon Islands, Vanuatu and New Caledonia to the northeast; and New Zealand to the southeast.
Inspector Gadget 2 was filmed there, but set in America.
Star Wars: Attack of the Clones and Star Wars: Return of the Jedi were filmed there.
Operating from 1988-2006 was Walt Disney Animation Australia working on several episodes of several television series as well as several direct-to-video/DVD movies.
The Australian edition of the Disney Channel was launched on June 8, 1996.
Films
Television
Cities and Locations
Sydney
Gold Coast
Perth
Melbourne
Canberra
Adelaide
Brisbane
Hobart
Actors and Crew born in Australia
Kendell O'Connor (the only Australian to be named a Disney Legend)
Gallery