"Back to the Past of Future Balls" is the seventh episode of the second season of Penn Zero: Part-Time Hero. It premiered on July 13, 2017.
Synopsis
Penn and Bouncy Ball have to go back in time to stop Rippen from changing the past.
Plot
Trivia
In the beginning of the episode When Penn, Boone and Sashi are watching TV reused the footage from Balls!.
Ball World is revisited for the Third time in this episode, the second being "Balls!" and "Save the Worlds.
Penn and Bouncy Ball use a time pooltable is like use in Back to the Future.
Bowling Ball's name true is Mary. 
This is the fourth time that Penn loses temper, the first in "Rip-Penn ", the second "Save the Worlds" and the third "The Pirates, The Parrot, The Puzzles and Talking Boats". 
Curtis Armstrong guest stars as Bouncy Ball. 
Super Amazing Bouncy Ball's comment "That deflated football is a true patriot" could be a reference to the Deflategate scandal, involving the New England Patriots being suspected in deflating footballs.
This episode have secrets to know in Ball World:

65 million years ago, the first ball roll on land.
Every balls have butts.
Past Bouncy Ball tells Mary not to fight back the hunters while he builds a time machine.
In the past before the ball-sports equipment trouble started when the feud began when a marble tripped a prominent pool cue and cause the balls and sports equipments against each other and sports equipment hunters hunted balls for sport, until Penn change the past to stop the marble from tipping the cue and the balls and sports equipment live in peace.
Gallery
v - e - d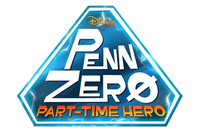 Locations
Middleburg • Middleburg Central High • The Odyssey • Fish Stick on a Stick • North Pole • Knight World • Superhero World • Arabian World • Plush Toy World • Clown World • Dinosaur Cowboy World • Cereal World • Old English World • Giant Monster World • Zombie World • Space World • Ocean World • Color World • Musical Fairy Tale World • Caveman Spy World • Future Barbarian World • Ultrahyperball World • Demon World • Alien World • Galaxy World • Temple World • Dragon World • Gothic Mystery World • Plant World • Animal Barbarian World • Toy World • Outer Space Court World • Robot World • Pirate World • Fairymania World • Steampunk World • Ball World • Ghost World • Rock, Paper, Scissor World • Beast World • Anime World • Sitcom World • Nothingness • Most Dangerous World Imaginable • Least Dangerous World Imaginable
Objects
Multi-Universe Hologram Uplink • Multi-Universe Transprojector • Pigoilet • The QPC Unit • Vortex Tops • Specs
Community content is available under
CC-BY-SA
unless otherwise noted.