"Backups & Breakups" is the second episode of Season Two of the sitcom Austin & Ally. It aired on October 14, 2012.
Synopsis
Austin and Ally are suspicious when Trish and Dez are hiding something from them. This leads them to believe that they are dating when, in fact, Trish is dating Trent, who becomes Austin's newest backup dancer. Trish decided to keep their relationship a secret to not influence Austin's decision when Trent auditioned for a role as Austin's backup dancer. Later, Ally finds out that Trent is cheating on Trish and only dated her to be a backup dancer in Austin's group, she decides whether to tell her or not. After getting advice from her mother, Penny, over video-chat, she decides to tell her. Trish confronts Trent and they break up and Austin fires him from the group, but Trent thinks that the reason he was fired is because Austin is jealous that he is the "better" dancer. Trent challenges Austin to a dance-off. In the end, Austin wins the dance-off and Trish gets a new boyfriend.
v - e -

d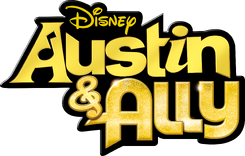 Songs
"Can't Do it Without You" • "Double Take" • "Break Down the Walls" • "A Billion Hits" • "Not a Love Song" • "It's Me, It's You" • "The Butterfly Song" • "Trash Talka" • "Better Together" • "You Don't See Me" • "Heard it on the Radio" • "Heart Beat" • "Na Na Na (The Summer Song)" • "The Way That You Do" • "Illusion" • "Don't Look Down" • "Who I Am" • "Got It 2" • "Christmas Soul" • "Can You Feel It" • "Face to Face" • "No Ordinary Day" • "You Can Come to Me" • "I Think About You" • "Finally Me" • "The Ally Way" • "Steal Your Heart" • "Timeless" • "Living in the Moment" • "I Got That Rock and Roll" • "The Me That You Don't See" • "Better Than This" • "Chasin' the Beat of My Heart" • "You Wish You Were Me" • "Redial" • "I Love Christmas" • "Austin & Ally Glee Club Mash Up" • "Who U R" • "Upside Down" • "Stuck on You" • "Me and You" • "What We're About" • "Look Out" • "Superhero" • "Parachute" • "No Place Like Home" • "Play My Song" • "Dance Like Nobody's Watching" • "Take it from the Top" • "Jump Back, Kiss Yourself" • "Perfect Christmas" • "You've Got a Friend" • "Two in a Million"