"Bad Little Dragon" is the seventieth episode of the Disney Junior series, Sofia the First. It premiered on March 11, 2016, and is the sixteenth episode of the third season.
Plot
At Zumaria Castle, Sofia and Vivian are picking Squishberries for their sleepover when they come across a baby dragon. They take him back to the castle. Vivian delivers the berries and asks her parents if she can keep the baby dragon, and they say yes. Vivian names him Crispy, takes care of him, and gives him Crackle's blankie, which makes Crackle jealous, causing her to take back her blankie. Clover tells her off, and Crackle goes to give it back. Upon doing so, Crackle learns that Crispy is not a baby dragon at all, but an adult dragon who is planning to rob Zumaria's Royal Jewel Room. After Crackle refuses to help him, Crispy vows to get rid of her. Crackle goes and tells Clover what she has discovered, but he does not believe her due to her prior jealousy. 
Suddenly, Chef Pietro, the Royal Chef of Zumaria, is heard screaming in the kitchen. All the pies he made with the Squishberries Sofia and Vivian brought back have been eaten, and scorch marks have been found. Vivian blames Crackle for this, and tells her no berries for a week. Crackle tells Sofia that it was Crispy who did it to frame her, but Sofia does not believe her because as far as she knows he is just a baby who cannot even fly. To prove it, Crackle has Clover come with her on a trail from the kitchen. At the trail's end, Clover sees that Crispy did eat the pies and that Crackle was right about him. 
The pair give chase all over the castle. Crackle and Crispy go into Vivian's room, where he scorches Vivian's new mandolin and fakes a burn. Vivian sends Crackle outside, where she packs her things and flies away with the thought of not being wanted anymore. Sofia tells Vivian, who goes after Crackle and apologizes. While Vivian is gone, Clover tells Sofia that Crackle was right about Crispy, and they confront him in the Jewel Room. Crispy is shocked that Sofia can understand him, and puts up a fight that concludes with Crispy locking Sofia in the Jewel Room. Sofia gets out through the lock using her shrinking ability.
The pair resume going after Crispy to his shock. Crispy tries to trap them under a chandelier. Sofia gets them out, and they chase him outside, where he is apprehended by Crackle, who has just returned with Vivian. When Crispy tries to defeat Crackle by breathing fire on her, Crackle quickly avoids to the bottom of Crispy's bag and pulls it in order to make the jewels fall off. While Crispy becomes shocked, Crackle captures Crispy and says that she will get rid of Crispy - for good. Although Crispy begs Crackle to get him out of the bag, Crackle ignores him and hangs him on top of the castle door. Sofia tells Vivian the truth about Crispy. Vivian realizes that Crispy did everything she blamed Crackle for, and apologizes to her pet for the way she treated her and Crackle forgives her. A policeman arrives and reveals that Crispy is a wanted thief who is wanted from Zumaria to Corinthia, and takes him away.
After the policeman leaves with Crispy, King Marcus thanks Sofia and Vivian for saving their royal treasure. However, Vivian replies that it was Crackle who stopped Crispy and saved their treasure. Queen Cecily praises her by saying that she's such a good dragon, and Vivian even says that she is the best dragon. Crackle becomes overjoyed, causing her to fly up high in the sky and do three loop-de-loops in a row, and breathes fire by accident - much to everyone else's surprise. Crackle quickly apologizes and smiles in the middle of the night sky.
Cast
Song
Trivia
This is the second time Crackle gets jealous. The first was in "Blue Ribbon Bunny".
This is the third time Crackle sings.
Clover reappears in Season three after a four-episode absence since "Sofia in Elvenmoor".
Vivian and Crackle reappear in Season three after a five-episode absence since "All the Sprite Moves".
This is the fourth time Sofia uses her shrinking ability.

It is revealed that Sofia's shrinking ability can make her as tiny as possible.

King Marcus' voice actor is revealed to be Stephen Guarino in this episode.
This is the fourth time TeamTO produced for the series instead of Toiion Animation. The first, second and third ones were:
This is the first time Princess Vivian wears jewelry.
This episode is similar to the horror movie Orphan, where the villain appears as a child, but is revealed to be an adult.
This is the third episode to feature a sleepover, with the first being "The Big Sleepover", and the second being "The Curse of Princess Ivy".
Moral: Never go for looks alone and always find the facts.
International premieres
Screenshots
v - e - d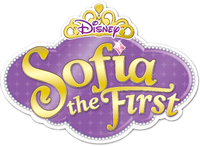 Characters
Princess Sofia • Queen Miranda • King Roland II • Prince James • Princess Amber • Princess Hildegard • Cedric the Sorcerer • Wormwood • Baileywick • Robin • Mia • Clover • Whatnaught • Goodwyn the Great • Winifred the Wise • Jade • Ruby Hanshaw • Princess Clio • Prince Zandar • Princess Jun • Prince Hugo • Minimus • Princess Vivian • Crackle • King Marcus and Queen Cecily • Trolls• Lucinda • Prince Jin • Magic Carpet • Jasper • Prince Khalid • Meg and Peg • Madam Ubetcha • Prince Desmond • Miss Nettle • Sir Gillium • Professor Popov • Helen Hanshaw • Oona • Queen Emmaline • Cora • Plank • Aunt Tilly • Wilbur the Wombeast • Sven • Emperor Quon • Empress Lin-Lin • Rex • Prince Axel • King Garrick • Electra • Vaughan and Vance • Marla • Sir Bartleby • Sir Maxwell • Sir Finnegan • Gwen • Chef Andre • Sofia the Worst • Lady Joy • Lord Gilbert • Wu-Chang • Jade Jaguar • Sir Dax • Boo • Princess Lani • Mamanu • Kamea and Halia • Praline • Freedo • Princess Zooey • Princess Astrid • Slickwell • Greylock the Grand • Princess Ivy • Dragons of Enchancia • Winter • Whiskers • Glacia the Ice Witch • Elliot, Amy, and Kurt • Tizzy • Master Erwin • Bryce Twigley • Button, Benngee, and Brody • Mossy • Carol of the Arrow • Jane • Princess Kari • Miss Elodie • Fluke • Slim • Shelly • Flip • Mantacorn • Onyx and Opal • Wendell Fidget • Mrs. Fidget • Saffron • Muck, Gunk, and Grime • Spruce • Ballerina • Mazzimo • Prince Roderick • Gavin • Kazeem • Sergeant Fizz • King Habib and Queen Farnaz • Chief Gnuckles • Flinch • Grotta • Elfonso • Elfred • Milo the Snake • King Henrik • Cordelia the Conjuror • Calista • Morgana • Crispy • Barley • Sassofras • Professor Zacharias Fleeber • Grand Mum • Gemina and Argus • Count Barnstorm • Sir Oliver • Sir Jaxon • Willawing • Kai • Princess Charlotte • Morris • Zinessa • King Philip and Queen Everly • Lily • Indigo • Marty and Maple • Mandy • Grimtrix • Wriggley, Pumpkin, and Chester • Skye • Piccolo • Baron Von Rocha • Professor Pecullian • Sea Monsters • Malachite and Fig • Omar • Prisma • Azurine • Orion • Vega • Chrysta • Sizzle • Cinder • Singe • Mare of the Mist • King Roland I • Roma • Giggling Goblin • Captain Quivers • Twitch • Vor • Nerissa


Elena of Avalor: Princess Elena • Princess Isabel • Francisco • Luisa • Shuriki • Alacazar • Zuzo • Mateo • Migs, Luna, and Skylar • Rafa • Chancellor Esteban • Armando • King Raul and Queen Lucia • Naomi Turner
Guest Characters: Flora, Fauna, and Merryweather • Cinderella • Jasmine • Magic Carpet • Belle • Ariel • Aurora • Snow White • Mulan • Rapunzel • Tiana • Merida • Olaf • Merlin • Archimedes