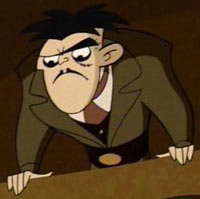 Bartholomew Lipsky is a minor character from the television show Kim Possible. He appeared in the episode "Rewriting History".
History
Bartholomew is the supposed great-great grandfather of the main Kim Possible villain, Dr. Drakken. He was a Snidely Whiplash-esque villain during the turn of the Century Middleton who plotted to steal the Electrostatic Illuminator, or ESI, from Professor Demens, the supposed ancestor of Professor Dementor. His partner in crime was Miss Go, an early relative of Shego and Team Go, and was the more physically active member of the two, just as Shego has been with Dr. Drakken.
Miss Go stole the Illuminator and fought Mim Possible for it. Their fight brought them to the roofs of a moving Ferris Wheel. After Miss Go tried to toss up "the dingus," it fell into the giant taco of the taco stand that went out of business. While he and Miss Go failed in snatching the ESI, they accidentally succeeded in ruining the reputation of Mim Possible, forcing her to go into hiding, as no one else could prove Lipsky and Go existed much less were involved and at fault. It was not until modern times a hundred years later that Kim Possible and Ron Stoppable's actions revealed Bartholomew Lipsky as the real perpetrator. Long after the theft, a recording of him accidentally talking into an old Victrola told of his plan to steal the invention, which was a factor in Dr. Drakken becoming a villain.
Appearance
Bartholomew looked nearly identical to Dr. Drakken, including the scar under his eye, except for having a normal skin tone instead of blue and a shorter mullet-less hairstyle. However, he did sport a pencil-thin mustache.
Notes
As with everything depicted in the episode, except the final few moments after Kim and Ron awaken to discover it was all a dream, it is highly questionable if Bartholomew was "real", or if he truly was an inspiration for Dr. Drakken to become evil.
External Links