"As long as it's illegal, we'll be happy beagles!"
―Big Time
The Beagle Boys are a family of criminals who constantly try to rob the extremely wealthy Scrooge McDuck. Inspired by the real-life Barker-Karpis criminal gang, they first appeared in Walt Disney's Comics and Stories #134, in the Carl Barks comic Terror of the Beagle Boys. When not serving as the central threats, the Beagle Boys often appear as henchmen for Flintheart Glomgold, Magica De Spell, Pete and the Phantom Blot.
Background
In the comics, the individual Beagle Boys are referred to by their prison numbers, indicated on the tags seen on the chests of their distinctive red shirts, which appeared as orange in the comics. The three most common numbers are 176-167, 176-671, and 176-761. In fact, no digits other than one, six, or seven appeared on their prison ID tags. Carl Barks used to include the words "Beagle Boys, Inc." on their shirts under their numbers, which was later deleted. In later years, they appeared in the comics as a trio (some combination of the most common numbers with 176-176, 176-617, and 176-716), plus cousins and other relatives of various talents as spin-off characters. They live in a small tumbledown hide-out in Duckburg; in 1980s American-produced stories, their pet cat Ratty often lived there as well.
The Beagle Boys have lots of relatives who count each other as brothers and cousins: apart from their mother Ma Beagle, there are the Beagle Brats (their rascal nephews), the Beagle Babes (a trio of female cousins), and their grandfather Grandpa Beagle. The brains of the Beagle clan are Intellectual-176 (or I-176) who wear a mortar-board cap and glasses over his black mask.
According to a flashback sequence in Carl Barks' The Fantastic River Race, Scrooge's rivalry with the Beagle Boys goes back to his Mississippi riverboat days. Those Beagle Boys include Blackheart Beagle and his three unnamed sons. Since then, the Beagle Boys have been a constant threat to Scrooge's huge money bin.
Sometimes they team up with other villains such as Magica De Spell, Pete, or Madam Mim, or they hire out their services to Flintheart Glomgold, Ollie Eiderduck, or John D. Rockerduck. During these occasions, it should be noted, they continue to operate out of their own interests rather than their employers.
Sometimes they antagonize Super Goof, Mickey Mouse, or other characters from Disney comic books.
Voices
Appearances in animation
In the featurette, the Beagle Boys try to win the one-million trophy of the football competition, which was accidentally provided as a prize by Scrooge.
On DuckTales, the Beagle Boys were given names and different personalities and reimagined to be loosely based on the popular image of Ma Barker and the Barker-Karpis Gang. The usual character combination is Bigtime, Burger, and Bouncer and/or Baggy; or Babyface, Bugle, and Bankjob, depending on the episode. Other known names are Bomber and Blitzkrieg. Their leader is usually Big Time, Bankjob or their mother Ma Beagle. Like in the comics, the Beagles sometimes team up with Scrooge McDuck's other enemies to achieve their goals, particularly Flintheart Glomgold.
In "A Drain on the Economy", the Beagle Boys recruit their cousins for an attempted assault on the Money Bin. Over the course of the sequence, several of these Beagles are given the names Boom-Boom (not to be confused with the Beagle Babe), Banzai, Buckeroo, Beanball, Blitzkrieg, Bifocal, Bumpkin, Butterball, and Bullseye. Notably, the Beagles' cousins seen in "A Drain on the Economy" look quite similar to the usual "standard" Beagle Boys from the original comics. Outside the show itself, "standard" Beagle Boys appeared in the Disney Studios-produced stories produced for Gladstone Publishing's DuckTales comic book and even Boom! Studios' two DuckTales story arcs, "Rightful Owners" and "Dangerous Currency".
In the episode "Once Upon a Dime", which is a flashback to Scrooge's first adventures, Ma Beagle's earlier generation of children is introduced. Two are named Butch (Chuck McCann) and Wild Bill (William Callaway), and the third one is unnamed (Michael Rye).
In "The Good Muddahs", three female cousins of the Beagle Boys are introduced: Bouffant, Boom-Boom, and Babydoll. The three kidnap Webby for ransom, but they soon come to care for her as one of their own. The Beagle Babes appear to be much less evil in nature than their cousins; they show true concern for Webby when she shows signs of going "bad". They, too, are eventually arrested and brought to prison.
In "The Status Seekers", a trio of Blue Blood Beagle Boys appeared named Bonaparte, Bicep, and Bearnaise, who appear to be high-class versions of Big Time, Bouncer, and Burger. The trio worked for Charles Upstart III to get to the Mask of Kufululu before Scrooge, only to be thwarted by Scrooge's friends.
The Beagle Boys have numerous younger relations called the Beagle Brats, which appear in the episode "Take Me Out of the Ballgame". In the episode "Nothing to Fear", there is a character named Bully Beagle, however, he doesn't wear the traditional Beagle outfit and mask, so his exact relationship is unknown.
List of Beagle Boys in DuckTales
In the direct-to-video film Mickey, Donald, Goofy: The Three Musketeers, three Beagle Boys make an appearance working as minions for Captain Pete. These three Beagle Boys are different from previous incarnations as they have grayish skin, yellow eyes, and wear dark cloaks and hoods. Two of the Beagle Boys are tall and speak with British accents, and the third one is rather short and speaks with a French accent. While none of them have been given official names, the smallest beagle is referred to as "Shorty", "Small Fry", or "Shortstop" in a few scenes. However, the Japanese version of the film and KH:3D lists the Beagle Boys separately as "Small", "Medium", and "Large" (despite that two of them are approximately the same size).
The boys are first seen at Princess Minnie's palace preparing to murder her by dropping a safe onto her. Their attempt fails, and they run off to tell their boss, who is revealed to be Pete, the captain of the Musketeers. Pete is outraged by the Beagle Boys as the plan was not to murder the princess but to kidnap her only. The boys are then banished to a pit as punishment while the pit is actually adequate. Later on, by orders of Minnie, Pete assigns three janitors, Mickey, Donald, and Goofy, to protect her as musketeers. Pete believing they'll do a terrible job, orders the Beagle Boys to kidnap Minnie with high hopes of success. However, upon the Beagles' return, Pete realizes the three are better musketeers than he thought and advises a plan to pick them off one by one. Pete and Clarabelle go after Mickey and Goofy respectively, while the Beagles lure Donald into Pete's lair to be decapitated. Time restrictions force Pete's plan to take place at the grand opera where Mickey, Donald, and Goofy reveal to survive their planned deaths and battle the Beagles. Pete interferes and seemingly murders Donald and Goofy along with the Beagles. Pete shows no remorse for the loss of his henchmen and continues with his plans. The Beagles are not seen or mentioned again in the film after that, but in the comic book adaptation, they are shown being arrested along with Pete.
The Beagle Boys appear in the episode "Sock Burglar" as one of the suspects interrogated by Minnie Mouse.
They later reappeared as Pete's henchmen in the episode "Touchdown and Out". After being freed from prison, a trio of Beagle Boys joins Pete and Chernabog as a football team against Mickey, Donald, and Goofy where they cheat their way to the lead. When Chernabog is handicapped toward the end of the game, he slowly collapses into the ground, taking a horrified Pete and the Beagle Boys down to the fiery depths with him.
The Beagle Boys return as comedic villains in the reboot of DuckTales and are all voiced by Eric Bauza. They retain the names of the Beagles in the original DuckTales series and are once again portrayed as local crooks led by Ma Beagle. However, the Beagle Boys are portrayed as being much less competent as criminals than their 1987 incarnations and, as a result, receive far less respect from Ma Beagle. The most notable change of them as a collective group is the inclusion of their southern drawls. Their prison bar code numbers have also been removed, being replaced by a large black print of the letter "B" on the centers of their shirts. They are divided into several gangs as shown in the episode "The Beagle Birthday Massacre!"
List of Beagle Boys in the DuckTales reboot
Cameos
Some Beagle Boys make cameo appearances in the Darkwing Duck episode "In Like Blunt", along with Magica De Spell and Flintheart Glomgold, among the bidders for the secret S.H.U.S.H. agent list.
Two Beagle Boys made a cameo appearance in the Goof Troop episode "The Ungoofables", in which they were depicted as a couple of bank robbers in 1929 driving around Chicago with several stolen bags of money. While fleeing the police, they were looking to get out of town and briefly stopped their getaway car to ask Eliot Goof (great uncle of Goofy's son Max Goof) for directions before resuming their course.
In the July 1996 Goof Troop comic strip "Good Dog Card" (published in Disney Adventures magazine Volume 6 Number 9), a tall and skinny Beagle Boy breaks into Pete's house late at night, scares off Pete's dog Chainsaw, and robs the house of everything in its living room.
One Beagle Boy also made a cameo appearance in the Bonkers episode "The 29th Page".
In the Quack Pack episode "Nosy Neighbors", Donald tries to train his attack dogs, using an attack dummy that resembles a Beagle Boy.
An unnamed Beagle was seen during the "A Very Goofy Christmas" segment of Mickey's Once Upon a Christmas in a cameo role. In the middle of the short, the Beagle Boy in question was seen robbing Pete's house and was mistaken for Santa Claus by Goofy and Max until the police arrived.
Video game appearances
The Beagle Boys appear as recurring enemies in each of the levels. Getting injured by them will also cause Scrooge to lose some money. The HD remake expands their role in the game, with Big Time, Burger, and Bouncer appearing as sub-bosses in the Transylvania level.
Three Beagle Boys appear as the boss in the Duckburg level, and the tertiary villains of the overall game, working for Merlock and Magica De Spell.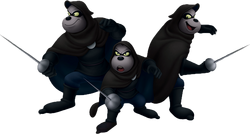 The version of the Beagle Boys from The Three Musketeers appear in Dream Drop Distance, where they appear in the world, Country of the Musketeers as figments of the dream the world is having. Like in the film, they work for Pete, trying to kidnap Princess Minnie for his nefarious plot to seize the throne. However, unlike the film, they fight Sora and Riku; Sora defeats them while saving the princess in the Tower, and they try hiding from Riku to keep the Stage Prop away from him to keep Pete's trap for the Musketeers from being undone.
During the time of DuckTales and the popular Disney Afternoon block, the DuckTales Beagles occasionally appeared as meet-and-greet characters, as well as taking part in some special promotional material involving other park characters. The Beagles no longer make live appearances at the Disney parks.
Gallery
Trivia
Although the characters are obviously based on dogs, they in no way resemble the actual beagle breed.
The Italian band Banda Bassotti based its name upon the Italian name of the gang.
Their Latin American name is Los Chicos Malos (The Bad Boys). This is referenced in the opening verse of the Latin American theme ("Muchas aventuras hay en PatoLandia/Con los chicos malos y tambien los buenos/Habra misterio, historias reales...")
The 2017 version of the Beagle Boys resemble the multiple criminal gangs seen in the classic action/thriller film The Warriors.
References
External links
v - e - d
Characters
Main Characters: Sora • Riku • Kairi • King Mickey • Donald Duck • Goofy • Roxas • Axel/Lea • Naminé • Xion • Aqua • Terra • Ventus


Villains: Xehanort • Ansem • Xemnas • Maleficent • Pete • Vanitas • Xigbar/Braig • Xaldin • Vexen • Lexaeus • Zexion • Saïx/Isa • Demyx • Luxord • Marluxia • Larxene • Terra-Xehanort • Young Xehanort • Xehanort's Guardian
Other Characters: Jiminy Cricket • Ansem the Wise/DiZ • Yen Sid • Master Eraqus • Dilan • Even • Aeleus • Ienzo • Lingering Will • Hayner • Pence • Olette • Kairi's Grandma • Riku Replica • Jiminy's Journal • Foretellers • Master of Masters • Luxu • Ephemer • Skuld • Chirithy • Lauriam • Elrena
Original Monsters: Heartless • Nobodies • Unversed • Dream Eater
Disney Characters introduced in Kingdom Hearts: Queen Minnie • Daisy Duck • Pluto • Chip and Dale • Huey, Dewey, and Louie • Magic Brooms • Alice • White Rabbit • Doorknob • Cheshire Cat • Queen of Hearts • Card Soldiers • Tarzan • Jane Porter • Clayton • Terk • Kerchak • Kala • Sabor • Hercules • Philoctetes • Hades • Cerberus • Rock Titan • Ice Titan • Aladdin • Abu • Jasmine • Genie • Carpet • Jafar • Iago • Peddler • Cave of Wonders • Pinocchio • Geppetto • Monstro • Cleo • Ariel • Flounder • Sebastian • Ursula • King Triton• Flotsam and Jetsam • Glut • Jack Skellington • Zero • Sally • Oogie Boogie • Lock, Shock, and Barrel • Dr. Finkelstein • Mayor of Halloween Town • Peter Pan • Tinker Bell • Captain Hook • Mr. Smee • Wendy • Crocodile • Merlin • Winnie the Pooh • Tigger • Piglet • Eeyore • Rabbit • Owl • Roo • Bees • Beast • Belle • Snow White • Cinderella • Fairy Godmother • Aurora • Pongo • Perdita • Dalmatian Puppies • Simba • Mushu • Dumbo • Bambi • Chernabog
Disney Characters introduced in Kingdom Hearts II: Flora, Fauna, and Merryweather • Maleficent's Raven • Scrooge McDuck • Mulan • Li Shang • Shan Yu • Hayabusa • Yao, Ling, and Chien Po • The Emperor • Lumiere • Cogsworth • Mrs Potts • Chip • Wardrobe • Pegasus • Megara • Pain and Panic • Hydra • Horace Horsecollar • Clarabelle Cow • Clara Cluck • Jack Sparrow • Elizabeth Swann • Will Turner • Captain Barbossa • Bo'sun • Jacoby • Twigg • Cursed Crew • Prince Eric • Attina • Andrina • Santa Claus • Skeletal Reindeer • Timon • Pumbaa • Nala • Rafiki • Scar • Shenzi, Banzai, and Ed • Mufasa • Kiara • Pridelanders • Hyenas • Tron • Master Control Program • Commander Sark • Kanga • Gopher • Stitch • Chicken Little
Disney Characters introduced in Birth by Sleep: Prince Phillip • Maleficent's Goons • Doc • Grumpy • Happy • Sleepy • Bashful • Sneezy • Dopey • The Prince • Evil Queen • Magic Mirror • Prince Charming • Jaq • Lady Tremaine • Anastasia • Drizella • Lucifer • Grand Duke • Grand Councilwoman • Captain Gantu • Jumba • Experiment 221 • Lost Boys
Disney Characters introduced in Dream Drop Distance: Quasimodo • Esmeralda • Phoebus • Judge Claude Frollo • Victor, Hugo, and Laverne • Kevin Flynn • Sam Flynn • Quorra • CLU • Rinzler • Black Guards • Blue Fairy • Beagle Boys • Chernabog's Minions • Julius
Disney Characters introduced in Kingdom Hearts χ: Mad Hatter • March Hare • Razoul • Royal Guards • Maurice • Gaston
Disney Characters introduced in Kingdom Hearts Union χ: Sultan • Samson • Vanellope von Schweetz • Fix-It Felix Jr. • Sergeant Calhoun • King Candy • Sour Bill • Cy-Bugs • Hero's Duty Troops
Disney Characters introduced in Kingdom Hearts III: Zeus • Apollo • Athena • Hermes • Lava Titan • Tornado Titan • Little Chef • Woody • Buzz Lightyear • Rex • Hamm • Sarge • Green Army Men • Little Green Men • Rapunzel • Flynn Rider • Pascal • Maximus • Mother Gothel • Sulley • Mike Wazowski • Boo • Randall Boggs • Child Detection Agency • Trailer Son and Mom • Elsa • Anna • Kristoff • Olaf • Sven • Marshmallow • Hans • Mr. Gibbs • Tia Dalma • Davy Jones • Kraken • Cutler Beckett • Baymax • Hiro Hamada • Go Go Tomago • Honey Lemon • Fred • Wasabi • Lumpy • Wreck-It Ralph
Disney Characters introduced in Kingdom Hearts Dark Road: Tweedledee and Tweedledum
Disney Characters introduced in the manga: Caterpillar • Chi-Fu
Square Enix Characters: Leon • Cloud • Moogle • Others
v - e - d

Disney
Mickey Mouse & Friends: Mickey • Minnie • Donald • Daisy • Goofy • Pluto • Fifi • Pete • Clarabelle Cow • Horace Horsecollar • Willie the Giant • Chip and Dale • Mortimer Mouse • Chief O'Hara • Detective Casey • Butch the Bulldog • Golden Harp • Father Time • Peter Pig


The Lion King: Simba • Nala • Shenzi, Banzai, and Ed • Ostrich • Gazelle • Rhino • Hippo • Zebra • Blue Beetle • Grub • Zazu • Rafiki • Timon • Pumbaa • Mufasa • Scar
Tangled: Rapunzel • Flynn Rider • Stabbington Brothers • Pub Thugs • Attila • Vlad • Big Nose • Hook Hand • Ulf • Shorty • Pascal • Maximus • Mother Gothel • The King • The Queen • Captain of the Guards • Warthog • The Lantern
Wreck-It Ralph: Ralph • Vanellope • Felix • Sgt. Calhoun • King Candy • Taffyta Muttonfudge • Candlehead • Surge Protector • Gene • Nicelanders • Rancis Fluggerbutter • Other Sugar Rush Racers • Sour Bill • Blue Racer • General Hologram
Big Hero 6: Hiro Hamada • Baymax • Robert Callaghan • Go Go Tomago • Honey Lemon • Wasabi • Fred • Fred's Dad • Tadashi Hamada • Cass • Yama • Alistair Krei • Heathcliff • Abbigail Callaghan • Attila • Sergeant Gerson • Cass
Zootopia: Judy Hopps • Nick Wilde • Flash • Clawhauser • Gazelle • Yax • Bogo • Mayor Lionheart • Bellwether • Doug • Finnick • Mr. Big • Mr. Otterton • Manchas • Gideon • Jerry Jumbeaux Jr. • Nanga • Priscilla • Mr. Hopps • Mrs. Hopps • Business Lemming • Duke Weaselton • Fru Fru • Kozlov • Officer McHorn • Wrangled • Wreck-It Rhino • Pig Hero 6
The Jungle Book: Mowgli • Kaa • Baloo • Akela • Raksha • Gray • Shere Khan • Colonel Hathi • King Louie • Bandar-Log Monkey • Flying Squirrel • Crocodile • Peacock • Vulture • Elephant • Bee Hive
Alice Through the Looking Glass: Alice Kingsleigh • Dormouse • Tweedledee and Tweedledum • Cheshire Cat • Bandersnatch • Bayard • White Queen • March Hare • White Rabbit • Mad Hatter • Absolem • Time • Wilkins • Humpty Dumpty • Red Queen • Borogrove • Frog Delivery Man • Gentleman Fish • Vegetable Soldier • Vegetable Servant • Vegetable Executioner • Armored Chess Piece
Pirates of the Caribbean: Jack Sparrow • Will Turner • Elizabeth Swann • Joshamee Gibbs • Tia Dalma • James Norrington • Marty • Cotton • Bootstrap Bill Turner • Pintel • Ragetti • Angelica • Blackbeard • Prison Dog • Maccus • Davy Jones • Helmsman • Philip Swift • Syrena • Captain Salazar • Ghost Lesaro • Shansa • Henry Turner • Carina Smyth • The Redhead • Murtogg • Mullroy • Treasure Chest • Stray Cat • Tiny • Pirate With Pigs • Ghost Shark • Ghost Seagull • Auctioneer
Aladdin: Aladdin • Jasmine • The Sultan • Prince Achmed • Gazeem • Razoul • Rajah • Iago • Abu • Genie • Jafar • Magic Carpet • Pink Flamingo • Beggar Jafar • Golden Scarab Beetle • Magic Lamp • Snake Charmer • Golden Camel
The Nightmare Before Christmas: Jack Skellington • Sally • Lock, Shock, and Barrel • Oogie Boogie • Santa Claus
Mulan: Mulan • Yao, Ling, and Chien Po • Fa Li • Fa Zhou • Hayabusa • Khan • Cri-Kee • Little Brother • Mushu • Shan Yu • Captain Li Shang • The Emperor of China • The Matchmaker • General Li • Grandmother Fa • First Ancestor Fa • Chi-Fu • Great Stone Dragon
Moana: Moana • Sina • Frigatebird • Chief Tui • Gramma Tala • Pua • Frigatebird • Kakamora Chief • Maui • HeiHei • Ghost Matai • Eel • Tamatoa • Frog Monster • Sloth Monster • Eight Eyed Bat • Chicken Feed • Maui's Hook • The Ocean
Beauty and the Beast: Belle • Maurice • Chip Potts • Mrs. Potts • Gaston • LeFou • FrouFrou • Chapeau • Plumette • Beast • Cogsworth • Lumiere • The Enchantress
Lilo & Stitch: Lilo Pelekai • Nani Pelekai • David Kawena • Mrs. Hasagawa • Mertle Edmonds • Stitch
DuckTales: Scrooge McDuck • Donald Duck (Classic) • Huey, Dewey, and Louie • Webbigail Vanderquack • Mrs. Beakley • Beagle Boys (Big Time, Burger, and Bouncer) • Gyro • Darkwing Duck • Falcon Graves • Pixiu Chinese Dragon • Peghook's Ghost • Launchpad McQuack • Hack and Slash Smashnikov • Gizmoduck • Shadow Magica • Ma Beagle • Flintheart Glomgold • Pharaoh Toth-Ra • Headless Man-Horse
Community content is available under
CC-BY-SA
unless otherwise noted.