Beatrice Rose Endicott
is a chairwoman of the New York City Preservation Society. She is the character responsible for the hotel tours at
Tokyo DisneySea
's
Tower of Terror
Biography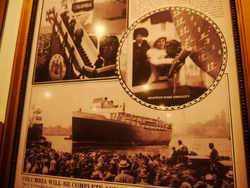 Born in 1883, Beatrice Rose Endicott was the seventh daughter of Cornelius Endicott III, a chairman of U.S. Steamship Company which own various ships including S.S. Columbia. As she grow up, she began to have praise for Harrison Hightower III, a business rival and the enemy of her own father.
On New Year's Eve of 1899, Hightower was cursed by an African cursed idol Shiriki Utundu and disappears at the Elevator. At that time, she wasn't at the scene of the accident, so she didn't believe the curse of Shiriki Utundu.
Years passed by, and Hotel Hightower was closed down and become ruins. In 1908, Endicott decided to save Hotel Hightower as the precious cultural property of New York City. She established the New York City Preservation Society and started planning to have a tour of Hotel Hightower. However, Manfred Strang, a reporter for the New York Globe-Telegraph, was against that idea, saying that the hotel was cursed. Since Endicott didn't believe in curses, Endicott and Strang explored Hotel Hightower together. At their explorations, they heard various mysterious voices and Strang realized that one voice was Hightower's. He took Endicott's hand and they narrowly escaped the hotel. However, despite Strang's expectations, Endicott never changed her mind to stop the tours at the Hotel Hightower.
During the construction of the S.S. Columbia from 1909 to 1912, Beatrice assisted her father with the interior design of the ship's facilities and would be the one to christen the ship on its test launch in 1911.
Community content is available under
CC-BY-SA
unless otherwise noted.