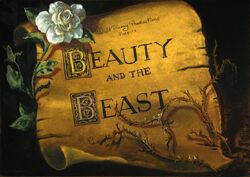 The original screenplays of Beauty and the Beast were three preliminary scripts written before the final version of Beauty and the Beast was made.
Background
Jim Cox
In early 1988, while he was working on the screenplay for The Rescuers Down Under, Jim Cox was given a list of future animated films that the Disney company wanted to make. One of these was an adaptation of Beauty and the Beast, which Cox immediately stated he wanted to do. After he had written his initial treatment, he submitted it to Michael Eisner and all the other Disney executives for approval. Upon reading the script, Eisner had some of the studio's artists, one of which was Mel Shaw, do some initial sketches, which were then put together to create a presentation reel which was later included on the Platinum and Diamond Edition DVD releases of the final film.
At this point, Jim Cox had left for his home in Mexico to see his wife. So, Michael Eisner phoned him up, congratulated him and asked him to expand his treatment into a full-fledged screenplay. However, when the screenplay reached Jeffrey Katzenberg, while he said that Cox had done well with it, he decided that his direction was not what the studio was looking for.
Gen LeRoy
After Cox's draft was silently rejected, Disney then turned to Gen LeRoy to write a draft for the film. Not much is known about this screenplay. However, the little that was known about it was that the screenplay written by LeRoy was significantly more complex than Cox's screenplay, as it featured multiple wizards, body-swaps, as well as an evil prince as a villain. According to Charles Solomon, there was also going to be a sequence where the main villain, who apparently was also a magician, transforms various vultures and sharks into his human henchmen.[1]
Richard Purdum
In late 1989, when The Little Mermaid was nearly complete, the Disney company approached Richard Williams, animation director of Who Framed Roger Rabbit and asked him to write a screenplay for Beauty and the Beast. However, Williams wanted to continue working on his lifelong project The Thief and the Cobbler, but suggested his colleague Richard Purdum. A team of animators which included Andreas Deja, Mel Shaw, Glen Keane, Don Hahn, Tom Sito, Jean Gilmore, and Hans Bacher traveled to Purdum's studio in London and spent the next several months putting together a screenplay, the story reels for which were included on the Diamond and Platinum edition DVD releases of the final film. However, Jeffrey Katzenberg ordered it scrapped, partially because he deemed the screenplay "too dark and too dramatic," and thought it did not feel like a Disney movie, partially because it had far too many similarities to Cinderella (in particular, the aunt seemed too similar to Lady Tremaine)[1] and partially because he wanted a "feminist twist" to the story[2] due to the reception to Ariel by critics as being "cloyingly sexist."[3][4] This prompted Purdum to resign as director.
1988 Plotline
In this screenplay, Maurice was a poor inventor living in a cottage with his three daughters: Belle and her two older sisters. The latter two were extremely jealous of their sister because she was constantly being hit on by three wealthy suitors who seemed to have no interest in them. Realizing that his family was in desperate need of some money, Maurice left the house with one of his inventions, hoping to find someone that he could sell it to. However, he ended up getting lost in a storm and wound up at the Beast's castle. Back at the cottage, one of Belle's suitors presented her with a gift: a magnificent white horse.
Meanwhile, Maurice ended up being discovered by the Beast who told him that he would have to pay for his intrusion with his life, but upon learning that the man had three daughters, the Beast told him that if one of them agreed to come and stay at the castle, he would be allowed to live. However, Maurice would not allow that to happen and agreed to die, but requested that he be allowed to return home for one night in order to bid his daughters farewell.
The Beast agreed to let him do this and Maurice quickly went home and told his daughters of his fate. While his elder daughters merely accepted the fact that their father was doomed, Belle volunteered to go to the castle in his place. Although Maurice insisted that he would die so that she wouldn't have to go, Belle snuck out of the house later that night, mounted her new horse and rode to castle.
While Belle was initially happy at the castle, as the enchanted objects did everything they could to make her feel welcome, she was still somewhat afraid of the Beast who mostly remained silent whenever she was with him. However, while taking an evening stroll in the forest just beyond the castle one night, Belle got attacked by a pack of wolves, but was saved when the Beast came to her rescue. After that, the two began to warm up to each other and get to know one another a lot better.
Although, Belle still missed her family and asked to be allowed to return home to see them for one night. The Beast complied and Belle returned to the cottage where Maurice greeted her with the utmost joy. Unfortunately, upon learning of the Beast and his riches, her sisters became determined to take possession of the Beast's castle, thinking that Belle's suitors would surely want them if they are wealthy.
So, the two sisters pretended that they had missed Belle dearly in order to get her to stay at the cottage, then proceeded to tell the suitors of the Beast who immediately agreed to kill him off. The five villains traveled to the castle where they immediately got confronted by the Beast who successfully scared them away but not before they fatally wounded him.
Upon realizing she had been tricked, Belle rode back to the castle as fast as she could and was able to turn the Beast back into a human by kissing him. At this, the enchantress turned Belle's sisters, as well as her suitors, into animals, in order to make them pay for their misdeeds.
1989 Plotline
The screenplay, which was set during 1709[1] began with Belle's family moving to a small cottage in the country after Maurice inexplicably lost his fortune. Shortly thereafter, Belle celebrated her 17th birthday and was given her mother's music box as a gift. However, after being told that he was to lose the house if he didn't pay his taxes, Maurice proceeded to sell the music box, but it accidentally got broken while he was looking for a potential buyer. While trying to return home, Maurice was chased by wolves and wound up at the Beast's castle. Meanwhile Belle's aunt tried to marry her off to Gaston but she was reluctant because she didn't love him.
Back at the castle, Maurice attempted to steal one of the Beast's roses, intending to give it to his daughter as a replacement birthday gift. Upon seeing this, the Beast became infuriated and threatened to kill him, but upon learning of Belle, he told Maurice that she could agree to stay at the castle in exchange for his life. However, Maurice would not hear of that and agreed to die, but asked if he could return home for one night in order to say goodbye to his family.
The Beast complied and sent him back to the cottage via an enchanted flying sedan chair.Upon learning of what happened, Belle agreed to go and stay with the Beast, but her father insisted that he'd die so that she wouldn't have to. However, later that night, Belle snuck aboard the sedan chair and went to the castle.
Little is known about how the story was to continue from there, but concept art shows that in the climax of the film, Gaston would've stolen the sedan chair in order to get it to take him to the castle where he would have proceeded to fight off several of the enchanted objects, before Gaston personally entered a duel with the Beast. However, the duel was to have ended in the Beast knocking Gaston over a wall.
Differences between the screenplays and the final film
1988
1989
1990
Trivia
Gallery
Notes and references
↑ 1.0 1.1 1.2 Taylor, Drew (January 3, 2016). "The Beauty and the Beast That Almost Was". Oh My Disney. Disney.
↑ Willstein, Paul (November 22, 1991). "`Beauty's' Story Was A Beast For Disney". The Morning Call. The Morning Call. Retrieved on September 20, 2013.
↑ Ames, Katrine (November 17, 1991). "Just The Way Walt Made 'Em". The Daily Beast. Newsweek LLC. Retrieved on March 9, 2013.
↑ Dickens, Faith (December 7, 2011). ""The Guy with the Problem": Reform Narrative in Disney's Beauty and the Beast". University of Central Florida Undergraduate Research Journal. University of Central Florida. Retrieved on 9 May 2013.