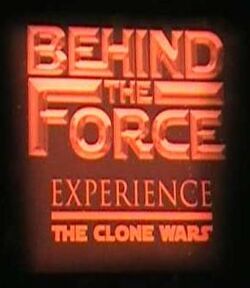 Behind the Force: Experience The Clone Wars was a live show at Disney's Hollywood Studios during the Star Wars Weekends at Walt Disney World. Behind the Force offered fans a behind-the-scenes look at "Star Wars: The Clone Wars," the animated television series set in the time period between "Star Wars: Attack of the Clones" and "Star Wars: Revenge of the Sith".
History
Each presentation varies, depending on the particular Star Wars Weekends schedule and which celebrity guests were in attendance. In 2011, Ashley Eckstein, who voices Ahsoka Tano in "The Clone Wars" was the host for each "Behind the Force" presentation and was introduced by her Star Wars Weekends co-host, James Arnold Taylor.
Plot
During the first showing, James Arnold Taylor introduced Eckstein. He provided a brief background on Eckstein's relationship to Disney, as she worked at Walt Disney World, and her work with "The Clone Wars". There was an easy give-and-take in Eckstein and Taylor's banter. Setting the relaxed tone was a mildly comic moment when Taylor plugs Her Universe, Eckstein's of "Star Wars" apparel for girls and women; he appeared on one of her t-shirts.
After the introduction, Eckstein took over as the host for "Behind the Force". She talked a little about her career, notably about auditioning for a role in "The Clone Wars" and then being cast as Ahsoka Tano, the young Padawan under the tutelage of Anakin Skywalker. The presentation also offered a brief overview of "The Clone Wars" for those in the audience who may not know about the series. Eckstein welcomed Dave Filoni, supervising director for "The Clone Wars" and the celebrity guest for the session of "Behind the Force." Filoni discussed his vision of "The Clone Wars", and his working relationship with George Lucas, and his interest in "Star Wars". This portion of the presentation includes a brief question and answer period for the audience members, during which Dave attempts to avoid giving out spoilers for the next season while still giving a few hints.
Behind the Force featured a demonstration of the voice work that Eckstein and other actors did for an episode of "The Clone Wars". With Filoni directing her and offering her advice, Eckstein demonstrated ADR (automatic dialog recording). ADR is where actors attempt to match their delivery of dialogue to the lip flap movement of the animated character. Her performance showed the difficulties of doing so. Filoni and Eckstein then invited three members of the audience to audition for a scene in which they got to voice a "The Clone Wars" character for the show. After the audience members recorded their voices, Filoni and Eckstein introduced a special trailer for the upcoming season of "The Clone Wars".