Bentina Beakley, usually referred to as Mrs. Beakley, is a big-boned anthropomorphic duck and a recurring character in Disney's DuckTales.
Background
Personality
In the original series, Bentina Beakley acts like a typical grandmother who has a lot on her plate. While warm and caring, she can be overwhelmed by Scrooge McDuck's lifestyle. She can also be easily taken advantage of by Huey, Dewey, and Louie and at times has been shown to be easily frightened. However, she is also willing to roll up her sleeves and get to work whenever there is no one else to take charge. She can have a short temper but easily reverts back to Webby's caring grandmother.
In the 2017 reboot, Bentina Beakley is Scrooge McDuck's dry and sarcastic maid/secretary (though she prefers to not be called the latter). At first glance, nothing seems to phase her, most likely because of all the things she has been subjected to by Scrooge. However, deep down she displays a vigorous spirit that matches almost Scrooge's lust for adventure. She is very caring and protective of Webby and will become enraged if something happened to her. Bentina does not care much for ineptitude from others and can easily get frustrated by those she feels are annoying, such as Launchpad McQuack.
Much of her characteristics were combined with those of Duckworth.
Physical appearance
In the original series, Beakley has a rotund physique and wears a purple dress with light purple frills. She wears matching purple high-heeled shoes and a white apron over her dress. Her gray hair is done up in curls and a bun, and she wears small spectacles over her beak.
In the 2017 reboot, Beakley has a big-boned appearance that implies that she is physically fit. She wears a purple sweater with a light purple shirt underneath and a green brooch. She has a gray shirt with dark gray stockings a black heel shoes. Her gray hair has a bun on top, but she lets her bangs down. Covering most of her face are large black square glasses.
Appearances
Bentina is hired by Scrooge McDuck to be his maid, his nephews' nanny, and mother figure, and as a housemaid and cook, asking only for room and board in Scrooge's mansion – an offer Scrooge could not refuse.
She also has a granddaughter named Webbigail and is often seen cooking, cleaning, or scolding the boys and trying to keep them from misbehaving, though deeply she cares for them very much.
She was a nanny of Prince Greydrake until Prince Greydrake's plane crash-landed in the jungle of Africa 20 years ago. This happened after his evil uncle sent him on a plane ride to rid himself of his nephew. Greydrake becomes king at the coronation for his 25th birthday in the episode "Jungle Duck".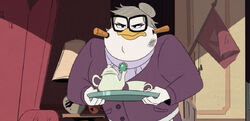 Bentina Beakley makes a reappearance in the reboot series as a major character. In this incarnation, Mrs. Beakley is portrayed as a stern British housekeeper who lives at the mansion with her granddaughter, Webby. It was she who told Scrooge McDuck to spend more time with his family when they first met Huey, Dewey, and Louie. She was protective over Webby but allows her to go on adventures with Scrooge, Donald, Launchpad, and the nephews. She also helps Scrooge and the team on some of their adventures.
Even though they're separate characters, this version of Mrs. Beakley has Duckworth's dry sarcastic wit, impressive physical feats, and the position of Scrooge's personal assistant and butler.
It is revealed in the episode "From the Confidential Casefiles of Agent 22!" that Mrs. Beakley was once an agent of S.H.U.S.H. named Agent 22. Years prior to the events of the series, Beakley was assigned to retrieve a page from the Book of Castle Dunwyn from an auction before the F.O.W.L. agent Black Heron does. Teaming up with Scrooge for the mission, Beakley failed to win the auction but managed to track Black Heron to the latter's secret lair. Though she was captured by Black Heron, Beakley managed to break free, destroy the page, and escape Heron's lair with Scrooge. Since then, Beakley has remained at Scrooge's side.
In "The Last Crash of the Sunchaser!" she left Scrooge McDuck's service and mansion because he was rude to her and her granddaughter when the truth about The Spear of Selene came out, but in the following episode, "The Shadow War!", she chose to save Scrooge, Scrooge apologized and she moved back in.
In the episode "Friendship Hates Magic!", she set out to become friends with Launchpad McQuack, Launchpad introduced her to Darkwing Duck and she became a fan of the show.

In "The Lost Harp of Mervana!", the titular harp sings her "lie detector" song ("She's fibbing, fibbing, fibbing!") when Beakley says she's not keeping any secrets from Webby, indicating that Beakley is indeed lying to Webby.
In "The Last Adventure!", it is revealed that her daughter and son-in-law were an artist and a librarian, but they are dead and Webby isn't her biological granddaughter but adopted her after finding an infant Webby in a F.O.W.L. laboratory.
Scrooge calls her by her first name in this series.
Gallery
v - e -

d

Disney
Mickey Mouse & Friends: Mickey • Minnie • Donald • Daisy • Goofy • Pluto • Fifi • Pete • Clarabelle Cow • Horace Horsecollar • Willie the Giant • Chip and Dale • Mortimer Mouse • Chief O'Hara • Detective Casey • Butch the Bulldog • Golden Harp • Father Time • Peter Pig


The Lion King: Simba • Nala • Shenzi, Banzai, and Ed • Ostrich • Gazelle • Rhino • Hippo • Zebra • Blue Beetle • Grub • Zazu • Rafiki • Timon • Pumbaa • Mufasa • Scar
Tangled: Rapunzel • Flynn Rider • Stabbington Brothers • Pub Thugs • Attila • Vlad • Big Nose • Hook Hand • Ulf • Shorty • Pascal • Maximus • Mother Gothel • The King • The Queen • Captain of the Guards • Warthog • The Lantern
Wreck-It Ralph: Ralph • Vanellope • Felix • Sgt. Calhoun • King Candy • Taffyta Muttonfudge • Candlehead • Surge Protector • Gene • Nicelanders • Rancis Fluggerbutter • Other Sugar Rush Racers • Sour Bill • Blue Racer • General Hologram
Big Hero 6: Hiro Hamada • Baymax • Robert Callaghan • Go Go Tomago • Honey Lemon • Wasabi • Fred • Fred's Dad • Tadashi Hamada • Cass • Yama • Alistair Krei • Heathcliff • Abbigail Callaghan • Attila • Sergeant Gerson • Cass
Zootopia: Judy Hopps • Nick Wilde • Flash • Clawhauser • Gazelle • Yax • Bogo • Mayor Lionheart • Bellwether • Doug • Finnick • Mr. Big • Mr. Otterton • Manchas • Gideon • Jerry Jumbeaux Jr. • Nangi • Priscilla • Mr. Hopps • Mrs. Hopps • Business Lemming • Duke Weaselton • Fru Fru • Kozlov • Officer McHorn • Wrangled • Wreck-It Rhino • Pig Hero 6
The Jungle Book: Mowgli • Kaa • Baloo • Akela • Raksha • Gray • Shere Khan • Colonel Hathi • King Louie • Bandar-Log Monkey • Flying Squirrel • Crocodile • Peacock • Vulture • Elephant • Bee Hive
Alice Through the Looking Glass: Alice Kingsleigh • Dormouse • Tweedledee and Tweedledum • Cheshire Cat • Bandersnatch • Bayard • White Queen • March Hare • White Rabbit • Mad Hatter • Absolem • Time • Wilkins • Humpty Dumpty • Red Queen • Borogrove • Frog Delivery Man • Gentleman Fish • Vegetable Soldier • Vegetable Servant • Vegetable Executioner • Armored Chess Piece
Pirates of the Caribbean: Jack Sparrow • Will Turner • Elizabeth Swann • Joshamee Gibbs • Tia Dalma • James Norrington • Marty • Cotton • Bootstrap Bill Turner • Pintel • Ragetti • Angelica • Blackbeard • Prison Dog • Maccus • Davy Jones • Helmsman • Philip Swift • Syrena • Captain Salazar • Ghost Lesaro • Shansa • Henry Turner • Carina Smyth • The Redhead • Murtogg • Mullroy • Treasure Chest • Stray Cat • Tiny • Pirate With Pigs • Ghost Shark • Ghost Seagull • Auctioneer
Aladdin: Aladdin • Jasmine • The Sultan • Prince Achmed • Gazeem • Razoul • Rajah • Iago • Abu • Genie • Jafar • Magic Carpet • Pink Flamingo • Beggar Jafar • Golden Scarab Beetle • Magic Lamp • Snake Charmer • Golden Camel
The Nightmare Before Christmas: Jack Skellington • Sally • Lock, Shock, and Barrel • Oogie Boogie • Easter Bunny • Santa Claus • Behemoth • Wolfman • Corpse Family • Mummy Boy • Mayor of Halloween Town • Dr. Finkelstein • Jewel • Zero
Mulan: Mulan • Yao, Ling, and Chien Po • Fa Li • Fa Zhou • Hayabusa • Khan • Cri-Kee • Little Brother • Mushu • Shan Yu • Captain Li Shang • The Emperor of China • The Matchmaker • General Li • Grandmother Fa • First Ancestor Fa • Chi-Fu • Great Stone Dragon
Moana: Moana • Sina • Frigatebird • Chief Tui • Gramma Tala • Pua • Frigatebird • Kakamora Chief • Maui • HeiHei • Ghost Matai • Eel • Tamatoa • Frog Monster • Sloth Monster • Eight Eyed Bat • Chicken Feed • Maui's Hook • The Ocean
Beauty and the Beast: Belle • Maurice • Chip Potts • Mrs. Potts • Gaston • LeFou • FrouFrou • Chapeau • Plumette • Beast • Cogsworth • Lumiere • The Enchantress
Lilo & Stitch: Lilo Pelekai • Nani Pelekai • David Kawena • Mrs. Hasagawa • Mertle Edmonds • Stitch
DuckTales: Scrooge McDuck • Donald Duck (Classic) • Huey, Dewey, and Louie • Webbigail Vanderquack • Mrs. Beakley • Beagle Boys (Big Time, Burger, and Bouncer) • Gyro • Darkwing Duck • Falcon Graves • Pixiu Chinese Dragon • Peghook's Ghost • Launchpad McQuack • Hack and Slash Smashnikov • Gizmoduck • Shadow Magica • Ma Beagle • Flintheart Glomgold • Pharaoh Toth-Ra • Headless Man-Horse