Beshte is the pentagonist of the Disney Junior show The Lion Guard. He is a hippo and one of Kion's friends and a former member of the Lion Guard. His position on the team was the Strongest in the Pride Lands.
Background
Personality
Beshte has been described as a happy-go-lucky hippo. He is the most genial character in the group and is very friendly and encouraging. He speaks with a surprisingly soft demeanor despite his size and is also very compassionate. Beshte has an appropriately large heart and never fails to treat his friends with kindness. He is also the first of his friends to recognize that Kion needs some space, even pointing out to Bunga, Kion's best friend, what the cub needs.
Physical appearance
Beshte has a stout body with thick legs, dark gray-purple toenails, and three dark spots on his back. His body color is that of a neutral gray, which becomes much paler across his chest and jawline. His inner ears are pale pink, and the area around his eyes is a lighter shade of his body color. He has a disproportionately large snout, with small ears and eyes, as well as thick eyebrows. His teeth are rather large, with two protruding over his upper jaw, and a patch of black hair sticks up from his otherwise bald head. His eyes are bright blue.
In "Battle for the Pride Lands", as a teenager, Beshte has grown taller, the tuft of hair has gotten bigger and he has also starts to display small whiskers, similar in appearance to his father, Basi.
Abilities
Skilled Combatant: With his size and strength, Beshte is proven to be a great combatant against many opponents.
Expert Swimmer: As a hippopotamus; Beshte is an excellent swimmer.
Stealth: Beshte stated himself that he is not very good on land to have stealth, but he is proven to have great stealth in the water, as proven to be true against the hyenas.
Singing: As demonstrated throughout the series; Beshte is an excellent singer.
Animal Strength: Beshte is the strongest member in the entire Lion Guard; for example, he was able to push a large boulder with little struggle and the same with a heavy tree that was falling as he tries to hold it as much as he could with extra weight of the baboons that were living in it with Bunga. With his large size, he is able to show off his brute strength as he slams into the clan of the hyenas and the Outsiders to toss them into the air.
Animal Agility: Beshte the third most agile member in the entire Lion Guard. However, he is more agile in the water, then he is on land.
Aquatic: As a hippopotamus, Beshte is able to swim and hold his breath underwater for a certain period of time.
Role in the Series
Beshte makes his debut in the series premiere. Beshte is first seen in the Floodplains with the other hippos. During Kion and Bunga's game of Baobab Ball they leap over the hippos. Beshte doesn't mind and says hello to them. Later when Kion assembles his team. Beshte asks the hippos if they want a water slide. He pushes rocks and creates a waterslide.
Beshte soon joins his friends as Kion asks if they could all become part of the new Lion Guard. Beshte gets excited and is ready to see the Roar of the Elders. However Kion is only able to do a little squeak. Suddenly Simba arrives and sees that his son has not chosen a group of lions for the Guard. He scolds Kion in front of Beshte and the others, and Kion leaves to do some soul-searching. Bunga begins to follow, but Beshte tells him that Kion wants to be alone.
Later when the hyenas are chasing the gazelles Beshte watches with Fuli and Ono. He is confused as to why the hyenas are continuing the attack, seeing as they have already taken down enough gazelles to feed them all. Kion and Bunga arrive, and Kion explains it is up to Lion Guard is going to stop the hyenas. Beshte is doubtful, remembering what Simba said, but Kion reminds him of their talents, and Beshte agrees. Kion comes up with a plan to take down the hyenas, and Beshte and the others prove willing to join the Guard. Kion places his paw on each of their shoulders, marking them with the Mark of the Guard. Beshte then proceeds to use his strength to knock over the hyenas, whilst Ono takes down Mzingo and the others help tackle the hyenas with Beshte. In the end,
Janja taunts Kion, which causes him to use the Roar of the Elders to frighten him and the other hyenas away as Beshte, Bunga, Fuli, and Ono watch in awe. When the group makes their way back to Simba, he sees that his son made the right decisions, and welcomes the new Lion Guard.
Beshte has appeared in every single episode after the events of the pilot episode. Like all the other animal members Kion recruited to be part of his Lion Guard, Beshte continues being the strongest member of the Guard until the series finale.
Season One
In "The Kupatana Celebration" Beshte helped rescue a little jackal pup named Dogo. At first Beshte and Bunga thought he was so cute. In the end it turns out that they were wrong about Dogo after his family ruined the celebration.
In "Follow That Hippo!" Beshte meets a little elephant named Mtoto. Mtoto says that Beshte is his hero/idol and he's the biggest reason why Mtoto likes the Lion Guard. Mtoto joins the Lion guard and Beshte in a day of training until he messed up. Beshte walks Mtoto home and says that he has to find his "Hero Inside." While playing pretend Lion Guard with his friends he gets chased by Janja's Clan. Beshte and the rest of the Lion Guard comes to Mtoto's rescue.
In "Paintings and Predictions" After looking at Rafiki's paintings Beshte thinks that the paintings predict the future. Bunga and Beshte think that Kion is going to fall from a tree branch. They try their best to stop Kion but find out that the paintings are about the past.
In "The Imaginary Okapi" Beshte meets an Okapi named Ajabu who was being chased by a leopard named Makucha. However, Beshte friends didn't believe that Ajabu wasn't real. After saving Ajabu from Makucha Kion's parents Simba and Nala welcome Ajabu into the Pride Lands.
In "Beware the Zimwi" Beshte practices his bellows so he can join a group of hippos called "The Bellow Fellows."
In "Lions of the Outlands" Beshte learns about Zira and the Outsiders.
In "Beshte and the Hippo Lanes" Beshte tries to make the hippo lanes after his dad Basi gets hurt.

Season Two
In "The Rise of Scar" Beshte meets Rafiki's apprentice Makini. Later Beshte and the guard goes to rescue Kiara from Janja's clan.
In "Swept Away" Beshte gets washed away into the Outlands after the guard helped the zebra herd. However, Scar's Army tries to get rid of Beshte.
In "The Ukumbusho Tradition" Beshte and the rest of the guard are in a performance with the elephants called "Ukumbusho."
In "Timon and Pumbaa's Christmas" Beshte helps Bunga give Timon and Pumbaa a Christmas that they wouldn't forget.
In "The Little Guy (The Lion Guard)" Beshte befriends a geeko named Hodari who wants to be a crocodile.
In "The Scorpion's Sting" Beshte meets Scar and Scar's army while trying to help Simba.
In "Cave of Secrets" Beshte and the rest of the Lion Guard go deep under the Lion Guard Lair to do different tests so they can find a way to defeat Scar.
In "Beshte and the Beast" Beshte befriends a gorilla named Shujaa who helps the Lion Guard fight Scar's Army.
In "Pride Landers Unite!" Beshte and the rest of the Lion Guard gathers Pride Animals to help fight Scar's Army.
Season Three
Beshte and the Lion Guard are now teenagers as seen in "Battle for the Pride Lands." After their final battle against Scar's Army was successful, Kion and Ono receive injuries, forcing the Guard to travel to the Tree of Life since the events of "The Harmattan". During their journey, new enemies known as Makucha's Army starts to follow the guard to the Tree of Life.
In "Dragon Island", Beshte meets a dolphin named Lumba-Lumba who also introduces herself to her. When Lumba-Lumba becomes stranded, Beshte and the rest of the Lion Guard help her get back to the water while fending off Ora and his Komodo dragons. With Ora and his minions defeated and having found a moja kwa moja stone, Beshte then bids a farewell to Lumba-Lumba who is happy for the Guard's teamwork in helping her get back to the water and saving her from the Komodo dragons just the group continues their journey to the Tree of Life.
In "Friend to the End", Beshte befriends a clouded leopard named Yun Mibu, much to Kion feeling enraged at Beshte for delaying and befriending other animals. Due to the venom inflicting him, Kion tells Beshte to stop delaying by befriending other animals, much to Beshte being unsure on how to do that. Bunga and Fuli try to calm Kion down but, Kion leaves in fear. After a while, Kion's friends sing "Friends to the End" the nice moments and relationships they had with Kion before he became enraged. Furthermore, the group soon sees Kion hanging from a tree branch and gets Yun Mibu to help him. The plan, however, was successful.
In "The Tree of Life", the Lion Guard meets a group of lions called the Night Pride which is led by a lioness named Rani. The two groups were at odds until Rani informs her grandmother and the Queen of the Tree of Life, Janna, about Kion's Roar of the Elders. Janna insists that the Lion Guard to be allowed into the Tree of Life, allowing Kion to clear up the misunderstanding. After a while, Ono is able to regain his sight, but Kion needs more time to recover from Ushari's venom.
In "Poa the Destroyer", Beshte tries to see different animals throughout the Tree of Life. Despite his kindness, the tundra animals take the blame on the hippo for being a menace to which the animals are afraid of Beshte in fear. Later, Beshte talks with a butterfly to know if it is afraid of him to which the butterfly flaps its wings calmly, indicating that it is not afraid of the hippo, despite the other animals Beshte has met still claiming him to be a bad guy. After Beshte rescues Pinguino and his bad reputation is dealt with, the animals then forgive him as a misunderstanding and they no longer treat the hippo as a villain.
In "Journey to the Pride Lands", Beshte and the rest of Kion's Guard travel back home to the Pride Lands, only to find out that in "Return to the Pride Lands" that Kion's Guard finds out that they have been replaced by a new group led by Vitani. The two groups have a battle to see which team is better. During competition, Beshte competes with a contender lioness named "Imara" during the first position as the Strongest during the Battle of the Lion Guards. After Kion masters the roar, the rest of Kion's Guard give up their role as and become members of the Night Pride. Back at the Tree of Life, Kion has his coronation and Beshte cheers for his friend as he becomes king.
Relationships
Family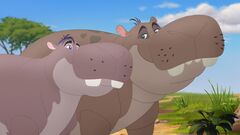 Beshte is very close to his father, and becomes very concerned whenever Basi is injured or in danger. He yearns to make Basi proud and enjoys spending time with him. Beshte also has a habit of quoting his father, showing that he pays attention to his father's words of wisdom.
Friends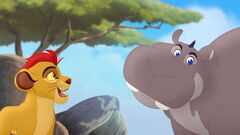 Beshte and Kion are great friends. Kion made Beshte part of his Lion Guard as the strongest. In "Swept Away" when Beshte goes missing, Kion gets worried since he roared up all the water that washed Beshte away. Beshte forgave Kion since he was helping the zebras. In "Cave of Secrets", Kion was glad to have Beshte on his team when they were about to be crushed by sharp rocks. In "Friends to the End", Kion got mad at Beshte, not for being nice to the animals, but also for delaying and told him to stop. Beshte knew that it was the venom in Kion's scar that was bothering him. In the series finale, Beshte is overjoyed for Kion when he marries Rani and becomes King of the Tree of Life.
Bunga and Beshte are great friends. They give each other nicknames like Big B and Little B. Beshte often shows concern over Bunga, particularly when he rushes into things. Bunga can always rely on Beshte to help him out of a tough situation.
Beshte and Fuli are great friends. They always seem to agree on everything that is best for the Pride Lands. Fuli often assumes a role of leadership, but Beshte never questions her about her authority. However, Beshte loves rolling in mud and swimming, but Fuli does not like either of them.
However, she still immediately forgave him for accidentally knocking her into water in "Fuli's New Family."
Beshte and Ono are great friends. Ono is always seen riding on Beshte's back and he doesn't mind it one bit. He always believes in him because knows that his bird friend is the brains of the Lion Guard and knows everything.
Beshte and Makini are good friends. Beshte was happy to meet Makini in "The Rise of Scar." In "The Scorpion's Sting", Beshte saves Makini from Nne and Tano. In "Journey of Memories", Beshte was happy to hear stories Makini's first trip to the Tree of Life.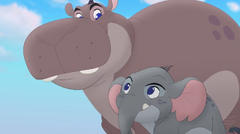 Beshte is Mtoto's idol and he is honored to be looked up to by him. Beshte does his best to guide Mtoto on the right path. He was very impressed with the young elephant for spraying a group of evil crocodiles in "Follow That Hippo!". Beshte felt very upset when Mtoto and the other elephants were about evacuate The Pride Lands in "The Kilio Valley Fire." Mtoto was even sad when Beshte left to find the Tree of Life in "Battle for the Pride Lands." However in "Return to the Pride Lands", Mtoto even felt happy to see him back in the Pride Lands after not seeing his idol for a long time.
Beshte and Anga are good friends. At first, Beshte didn't really know her that well. Due to Ono's injury during the battle against Scar, she soon replaces Ono on the guard as The Keenest of Sight while Ono becomes the Smartest, a new position created by Kion. The two then became really good friends on their journey to the Tree of Life. At one point, she shades him from the hot desert sun.
Beshte and Jasiri's Clan are good friends. When Beshte first met Jasiri, he said any friend of Kion is a friend of theirs.
Beshte and Shujaa are good friends. Beshte helps Shujaa learn to control his thug-like strength. When Beshte gets hurt from a tree falling on him, Shujaa comes to save him.
Hodari and Beshte are good friends as he believes in Hodari's dream to become apart of a crocodile float. Beshte even asked Makuu to give Hodari a chance.
Hodari briefly fell out with Beshte when the gecko fell into Kiburi's trap, and believed that Beshte was just angry at him for following his dream with a crocodile that Beshte did not approve of. However, later, when Kiburi betrayed Hodari, he was surprised to hear that the hippo still cared for him despite his actions, and helped him to save Makuu.
Laini and Beshte are good friends. After saving the galagos a bunch of times and getting a ride on him through the Flood Plains, Laini likes being friends with the hippo.
Beshte and Mbeya are great friends. In "Never Judge a Hyena by its Spots" when the guard was trying to get to Flat Ridge Rock after losing Kion, Beshte suggests that they ask Mbeya because he knows the Pride Lands the best. However Mbeya said that he's never been there.
Beshte and Ajabu are good friends. Beshte shows Ajabu around the Pride Lands and tells him that he doesn't need to hide. Beshte helps save him from Makucha.
Beshte and Dhahabu are good friends. Beshte thought that she was very pretty when he first met her. Beshte even helped fight Makucha when he was attacking her.
Beshte, Timon and Pumbaa are good friends. Beshte even helped performed in Bunga's Christmas show.
When Rani first met the Lion Guard, she and the Night Pride thought they were troublemakers in "The Tree of Life". However, she becomes good friends with all of the members of the Guard.
Baliyo and Beshte are on good terms. He even dealt with his bad reputation with the tundra animals in "Poa the Destroyer".
Acquaintances
Simba and Beshte are on good terms. Beshte and Simba worked together in "The Trail to Udugu".
Kiara and Beshte are on good terms. Beshte rescued Kiara in "The Rise of Scar."
Nala and Beshte are on good terms.
Makuu and Beshte used to hate each other. However when Makuu reforms they become good friends.
Beshte and Janja's Clan used to hate each other. When they reformed and joined the Pride Lands, they become on good terms.
Beshte and Thurston are on good terms. He and the rest of the guard has helped the zebras many times.
Beshte and Rafiki are on good terms. Beshte helped saved Rafiki in "Divide and Conquer."
Beshte and Zazu are on good terms. Beshte helped save Zazu in "The Morning Report."
Enemies
As a member of the Lion Guard, Scar views Beshte as an enemy. He is aware of his status as the Pride Lands' strongest, and has before tried to take him out as seen in "Swept Away."
After attacking her pride and coming to the aid of Kion, Zira hates Beshte and thinks that he and the rest of the guard (excluding Kion) are pathetic since the only lion on their team is him.
Beshte hates Reirei's Pack. Beshte used to think that Dogo was cute until they ruined the Kupatana Celebration.
Beshte hates Kiburi's Float ever since they were banned into the Outlands. When Hodari joins them, Beshte was worried about his little buddy.
Beshte hates Makucha's Army. They tried to attack the animals at the Tree of Life.
Trivia
"Beshte" means "buddy" in Swahili.
Beshte's catchphrase: "Twende kiboko!" translates to "Let's go, hippopotamus!" in Swahili.

"Kiboko" is also the subspecies name for the east African hippopotamus (Hippopotamus amphibius kiboko) and is also the Swahili word for "hippopotamus".

Beshte is not Dusan Brown's debut Lion King role; previously, as a younger boy, Brown had played Young Simba in a tour version of the stage musical.
Although it's known that Basi is his father, it's unknown who is his mother who is never seen nor mentioned.
Gallery
v - e - d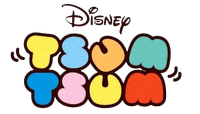 Disney
Mickey & Friends: Mickey • Minnie • Donald • Daisy • Goofy • Pluto • Chip and Dale • Oswald • Ortensia • Duffy • ShellieMay • Gelatoni • StellaLou • CookieAnn • 'Olu Mel • Huey, Dewey, and Louie • José Carioca • Panchito Pistoles • Clarabelle Cow • Horace Horsecollar • Max Goof • Clarice • Pete • Scrooge McDuck • Ludwig Von Drake • Dr. Frankenollie • Julius

Pooh and Pals: Pooh • Tigger • Piglet • Eeyore • Rabbit • Owl • Roo • Kanga • Gopher • Christopher Robin • Lumpy
Lilo & Stitch: Stitch • Lilo • Scrump • Pleakley • Jumba • Angel • Leroy • Dr. Hämsterviel • Ugly Duckling • Sparky • 627 • Gigi • Babyfier • Yang • Slushy • Shortstuff • 625 • Amnesio • Dupe • Sample • Clip • Tank • Yin • Hunkahunka • Plasmoid
Silly Symphonies: Donald Duck • Big Bad Wolf • Practical Pig • Fiddler Pig • Fifer Pig • Ugly Duckling
Snow White and the Seven Dwarfs: Snow White • Evil Queen • Doc • Grumpy • Happy • Bashful • Sneezy • Sleepy • Dopey
Pinocchio: Pinocchio • Jiminy Cricket • Figaro • Cleo • Geppetto • Blue Fairy • Honest John and Gideon • Lampwick • Monstro
Fantasia: Mickey • Yen Sid • Chernabog • Hyacinth Hippo • Ben Ali Gator
Dumbo: Dumbo
Bambi: Bambi • Thumper • Miss Bunny • Friend Owl • The Great Prince of the Forest
The Three Caballeros: Gauchito • Burrito
The Adventures of Ichabod and Mr. Toad: Mr. Toad
Cinderella: Cinderella • Jaq and Gus • Prince Charming • Fairy Godmother • Lady Tremaine • Lucifer • Suzy • Perla • Bruno
Alice in Wonderland: Alice • Mad Hatter • March Hare • Dormouse • White Rabbit • Cheshire Cat • Tweedle Dum and Tweedle Dee • Queen of Hearts • King of Hearts • Caterpillar • Dinah • Oysters
Peter Pan: Peter Pan • Tinker Bell • Wendy Darling • John Darling • Michael Darling • Captain Hook • Mr Smee • Nana • Tick Tock • Tiger Lily
Lady and the Tramp: Lady • Tramp • Si and Am • Jock • Trusty • Peg
Sleeping Beauty: Aurora • Phillip • Maleficent • Flora • Fauna • Merryweather • Diablo • Samson • King Stefan • Goon • Owl • Rabbit
Mary Poppins: Mary Poppins • Bert • Penguin Waiter • Carousel Horse
One Hundred and One Dalmatians: Cruella De Vil • Lucky • Patch • Rolly
The Jungle Book: Mowgli • Baloo • Bagheera • Shere Khan • Kaa • King Louie • Hathi, Jr. • Raksha
Pete's Dragon: Elliott
The Fox and the Hound: Tod • Copper
The Aristocats: Marie • Berlioz • Toulouse • Duchess • Thomas O'Malley
The Rescuers: Bernard • Bianca
Oliver & Company: Oliver • Dodger • Tito • Rita • Francis • Einstein
The Little Mermaid: Ariel • Flounder • Sebastian • Eric • Ursula • Triton • Max • Scuttle
Beauty and the Beast: Belle • Beast • Lumiere • Cogsworth • Mrs. Potts • Chip • Maurice • Philippe • Gaston • LeFou
Aladdin: Aladdin • Abu • Genie • Jasmine • Jafar • Sultan • Iago • Rajah
The Nightmare Before Christmas: Jack Skellington • Sally • Zero • Lock, Shock, and Barrel • Oogie Boogie • Dr. Finkelstein • Mayor of Halloween Town • Santa Claus
The Lion King: Simba • Nala • Timon • Pumbaa • Zazu • Rafiki • Scar • Ed
Pocahontas: Pocahontas • John Smith • Meeko • Flit • Percy
Hercules: Hercules • Megara • Hades
Mulan: Mulan • Li Shang • Mushu • Fa Zhou • Khan
The Emperor's New Groove: Kuzco • Yzma • Kronk
Mickey, Donald, Goofy: The Three Musketeers: Mickey Mouse • Minnie Mouse • Donald Duck • Goofy
Chicken Little: Chicken Little
The Princess and the Frog: Dr. Facilier
Tangled: Rapunzel • Flynn Rider • Pascal • Maximus • Mother Gothel • Queen Arianna • King Frederic • Cassandra • Fidella • Pub Thug
Wreck-It Ralph: Wreck-It Ralph • Fix-It Felix Jr.
Frozen: Anna • Elsa • Olaf • Kristoff • Sven • Hans • Snowgies • Bruni
Big Hero 6: Hiro • Baymax • Fred • Wasabi • Honey Lemon • Go Go Tomago • Tadashi Hamada • Yokai • Mochi
Zootopia: Judy Hopps • Nick Wilde • Mayor Lionheart • Flash • Yax • Gazelle • Chief Bogo • Clawhauser • Finnick • Mr. Big • Bellwether • Jerry Jumbeaux Jr.
Moana: Moana • Maui • Pua • Heihei • Tamatoa • Kakamora
Chip 'n Dale Rescue Rangers: Chip • Dale • Gadget • Monterey Jack
Phineas and Ferb: Perry
The Lion Guard: Kion • Ono • Bunga • Beshte • Fuli
DuckTales (2017): Scrooge McDuck • Huey, Dewey, and Louie • Webby Vanderquack
Kingdom Hearts: Sora • Riku • Kairi • Aqua • Xemnas • Ansem, Seeker of Darkness • Ventus • Terra • Chirithy • Lea • Young Xehanort
UniBEARsity: Mocha • Pudding • Whip • Puffy • Mont • Blanc • Souffle • Blue Rose • Charmant • Portiron • Rogue Rose • Fauve • Lucien • Horloge • La Mer • Ma Puce
Sofia the First: Sofia • Minimus • Skye
Elena of Avalor: Elena
Enchanted: Giselle
Disney Fairies: Periwinkle • Rosetta • Silvermist
The Sword in the Stone: Wart • Merlin
Community content is available under
CC-BY-SA
unless otherwise noted.