"Best Friends Forever" is a song sung by Wander and Lord Hater in the Wander Over Yonder episode, "The Buddies". It's sung by the two about how much they do for each other as a buddy, as they try to survive in the prison dimension. It is later revealed it was all a dream Lord Hater was having, and he is shocked by this.
The song was later reprized and parodied three more times in the episode: First by Lord Hater in an attempt, he's treating Wander as a buddy, second by Lord Hater again when he saves him being swallowed by a Sand Snapper, and finally by Wander and the inmates after his rescue.
Lyrics
Wander: Woop-boop-boop-boop-boop-ba-doop-a-doop, boop-boo-doo-doo-doo-doo-boop, whoo!


Rise and shine,

It's such a lovely morning,

Gonna be a perfect day.

But if it,

Should get rainy without warning,

We'll still be best buds, anyway.


Happiness is all around us,

I sure hope this feeling never ends.

We're best friends forever,

In all kinds of weather.

Morning, noon, and night, yeah!

We'll always be together!


Eternity is gonna be so awesome,

'Cause together, we're the best of friends!


(Instrumental break)


Lord Hater: Our friendship is,

Like skipping through the flowers,

Dancing and giggling with glee.

So much better than my evil powers,

Friendship makes my heart soar free.


You can make my heart fill up with sunshine,

And rainbows are just around the bend.

We're best friends forever,

In all kinds of weather.

Like kitty cats and puppies,

We're birds of a feather!


Oh, something-something, something-something-something,

'Cause forever, we're the best of friends!


Wander: Ba-doop-ba-doop, boo-boo-boo-bip-di-bip-boop-ba-doop, boop-boop-boo-di-boo!

Both: 'Cause forever, we're the best of friends!
Trivia
Allusions
Production Information
Songwriters
ASCAP Work #886440618
References
v - e - d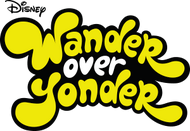 Organizations/Groups
Lord Hater's Army • Insurgent Generals • Wander and Sylvia • Bounty Hunters • Lord Dominator's Army • Galactic Villain Leaderboard • Emperor Awesome's Army
Locations
Lord Hater's Spaceship • Binglebopolopolis • Doomstone • Baaaaa-halla • Phunulon • Ballzeria • Buster • Doom Arena • Planet Ziziks • Flendar • Lord Dominatior's Spaceship • Arachnomorph Homeworld
Community content is available under
CC-BY-SA
unless otherwise noted.