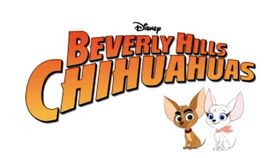 After finishing Beverly Hills Chihuahua 3: Viva la Fiesta, Disney revealed that plans for an animated TV adaptation of the Beverly Hills Chihuahua film series was in the works by veteran producer Tad Stones (Darkwing Duck, Chip 'n Dale Rescue Rangers, Jake and the Never Land Pirates) set to serve as the series' executive producer and the series showrunner, with animation services by Disney Television Animation and Disney Afternoon, along with Taiwanese animation studio Hong Ying Animation and Bento Box Entertainment. They titled the project Beverly Hills Chihuahuas, with a pilot made to pitch to Disney Junior in 2012. The network ended up passing on the series due to poor timing.
Availability
The only information on the series that was available for awhile was that a user called Soya Ergar found some provided concept art of the characters Papi, Rosario, and Esperanza that was posted on Genevieve Tsai's blog in 2014 where she discussed her involvement on the show.
On November 30th, 2020, YouTuber "20th Century P.A.C." discovered the pilot on Taiwanese animation studio Hong Ying Animation's website (a subsidiary of Wang Films Productions), confirming that they were among the people who've worked on this pilot. He uploaded a minute-long clip of the pilot onto his channel, then uploaded the entire pilot a month later on December 12th, 2020.
Characters
Papi
Papi is a light brownish chihuahua with long, pointy ears, scruffy eyebrows. narrow muzzle. a brown nose, and a small sickle tail. He sports hazelnut colored eyes along with a red collar around his neck, with a creamy belly and ears with tan insides, a messy hair clump on top of his head, and his belly and cheeks are furrier than Chloe's.
Chloe
Chloe is an ivory whitish chihuahua with stiff, more pointer ears, thick thin eyebrows, small muzzle, a black nose, and a small sickle tail that widens more loosely. She sports icy blue eyes along with a light bluish neck bow around her neck, with a heart shaped white belly and ears with pinkish insides, a pointed hair clump on top of her head, and long eyelashes above her eyes.
Rosario
Rosario is a turquoise colored chameleon with a crest on top of her head, spikes on her back, and a precisely rolled up tail. She also has medium sized eyelashes above her eyes, with green stripes covering most of her body, along with sharp, pearly white front, back, and polydactyl claws on her reptilistic feet, along with greenish eyes, yellow eye insides, small eyebrows, and a small nose muzzle.
Esperanza
Esperanza is a bite-sized sassy red secretary bird that likes looking her best. She has a long head feather atop her head, with colossal wings with purple coverts under them, a purplish tail, yellow feet with nail polished purple talons, and a wide yellow chest. She is mostly red and orange, with some blue, and a touch of pink around the borders, with a yellow beak, medium sized eyelashes, blue eyes, short eyebrows, and yellow eyeliners.
Stefan
Stefan is a short man who comes to visit Papi and Chloe's home to meet Esperanza. He has spiky black hair that stands straight up, with a small pink beard, and a pink streak in his black hair. He wears a furry mink coat with a furry choker and a dark blue inner lining, tan colored handcuffs around the coat, short black snow boots, buckley blue pants, and a camera around his neck. He also has small thin eyebrows, big eyes, small ears, a big nose, brown eyes, and small hands.
Aunt Viv
Aunt Viv is a slick, elegant woman with red hair (as opposed to her cream-colored hair in the film series) with red eyebrows, light green eyes, dark green eyeliners, a medium sized nose, white earrings, pink lips, a charm necklace, a purple blouse with a bra underneath, a bracelet on her right hand, a blue skirt with a blue peony on it, and purple high heels on her feet.
Gallery
Trivia
Papi is referred to as 'Romeo' as a nickname by Rosario the chameleon, Chloe's mini fashion design helper.
The song in the scene where Chloe and Papi try to impress Esperanza is "Fiesta (versión española)" by Mexican singer Celtas Cortos.
Rosario's chameleon species may be a Warty Chameleon, because she has a crest on her head and a swirled backbone.
Esperanza seems to like giant/pretty things, such as when Chloe picks out flowers for her, she picks the big flower; and when Chloe holds a teapot and teacups on a plate and Papi balances grapes on a plate, she picks Chloe's dish as it looks far more fancy.
Aunt Viv now has red hair in the pilot for some reason instead of her beautiful creamy hair shown in the film series.
One of the dogs who portrayed Papi died in 2015, due to bone marrow cancer; George Lopez attended his funeral. This killed the chances of more Beverly Hills Chihuahua live-action happening, even though George Lopez would reconsider joining this show.
It is unknown if characters like Delgado, Pedro, Alberto, Antonio, Sebastian, or Chloe's pups (Papi Jr., Lala, Rosa, Ali, and Pep) would reappear in the show, as many of their voice actors have since hit puberty.
The pilot episode does not have captions on the YouTube video, so some people may not know what a couple of the stereotypical characters are saying.
It's not confirmed whether it was just a test pilot or possibly even a pilot set to actually air on future Disney programs.
Chloe's fashion room looks a lot like Minnie Mouse's, because she has a heart shaped wingback chair, and a polish desk, despite having a different wallpaper that consists of bones as object designs in the background, and curtains to surround it.
Rosario's name is Spanish for 'rosary'; derived from from the Marian name María del Rosario, given in particular to a girl who was born on the festival of Our Lady of the Rosary, celebrated on the first Sunday in October.

Papi means "Dad" in Spanish.
Esperanza means "Hope" in Spanish.

At the beginning of the pilot's theme song, the fish that is likely chasing Papi in the water while he is paddling with his scuba diving gear is a Largemouth Bass.
The scene where Stefan smells Papi because he smells like fresh cut grass, and thanks him for that, is a possible reference to the 1959 black-and-white Disney film The Shaggy Dog.
Rosario can stand up on her hind legs, which real chameleons only do before running from predators.
Rosario's line "You're fogging the mirrors" alludes to the use of a small mirror placed under the nose to tell if a person is breathing or not.
The sweets that Chloe offers Esperanza while she is upset about the house looking like "a closet" are chocolate Belgian truffles.
The music licenses credited in the promo include WMG, Sony Music Publishing, UNIAO BRASILEIRA DE EDITORES DE MÚSICA, UBEM, UMPG Publishing, Latin Author UMPG, Warner Chappell, ASCAP, LatinAuthorPerf, SOLAR Music Rights Entertainment, LatinAuthor, and 4 Music Rights Societies.
Although not specified, the lavender colored flowers outside of the Chihuahuas' house bear somewhat a resemblance to the fictional Tuliza seen in the 2016 show The Lion Guard.
Goofs
For a split second in one scene where Papi and Chloe meet her for the first time, Esperanza's eyes appear to be brown, and not blue. It has not been clear whether this is a glitch or simply an error that wasn't fixed.
References