"Who's afraid of the Big Bad Wolf?"
―The Three Little Pigs
The Big Bad Wolf is the main antagonist of the Silly Symphonies short The Three Little Pigs. As his name suggests, he is a ruthless, conniving wolf who constantly plots to eat the Three Little Pigs. The crafty wolf often relies on gaudy disguises to accomplish his schemes. His greatest attributes, however, are his infamous "huffs and puffs", which are powerful enough to blow houses in.
Background
Personality
Big Bad Wolf believes that being bad is what wolves are supposed to do. He likes to disguise himself - sometimes in drag - to fool the Three Little Pigs and try to catch them and eat them, or sometimes just get them into trouble. He usually goes after Fiddler and Fifer Pig first, as they are foolish therefore easier to capture.
In two animated appearances, Big Bad has three sons who are just as bad as he is. They are triplets who dress almost identically to him. They pay no mind to their father's orders and are just as eager to eat the pigs as he is.
However, it is now more consistent that he has one son called Li'l Wolf. Li'l Wolf wants to be a good wolf, and his father often scolds him for being friends with the Three Little Pigs. However, it has been shown that Big Bad is not a bad father. He adores his son and has on occasion passed up the possibility of pork chops for the safety of his son.
Physical appearance
Big Bad Wolf is tall and slender with black fur, cream muzzle, and usually wears red pants held up by green suspenders with a yellow patch on his left knee, a blue top hat, and white opera gloves.
Appearances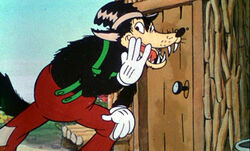 In The Three Little Pigs, Big Bad Wolf is first seen stalking the three pigs as two (Fifer Pig and Fiddler Pig) were playing their flute and fiddle and Practical Pig was finishing up his house of bricks. Big Bad tried to eat the two pigs, but they hid in the house of Practical. While blowing his pants off, the Wolf climbs naked in the chimney, falls into it and burns his butt.
In Old King Cole, disguised as Grandma, he made a cameo appearance alongside the citizens of Storyland who attended a jazz party thrown by Old King Cole.
In the wolf's second appearance, The Big Bad Wolf, he attempts to eat Little Red Riding Hood.
In Three Little Wolves, the Wolf is giving his three mischievous sons a lesson on the best parts of a pig to eat. Meanwhile, Practical Pig is building a Wolf Pacifier (patent not applied for), while Fifer and Fiddler Pig trick him by crying "Wolf" with the Wolf Alarm. Meanwhile, the Wolf dresses up as Bo Peep and tricks Fifer and Fiddler Pig into following his sons, who are dressed up as the lost sheep, and captures them. When they blow the Wolf Alarm, Practical Pig passes it off as another trick. Fifer and Fiddler trick the Wolf into blowing it, which finally summons Practical, who brings along his Wolf Pacifier. He tricks the Wolf into running into the Wolf Pacifier, which beats the Wolf, then tars and feathers him, and finally fires him out of a cannon, while his sons rush to catch him.
In The Practical Pig, the Wolf dresses up as a mermaid to trick Fiddler and Fifer when they go swimming and captures them. He brings them back to his home, where his three sons eagerly await dinner. He tells his sons that they don't eat until they have Practical Pig too, and goes out to capture Practical Pig. While he's out, the Three Little Wolves prepare to eat Fifer and Fiddler, who are shocked that they don't obey their father.
Big Bad Wolf dresses up as a messenger and delivers a badly written note to Practical Pig. He is captured and put in the lie detector, which scrubs his mouth with soap, spanks him, and beats him on the head when he lies. Back at the mill, Fifer and Fiddler escape when the Three Little Wolves use pepper that causes them to sneeze and run home. The Big Bad Wolf finally tells the truth and is dispatched with a rocket.
"Roll it, Big Bad!"
―Jafar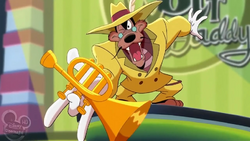 Big Bad Wolf made several appearances in the series House of Mouse. His most prominent role was in the show's second episode, where he appeared as a popular jazz singer known as Big Bad Wolf Daddy (a parody of Big Bad Voodoo Daddy), with the Pigs providing music for him (he had them under a contract that says he will not eat them as long as they play for him). The Bimbettes apparently also seemed to like him, as they sang along to his song, to Gaston's annoyance. It was revealed in the episode that the wolf's "huff and puff" reactions are activated by the sight of doors and not the three pigs. His "huff and puff" would end up blowing up the House of Mouse (just like the last time he was there, according to Mickey).
In later episodes of House of Mouse, the Wolf returned to his more traditional appearance, with no more mention of his role as Big Bad Wolf Daddy. In the episode "Pete's House of Villains"; he replaced Horace in the control room. In the episode "House of Turkey", the Wolf decided to leave the pigs alone for the day as he'd rather have turkey. In the episode "Dining Goofy", he was unamused with the fact that he was seated with Bambi.
The Wolf also starred in a cartoon short made for House of Mouse, based on his escapades in the comics. The Wolf also had cameos in the show's compilation films, Mickey's House of Villains, where he joined the legion of villains, and when Jafar had him activate the machine thus staging the film's final act, he complied. He also appeared in Mickey's Magical Christmas: Snowed in at the House of Mouse.
Main article: Little Red Riding Hood
In the ABC fantasy drama, the Big Bad Wolf is actually a werewolf whose human form is none other than Red Riding Hood. Her grandmother purchased a red hood from a wizard to stop her from transforming when there was a full moon.
Big Bad Wolf cameos in the episode "Sock Burglar" as one of the suspects interrogated by Minnie Mouse, here having a ravenous, hungry look during the interrogation.
The Big Bad Wolf later appeared in "The Perfect Dream", as an obnoxious biker that disturbs Mickey's dream with the noise made by his ride. In the end, Mickey turns the noise of Wolf's bike (as well as the other noises that annoy him) as music, to finish his dream.
The Big Bad Wolf makes an appearance in the episode "The Big Good Wolf", in which he moves into Mickey and Minnie's neighborhood and causes havoc. Mickey offers to reform the wolf by taking him across town to help others. The wolf agrees, but secretly uses it as an opportunity to eat everyone in town, including the Three Little Pigs, Minnie, Goofy, Donald Duck, Huey, Dewey, and Louie, Pluto, Dumbo, Timothy Q. Mouse, Clarabelle Cow, and Horace Horsecollar, among other residents. The wolf lastly invites Mickey to dinner as a cover up to devour the mouse, but Mickey learns of the wolf's schemes and frees the townsfolk. The wolf tries to exact vengeance by huffing and puffing Mickey into a fire to be roasted, but Mickey uses pepper to retract the wolf's huffs and puffs, causing the wolf to sneeze himself into the sun. Though Mickey laments his failure to reform the Big Bad Wolf, he and the other residents celebrate the wolf's "change-of-address".
Other appearances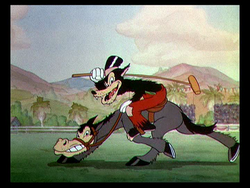 The Big Bad Wolf appears in Mickey's Polo Team, as one of the members of the Mickey Mousers. The crowd boos him when he first appears. At one point during the match, the Wolf's mallet breaks, so he tries hitting the ball by blowing on it with his windy breath. When the Three Little Pigs and Shirley Temple all razz him for his efforts, the Wolf retaliates by simply blowing them over.
The Wolf and pigs also make cameo appearances in Toby Tortoise Returns, as some of the many spectators in the boxing match. The Wolf, along with several other characters, is seen taking a fancy to Jenny Wren when she appears.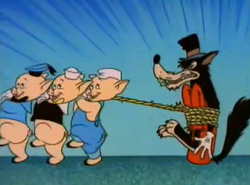 Big Bad and the pigs make appearances in the animated opening of the television series The Mickey Mouse Club. During the theme, he is tied up and being dragged by the pigs. At the end of the theme, he, along with the pigs, are among the crowd of Disney characters cheerfully tossing Mickey Mouse into the air.
He makes two cameos in the film in Who Framed Roger Rabbit, first, at Toontown, and second in the final scene of the film with several other toons, during the latter toons are talking about what Judge Doom really was and as the toons say what they are, he claims to be a sheep. He is voiced by Tony Pope here.
In Mickey's Christmas Carol, the Wolf made a cameo as a street corner Santa Claus at the beginning of the film saying "Merry Christmas!" to the people who pass by him.
He also starred in the Raw Toonage short "The Porker's Court".
Big Bad Wolf makes a cameo in two Bonkers episodes, "The 29th Page" at a prison line-up, and in "CasaBonkers" where Katya tosses the Wolf out of his car, so she can go after Bonkers.
Printed media
Comics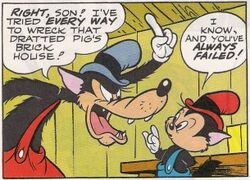 Big Bad Wolf continued to antagonize the Three Little Pigs in the pages of the Disney comic books, eventually stealing the spotlight and having the stories focus on him. Walt Disney's Comics and Stories #52 introduced his oddly-named son, Li'l Bad Wolf, who, unlike the Three Little Wolves from the shorts, is kind and friendly to everyone, much to Big Bad Wolf's dismay. Carl Buettner, Gil Turner, and Jack Bradbury all worked on Wolf's early comic stories, with Buettner giving the Wolf his proper name of Zeke in 1946 and Turner supplying his middle name of Midas 1949.
After the release of Song of the South, a recurring joke in the comics was that Zeke would often accidentally incur the wrath of Br'er Bear, resulting in the big bruin angrily chasing after him. He also made appearances in three issues of the Junior Woodchucks comics in the 1970s alongside with either the pigs or the Br'er characters.
Video games
Big Bad Wolf appears as Pete's second-in-command in the video game Magical Tetris Challenge. In the game's Story Mode, the player always goes up against the Wolf before facing off with Pete.
Big Bad Wolf appears in the Disney Parks (with brown fur instead of black) as a meetable character and usually seen in parades. The wolf appears as a rare character and is now mostly found at Tokyo Disneyland than any other theme parks, though he would meet during Halloween at Hong Kong Disneyland.
The Big Bad Wolf is also regularly featured in special events and promotional campaigns featuring the Disney Villains franchise. This includes annual live appearances during Mickey's Not-So-Scary Halloween Party.
The Big Bad Wolf previously appeared in Disneyland's version of Fantasmic! from 1992 to 1995 riding the Mark Twain Riverboat, but he was replaced by newer characters in the latter year. He appeared recently in special showings in May 2012, celebrating Fantasmic!'s 20th anniversary.
A poster of the wolf can be seen in Mickey's PhilharMagic.
In Mickey Mouse Revue, the Big Bad Wolf appeared as a shadow sneaking across the stage curtains before the curtains open and The Three Little Pigs sing "Who's Afraid of the Big Bad Wolf?". Despite Prince Charming also appearing as a shadow in the show, The Big Bad Wolf is the only character to not physically appear in the show's finale of "Zip-A-Dee-Doo-Dah". He also appears in the preshow.
Big Bad Wolf was also infamous for appearing in SpectroMagic wearing all white and seen with the pigs.
Gallery
Trivia
Big Bad Wolf is one of the few characters from the classic Disney shorts to have sons instead of nephews. He keeps this peculiarity in the comics, albeit with a different character.
See Also
v - e - d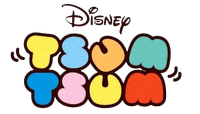 Disney
Mickey & Friends: Mickey • Minnie • Donald • Daisy • Goofy • Pluto • Chip and Dale • Oswald • Ortensia • Duffy • ShellieMay • Gelatoni • StellaLou • CookieAnn • 'Olu Mel • Huey, Dewey, and Louie • José Carioca • Panchito Pistoles • Clarabelle Cow • Horace Horsecollar • Max Goof • Clarice • Pete • Scrooge McDuck • Ludwig Von Drake • Dr. Frankenollie • Julius

Pooh and Pals: Pooh • Tigger • Piglet • Eeyore • Rabbit • Owl • Roo • Kanga • Gopher • Christopher Robin • Lumpy
Lilo & Stitch: Stitch • Lilo • Scrump • Pleakley • Jumba • Angel • Leroy • Dr. Hämsterviel • Ugly Duckling • Sparky • 627 • Gigi • Babyfier • Yang • Slushy • Shortstuff • 625 • Amnesio • Dupe • Sample • Clip • Tank • Yin • Hunkahunka • Plasmoid
Silly Symphonies: Donald Duck • Big Bad Wolf • Practical Pig • Fiddler Pig • Fifer Pig • Ugly Duckling
Snow White and the Seven Dwarfs: Snow White • Evil Queen • Doc • Grumpy • Happy • Bashful • Sneezy • Sleepy • Dopey
Pinocchio: Pinocchio • Jiminy Cricket • Figaro • Cleo • Geppetto • Blue Fairy • Honest John and Gideon • Lampwick • Monstro
Fantasia: Mickey • Yen Sid • Chernabog • Hyacinth Hippo • Ben Ali Gator
Dumbo: Dumbo
Bambi: Bambi • Thumper • Miss Bunny • Friend Owl • The Great Prince of the Forest
The Three Caballeros: Gauchito • Burrito
The Adventures of Ichabod and Mr. Toad: Mr. Toad
Cinderella: Cinderella • Jaq and Gus • Prince Charming • Fairy Godmother • Lady Tremaine • Lucifer • Suzy • Perla • Bruno
Alice in Wonderland: Alice • Mad Hatter • March Hare • Dormouse • White Rabbit • Cheshire Cat • Tweedle Dum and Tweedle Dee • Queen of Hearts • King of Hearts • Caterpillar • Dinah • Oysters
Peter Pan: Peter Pan • Tinker Bell • Wendy Darling • John Darling • Michael Darling • Captain Hook • Mr Smee • Nana • Tick Tock • Tiger Lily
Lady and the Tramp: Lady • Tramp • Si and Am • Jock • Trusty • Peg
Sleeping Beauty: Aurora • Phillip • Maleficent • Flora • Fauna • Merryweather • Diablo • Samson • King Stefan • Goon • Owl • Rabbit
Mary Poppins: Mary Poppins • Bert • Penguin Waiter • Carousel Horse
One Hundred and One Dalmatians: Cruella De Vil • Lucky • Patch • Rolly
The Jungle Book: Mowgli • Baloo • Bagheera • Shere Khan • Kaa • King Louie • Hathi, Jr. • Raksha
Pete's Dragon: Elliott
The Fox and the Hound: Tod • Copper
The Aristocats: Marie • Berlioz • Toulouse • Duchess • Thomas O'Malley
The Rescuers: Bernard • Bianca
Oliver & Company: Oliver • Dodger • Tito • Rita • Francis • Einstein
The Little Mermaid: Ariel • Flounder • Sebastian • Eric • Ursula • Triton • Max • Scuttle
Beauty and the Beast: Belle • Beast • Lumiere • Cogsworth • Mrs. Potts • Chip • Maurice • Philippe • Gaston • LeFou
Aladdin: Aladdin • Abu • Genie • Jasmine • Jafar • Sultan • Iago • Rajah
The Nightmare Before Christmas: Jack Skellington • Sally • Zero • Lock, Shock, and Barrel • Oogie Boogie • Dr. Finkelstein • Mayor of Halloween Town • Santa Claus
The Lion King: Simba • Nala • Timon • Pumbaa • Zazu • Rafiki • Scar • Ed
Pocahontas: Pocahontas • John Smith • Meeko • Flit • Percy
Hercules: Hercules • Megara • Hades
Mulan: Mulan • Li Shang • Mushu • Fa Zhou • Khan
The Emperor's New Groove: Kuzco • Yzma • Kronk
Mickey, Donald, Goofy: The Three Musketeers: Mickey Mouse • Minnie Mouse • Donald Duck • Goofy
Chicken Little: Chicken Little
The Princess and the Frog: Dr. Facilier
Tangled: Rapunzel • Flynn Rider • Pascal • Maximus • Mother Gothel • Queen Arianna • King Frederic • Cassandra • Fidella • Pub Thug
Wreck-It Ralph: Wreck-It Ralph • Fix-It Felix Jr.
Frozen: Anna • Elsa • Olaf • Kristoff • Sven • Hans • Snowgies • Bruni
Big Hero 6: Hiro • Baymax • Fred • Wasabi • Honey Lemon • Go Go Tomago • Tadashi Hamada • Yokai • Mochi
Zootopia: Judy Hopps • Nick Wilde • Mayor Lionheart • Flash • Yax • Gazelle • Chief Bogo • Clawhauser • Finnick • Mr. Big • Bellwether • Jerry Jumbeaux Jr.
Moana: Moana • Maui • Pua • Heihei • Tamatoa • Kakamora
Chip 'n Dale Rescue Rangers: Chip • Dale • Gadget • Monterey Jack
Phineas and Ferb: Perry
The Lion Guard: Kion • Ono • Bunga • Beshte • Fuli
DuckTales (2017): Scrooge McDuck • Huey, Dewey, and Louie • Webby Vanderquack
Kingdom Hearts: Sora • Riku • Kairi • Aqua • Xemnas • Ansem, Seeker of Darkness • Ventus • Terra • Chirithy • Lea • Young Xehanort
UniBEARsity: Mocha • Pudding • Whip • Puffy • Mont • Blanc • Souffle • Blue Rose • Charmant • Portiron • Rogue Rose • Fauve • Lucien • Horloge • La Mer • Ma Puce
Sofia the First: Sofia • Minimus • Skye
Elena of Avalor: Elena
Enchanted: Giselle
Disney Fairies: Periwinkle • Rosetta • Silvermist
The Sword in the Stone: Wart • Merlin
Oliver & Company: Oliver
Raya and the Last Dragon: Raya • Sisu
Community content is available under
CC-BY-SA
unless otherwise noted.