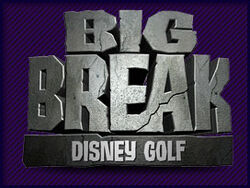 Big Break: Disney Golf
was the twelfth season of the
Golf Channel
reality series. The season premiered on October 13, 2009 and ended on December 15 of that year. Challenges took place at courses and off-course locations in and around
Walt Disney World
in Lake Buena Vista,
Florida
.
Contestants
Mike Perez (Scottsdale, Arizona) – Nationwide Tour member and brother of PGA Tour player Pat Perez: CHAMPION.
Tony Finau (Lehi, Utah) – Brother of contestant Gipper Finau. Turned professional at age 17 and made a cut on the PGA Tour the same year: RUNNER UP IN SUDDEN DEATH 1st HOLE.
Kevin Erdman (Arcadia, California) – Husband of Big Break Ka'anapali contestant Courtney Erdman: FINSHED THIRD IN FINAL.
Gipper Finau (Lehi, Utah) – Brother of contestant Tony Finau. Turned professional at age 16: ELIMINATED WEEK NINE.
Andrew Giuliani (New York, New York) – Son of former New York City mayor Rudolph Giuliani: ELIMINATED WEEK EIGHT.
Blake Moore (Monrovia, California) – Friend of former Big Break competitor and PGA Tour player James Nitties: ELIMINATED WEEK SEVEN.
Vincent Johnson (Portland, Oregon) – Received the Charlie Sifford exemption to play in the 2009 Northern Trust Open: ELIMINATED WEEK SIX.
J.R. Reyes (Omaha, Nebraska) - Former NJCAA All-America. Waits tables at a diner to support his golf dream: ELIMINATED WEEK FIVE.
Sean Kalin (Delray Beach, Florida) – Former junior star golfer who gave up the game for 20 years after being kidnapped: ELIMINATED WEEK FOUR.
Kevan Maxwell (Charleston, South Carolina) – Pizza delivery man: ELIMINATED WEEK THREE.
Andreas Huber (Scottsdale, Arizona) – A former Wall Street broker and the son of actress Susan Lucci: ELIMINATED WEEK TWO.
Ed Moses (Hollywood, California) – A gold and silver medal winner as a member of the United States swim team at the 2000 Olympic Games: ELIMINATED WEEK ONE.
| | |
| --- | --- |
| | This page uses content from the English Wikipedia. The article or pieces of the original article was at The Big Break#Big Break Disney Golf. The list of authors can be seen in the page history. As with Disney Wiki, the text of Wikipedia is available under the GNU Free Documentation License. |
Community content is available under
CC-BY-SA
unless otherwise noted.