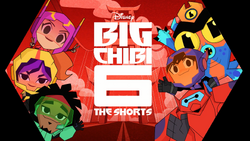 Big Chibi 6: The Shorts are a series of twelve one minute shorts featuring the characters of Big Hero 6 in chibi style. Beginning in November 2018, the Chibi shorts fill the gap between seasons one and two.
The Big Chibi 6 shorts are loosely based on the opening segment from the episode "Fan Friction". This series depicts the cast of Big Hero 6 in comical chibi-fied situations.
Cast
Shorts
Image
Title
Original Airdate

"Making Popcorn"
November 6, 2018
Fred and Go Go Tomago are about to watch a monster movie, but Fred states that there is no popcorn. Refusing to watch the movie without popcorn, Go Go rushes outside with Fred to make him some popcorn. Dressed in her supersuit, she plows a muddy field, and with some help from Honey Lemon and Baymax, she plants corn seeds and has them watered.

She then gets Hiro and Obake to make a star to quickly grow the corn. This results in growing a gigantic piece of corn that reaches space. Go Go then gets Wasabi to shred the corn off as they go down. With all the corn in a large pot, Go Go gets Fred, dressed in his supersuit, to cook the corn. Fred and Go Go now have popcorn to eat while they watch their movie. However, Fred points out they have no butter, and so Go Go rushes out again to make some.

"Mochi No!"
November 13, 2018
Fred is looking after Mochi for Aunt Cass, and brings him to the lab at SFIT. He finds Wasabi sorting out his "system", and gets told to take Mochi out of the lab. Suddenly, Mochi gets loose and starts to wreak havoc around the lab. He flies around on rocket boots, get duplicated after spilling some chemicals and rides Baymax's armor. Wasabi and Fred try to catch him, but end up taking quite beating from all the chaos Mochi causes.

Mochi is just about to knock over a glass beaker filled with some sort of chemical. Fred and Wasabi beg him not to, but he does, resulting in an explosion. Fred and Wasabi are out cold as Honey Lemon walks in with a pile of boxes. Mochi takes a leap at the boxes and snuggles to sleep in one of them.

"Save Mochi"
November 20, 2018
Mochi gets stuck in a tree and Big Hero 6 has to help him down!

"Noodle Song"
November 20, 2018
Jam out to Noodle Burger Boy's full-length jingle featuring Big Hero 6 as the band!

"Snoring"
November 27, 2018
When Honey Lemon's snoring prevents Go Go from sleeping, Go Go enlists the rest of the team to help her fix the problem!

"Gumball Trouble"
February 5, 2019
Honey Lemon creates mini chem-balls, making them lighter, faster and cuter. Go Go mistakes them for gumballs, and when she puts one in her mouth she instantly blows up like a big balloon. Honey creates a shrink ball to shrink her down to size, but it makes her bigger instead. Honey and Hiro then create a shrink ray, which shrinks her body down but makes her bead big. She is also now floating away like a helium balloon.

Everyone notices that Go Go is floating towards a vortex of nothingness. Honey and Wasabi invent a grapple gun, but fail to grab Go Go. Fred tries using flame thrower, but ends up setting the vortex on fire. When Fred steps on Mochi's tail, he jumps onto Go Go and claws into her face, causing her to deflate like a loose balloon. She flies around, knocking everyone over, until she ends up in Fred's arms, back to normal. Honey Lemon's mini chem-balls also get lost in the flaming vortex of nothingness.

"Love Letters"
February 12, 2019
Karmi writes a love letter to "Captain Cutie" and presents it to him after he and Baymax arrest Globby. Karmi urges Hiro to take it but instead runs away. Karmi chases Hiro all over the city as he tries everything to shake her off. He hides in the sewers, behind lampposts and fire hydrants, in the trunk of cabs, and behind Fred. Even when riding Baymax, She still catches up with him. No matter where Hiro goes or where he hides Karmi is there, determined to give him her love letter. Eventually Karmi ambushes Hiro in an alley, where she finally presents her love letter to her hero.

"Super Charged"
February 19, 2019
Noodle Burger Boy prepares to charge for his ultra secret move so our heroes decide to also charge up!

"Low Battery"
April 2, 2019
A low-battery Baymax refuses to get into his charger!

"Road Trip"
April 9, 2019
Big Hero 6 go on a long road trip, and at some point everyone, except Wasabi and Baymax, falls asleep. Each one is having an interesting dream. Go Go is dreaming about having a much more fast and exciting road trip with herself behind the wheel. Hiro dreams about being very tall, and Honey Lemon dreams about cute bunnies and chicks. As for Fred, his dream is an infinite loop.

"Super Driver"
April 16, 2019
Wasabi needs a little extra cash and signs up to be a super driver, but his clientele all end up being some of San Fransokyo's most wanted.

"Brunch Rush"
April 27, 2019
Aunt Cass is away at a café conference and leaves Hiro and his friends in charge of the Lucky Cat.
Trivia
"Love Letters" parodies Pucca.
"Super Charged!" parodies the Dragon Ball series.

The short takes place in a barren landscape, which is the typical setting for most fights in Dragon Ball.
The heroes "charging up", accompanied with an energy aura and the lengthy time duration, reference the characters of Dragon Ball spending a long time (often to the runtime of the episode) to power up their attacks.
Baymax's temperature scan registering "9999" is a reference to the series' "Over 9,000" meme.
The white graphic expressions are based on the art style used during the intense moments in Dragon Ball.