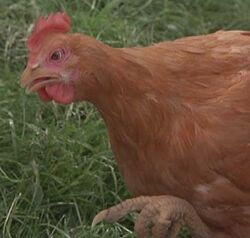 Billina is Dorothy Gale's pet hen in the film Return to Oz. She is the only orange one in the bunch and comes to be Dorothy's favorite.
Role in the film
At first, Billina is a plain and ordinary hen, but one day, she decides to stop laying eggs. Aunt Em tells Dorothy that if Billina won't lay any more eggs, she will have to stew her up for supper. So she flees the farm, ending up in a chicken coop with Dorothy. It sails all night until it reaches its end in Oz.
From there they have wonderful adventures, ending with Billina finally laying an egg, which falls into the Nome King's mouth, killing him and confirming his fear of her. In the end, she becomes enamored of the excitement in Oz and chooses to remain there, as she does not want to go back to "humdrum" Kansas.
Community content is available under
CC-BY-SA
unless otherwise noted.