Billy the Disney Goat
is a character found at all four incarnations of
Big Thunder Mountain Railroad
.
He was named and given a personality for a 2013 marketing campaign for Walt Disney World where he desired an opportunity to leave the attraction and explore the resort for himself.
Appearances
Billy is one of the many animatronic animals populating Big Thunder Mountain, perched on one of the hoodoos and chewing a stick of dynamite, bleating at passing trains near the top of the second lift hill. At Magic Kingdom, Billy is located on one of the rooftops of the town of Tumbleweed. At Disneyland Paris, he is joined by another goat chewing on a clothesline. Billy is central to a Disneyland guest pasttime known as the "Goat Trick", where turning your head to stare back at the goat as you drop results in feeling a greater sense of disorientation.
Online Media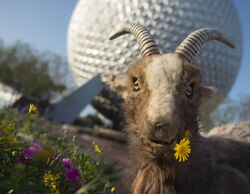 In the Spring of 2013, Disney launched the "Free the Disney Goat" marketing campaign for Walt Disney World. In a video, a puppet version of the Goat implored viewers to petition Disney to allow him some time off to explore the resort with the hashtag #FreeTheDisneyGoat and a website featuring the Goat's drawings imagining himself riding other attractions.
After the campaign ended, the Goat puppet would later appear in a 2015-2016 YouTube series on Disney's "WDW Best Day Ever" channel titled "Walt Disney World Goat Friends", where he would comically interview other animatronic figures across the resort, usually obscure characters.
Other appearances
The iconic image of Billy chewing on dynamite has been referenced in the Disney Kingdoms: Big Thunder Mountain Railroad comic, the "Nature's Wonderland" episode of Mickey Mouse, and on the mural for Jessie's Critter Carousel.
Gallery
External links
Community content is available under
CC-BY-SA
unless otherwise noted.