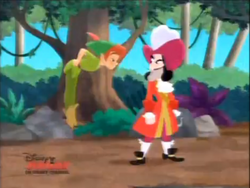 "Blast You Peter Pan" is a song from the television series' Jake and the Never Land Pirates episode, "Peter Pan Returns". The song is a duet by Peter Pan (Adam Wylie) and Captain Hook (Corey Burton).
After Peter and Hook reunited after at least a year of not seeing each other, they begin to sing about how they feel about each other. The song is meant to reflect their hatred relationship and as the song progresses, they become more and more aggravated with one another.
Lyrics
Captain Hook: So this is what I think of you
You're as welcome as a bilge rat in my stew
Now Never Land belongs to me
Peter Pan: Well, I've never heard a codfish try to sing
Captain Hook: So you've returned, now go away
Captain Hook is at the helm and here to stay
Peter Pan: Now looky here, imagine that
A barnacle in a feather hat
Captain Hook: Oh blast you, Peter Pan
You're a pompous popinjay, always getting in my way
Peter Pan: Oh crooked Captain Hook
If only you'd play fair instead of blasting everywhere
Captain Hook: Always tugging at my coat
Peter Pan: You're a greedy billy goat
Captain Hook: You always ruin my fun
Peter Pan: Because you steal from everyone
Captain Hook: Pesky swab
Peter Pan: Scurvy dog
Captain Hook: Oh blast you Peter Pan!
Community content is available under
CC-BY-SA
unless otherwise noted.