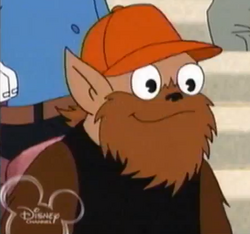 Boggles are creatures featured in the animated television show American Dragon: Jake Long. They are only seen in the episode "Fu Dog Takes a Walk".
History
Boggles are humanoid creatures covered in brown fur. Not much is known about them since only one is briefly seen. They are never mentioned or seen again.
Physical Appearance
Although covered in fur, Boggles have scruffier beards and manes that stand out in comparison to the rest of their body. This permits them to hide in a crowd of humans more efficiently, especially if they wear clothes covering the rest of their skin. Their nose is shaped like a dog's, and they have pointed ears.
Trivia
In Scottish mythology, the Boggle is a ghost or folkloric being that is the equivalent of the boogie man or bogart in England.
According to Northern England mythology, the Boggle could be a derivation of the Barghest, a dog-like creature with the power of shapeshifting;
Apparently, Boggles shed so much that it's even worse than a real dog;
In "Fu Dog Takes a Walk", the unnamed Boggle adopts a pet Beagle.
Community content is available under
CC-BY-SA
unless otherwise noted.