"Sulley, you're not supposed to name it. Once you name it, you start getting attached to it. Now put that thing back where it came from or so help me...!"
―Mike Wazowski
Mary Gibbs, better known as Boo, is the tritagonist of the 2001 Disney•Pixar animated film, Monsters, Inc.. She is a young girl who is not scared of any monsters except occasionally Randall, who happened to be her monster. Boo eventually ventures through her closet to enter the monster world, where she develops a bond with Sulley and Mike Wazowski.
Background
Personality
Boo is a two-year-old toddler who is curious and naïve. She can talk, but has gibberish vocabulary and little dialogue because of her age. The only actual words she says in the film are "Boo!", "Kitty!", "Eww.", and "Mike Wazowski!". In other ways, she is advanced for her age, such as already being potty-trained. This is seen when she shows to Sulley that she needs to go to the bathroom and does not need any assistance. She is also able to draw recognizable figures of Randall, Sulley, and herself and color them realistically.
Physical appearance
Boo is a small, slender, fair-skinned, little girl with dark brown hair in pigtails, brown eyes, a pink t-shirt, purple shorts, and white socks.
Appearances
In the first film, Boo is a two-year-old human child who has escaped from her room from which Randall intended to kidnap her. Much of the film's plot follows what happens as Sulley and Mike try to get Boo back to her room safely.
When she first appears, Boo is very attached to Sulley (calling him "Kitty"), and she thinks he's playing with her, but he is not so keen, but as the film progresses, he develops a bond with her. To get Boo to her door without drawing attention, Mike and Sulley make a homemade monster costume (using chair-fabric for skin, desk lamps for eyes, and a mop for hair) to disguise her. Throughout the movie, Boo repeatedly wanders off, causing many comedic situations for Mike and Sulley.
At one point, Sulley, under Mr. Waternoose's orders, roars in front of a robot child used for simulation, not noticing that he has also scared Boo. Sulley tries to apologize to Boo, but she is too terrified of him and runs to cower underneath Waternoose's legs. Waternoose, who has caught sight of Boo, decides to "take care" of her before anything worse happens, only to reveal he is in league with Randall. After he and Randall banish Sulley and Mike to the Himalayas, they proceed with extracting screams from Boo by using the Scream Extractor. However, Sulley arrives just in time to destroy the device and free Boo.
Mike catches up with them, and they rush back to Scare Floor F, with Randall in hot pursuit. Randall chases them to a large chamber where thousands of doors to the human world are kept. Mike and Sulley then make Boo laugh to activate the doors, then they go through them, exiting the monster world and entering back into it to lose Randall and reach Boo's door. Just as it looks like Mike and Sulley have lost Randall, Boo suddenly slips off from Sulley's arms, and Randall reveals that he has caught her.
Sulley manages to catch up with Boo, but then Randall ambushes Sulley. Just as Randall is about to kill Sulley, Boo suddenly jumps on Randall and beats him up with a baseball bat. Boo has managed to overcome her fear of Randall. After Mike and Sulley banish him through another door, disable that door, and let it fall to the bottom of the chamber to ensure that he will never return, Boo blows a raspberry directed at the shattered door. They open Boo's door, only to realize that the power has gone out, but then, the door moves back to Scare Floor F, where Waternoose and the CDA agents are waiting. Mike runs off with Boo's monster costume as the agents go after him while Waternoose notices Sulley with Boo and her door and chases them to the simulation room, where he is lured into a trap set by Mike. Mike exposes Waternoose's plot to kidnap thousands of children (including Boo) to the agents, who then turn on Waternoose and arrest him.
Immediately thereafter, Roz revealed to be Agent 00001 of the CDA, enters and decides that Boo's door is to be destroyed after Boo is safely returned home in order to ensure that she will never come back to the monster world again. She lets Sulley have 5 minutes to say goodbye. Sulley takes her into her room and tucks her in after she shows him her toys, including Jessie the Yodeling Cowgirl from Toy Story 2, a ball from Luxo, Jr., and a clownfish that looks like Nemo from Finding Nemo.
Boo and Sulley take a seemingly one last look at each other, then after Sulley closes the door, Boo runs up to it and opens it to surprise him, only to find her closet instead and Sulley nowhere to be seen. After her door is shredded, Sulley feels sad that he will probably never see Boo again and keeps one of the splintered pieces from her door as a memento.
At the end of the film, Mike brings Sulley (now the new CEO of Monsters, Inc.) a surprise, which turns out to be Boo's door reassembled. The door becomes functional when Sulley places the piece he has kept, and he opens it to see Boo, who (although off-screen) recognizes him by saying, "Kitty!" This gives Sulley a surprised grin on his face as the film closes.
Boo does not make a physical appearance in Monsters at Work, but is indirectly mentioned in the pilot episode, as Mike is talking with Celia, she is the reason why Sulley and Mike initially got banned from Harryhausen's for life. Boo is also mentioned in the episodes "The Damaged Room" and "It's Laughter They're After".
Printed media
Boo appears throughout the miniseries, though her largest part is in issues three and four.
In Issue 3, her Jessie doll is stolen by Sid Phillips (though he goes unnamed in the comic), who wants to steal toys from kids to try and spare them from what happened to him. He hides in Boo's room from Mike and Sulley, who have been pursuing him through the door system. After finding her toy has been stolen when he escapes, Boo goes angrily in pursuit, putting on her monster costume and helps Mike and Sulley find Sid in the Monsters, Inc. facility. Getting Jessie back, the monsters don't believe Sid's stories about living toys and send him back to the human world through his sister's door.
In issue 4, Sid, Waternoose, and Randall team up to get their revenge. A visit to Boo's leaves Mike, Sulley and Celia trapped. Boo stowed away and allows for a means to reactivate the door briefly, escaping with Celia back into the human world. Escaping the clutches of the pursuing villains, they end up leading them into another trap set up by the CDA to recapture the three.
Video games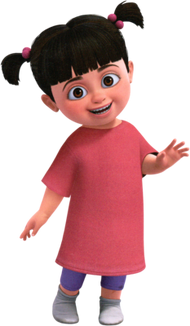 Boo is first seen playing with Sulley and Mike when Sora, Donald, and Goofy walk into the corporation lobby. Mike is immediately frightened, thinking the trio would react badly about having a human in their presence. To their surprise, the trio show no fear of the little girl. After a brief introduction, the group is attacked by a herd of Unversed. Worried that more would come, Sulley decides to take Boo home. However, the door to her world is transported elsewhere by the machines, forcing the six of them to traverse through the entire factory to locate it. Throughout the journey, Boo acts as an energy generator. Eventually, they run up to Randall, Boo's former scarer and a hard battle ensues between the team and a powerful Unversed. Once they come out victorious, they force Randall back through the same door. Back at the command center, they face off Vanitas. Sulley saves Sora by grabbing Vanitas from behind then throwing him through doors to multiple worlds. With everything settled, the five say goodbye to Boo.
In the ending credits, Mike finds a sleeping Boo in Sulley's arms.
Gallery
Trivia
In one of the film's early drafts, she was originally an 8-year-old boy named Raymond, who befriended Sulley (named Hob back then).
The fact that her full name is Mary Gibbs, with her nickname being "Boo", bears a strong similarity to that of the character, Arthur Radley, from Harper Lee's 1960 novel To Kill a Mockingbird. This is very plausible considering the fact that the two characters also share the same nickname of "Boo" although for two different reasons (Boo in Monsters Inc. for frequently exclaiming "Boo!" for fun, and the character from Mockingbird for being thought of as a scary individual).
According to the artwork in the DVD, there are a bunch of drawings of Boo being slightly older (possibly around the ages 5-10) in her early works; but the final designs were later confirmed that Boo would be a toddler instead of a child because the filmmakers realized that the younger Boo could be more dependent on Sulley. In the documentary with the characters, Billy Crystal said that Boo was an adorable three-year-old little creation.

At another point, Boo was going to be the youngest and only female child with siblings who was constantly picked on by her older brothers, and befriended Sulley (then known as Johnson) so that he could protect her.

In Cars, a car version of her named "Boomobile" is mentioned.
In her bedroom, Boo has a Luxo Ball, a rubber Nemo squeak toy, and a Jessie doll.

Interestingly, the Nemo toy serves as a reference to Pixar's next film, Finding Nemo where the protagonist is a clownfish.

In an early animation test for Boo's T-shirt, it had a picture of Heimlich from A Bug's Life on it.
During the scene where Sulley and Mike hide Boo in the bathroom, one of the songs Boo sings behind the stalls is "Beauty and the Beast" from the animated Disney film of the same name.
In a book based on the first film, it is revealed that Boo's real name is Mary Gibbs (the same name as her voice actress). In the film, she signs her drawings with the name "Mary."
According to some Monsters, Inc. coloring pages, some of the outfits Sulley and Mike made Boo wear before deciding on the monster costume was that of a princess, a witch, a clown, and a doctor.
In Toy Story 3, there is a girl in the Butterfly Room at Sunnyside Daycare who looks like a slightly older Boo. She is seen playing with a blue cat (Boo's nickname for Sulley is "Kitty") and says "Boo," seemingly reenacting a scene from Monsters, Inc. However, Lee Unkrich has confirmed that they are not the same character.

There is also speculation that Bonnie Anderson from Toy Story 3 could be an older Boo due to having Sulley's colors and print decorating her bathroom and having a similar appearance. However, those rumors are proven false due to the fact that Boo's real name is Mary Gibbs, not Bonnie.
Boo herself actually does make two brief cameo appearances in the sequel Toy Story 4 where she appears in Bonnie's kindergarten class and at the carnival.

When Boo tries to open her closet door after Sulley tells her goodbye and closes it, she becomes 7% taller since the programmers noticed that she was too short.
Originally, Boo was actually going to return as an adolescent in an unproduced sequel, titled Monsters Inc. 2: Lost in Scaridise.

In this film, Sulley and Mike, while preparing to celebrate her birthday one day, find out that Boo and her family have already moved to a different house when they find an old woman sleeping in what was once her bedroom, causing the two monsters to travel into the human world to look for her new house. Unfortunately, the two monsters start to forget how to get back to their world, and to make matters worse, Boo does not even remember them anymore since children lose belief in monsters as they grow up, nor does she think they are funny, and the only way to get back is to try to make her laugh again.

The reason why this sequel was scrapped in the first place was that John Lasseter thought that the final shot of the original film was just too heartwarming to be continued.[1]

A serialised sequel series for Disney+ titled Monsters at Work won't feature Boo in it, as show creator Bobs Gannaway wishes to leave her relationship with Sulley following the events of the original film up to the interpretation of the fans.

Mary Gibbs, Boo's voice actress, was two years old at the time of filming for Monsters, Inc.. Since the crew found that Gibbs was unable to sit still in the recording booth, they followed her around the studio with a microphone to record her dialogue.
Some of Boo's cries and squeals are reused in Inside Out for a younger Riley Andersen. The credits list Mary Gibbs as an additional voice because of this.
Domee Shi debunked a popular fan theory that Boo grew up to be Abby Park from Turning Red. She did however, suggest that they could be related and was happy that people considered Boo Korean, at least partially.[4]
References

This page uses Creative Commons Licensed content from the Pixar Wiki. The list of authors can be seen in the page revision history (view authors). As with Disney Wiki, the text of the Pixar Wiki is available under the CC-BY-SA license.
v - e - d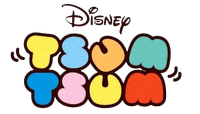 Disney
Mickey & Friends:

Mickey • Minnie • Donald • Daisy • Goofy • Pluto • Chip and Dale • Oswald • Ortensia • Duffy • ShellieMay • Gelatoni • StellaLou • CookieAnn • 'Olu Mel • Huey, Dewey, and Louie • José Carioca • Panchito Pistoles • Clarabelle Cow • Horace Horsecollar • Max Goof • Clarice • Pete • Scrooge McDuck • Ludwig Von Drake • Dr. Frankenollie • Julius

Pooh and Pals: Pooh • Tigger • Piglet • Eeyore • Rabbit • Owl • Roo • Kanga • Gopher • Christopher Robin • Lumpy
Lilo & Stitch: Stitch • Lilo • Scrump • Pleakley • Jumba • Angel • Leroy • Dr. Hämsterviel • Ugly Duckling • Sparky • 627 • Gigi • Babyfier • Yang • Slushy • Shortstuff • 625 • Amnesio • Dupe • Sample • Clip • Tank • Yin • Hunkahunka • Plasmoid
Silly Symphonies: Donald Duck • Big Bad Wolf • Practical Pig • Fiddler Pig • Fifer Pig • Ugly Duckling
Snow White and the Seven Dwarfs: Snow White • Evil Queen • Doc • Grumpy • Happy • Bashful • Sneezy • Sleepy • Dopey
Pinocchio: Pinocchio • Jiminy Cricket • Figaro • Cleo • Geppetto • Blue Fairy • Honest John and Gideon • Lampwick • Monstro
Fantasia: Mickey • Yen Sid • Chernabog • Hyacinth Hippo • Ben Ali Gator
Dumbo: Dumbo
Bambi: Bambi • Thumper • Miss Bunny • Friend Owl • The Great Prince of the Forest
The Three Caballeros: Gauchito • Burrito
The Adventures of Ichabod and Mr. Toad: Mr. Toad
Cinderella: Cinderella • Jaq and Gus • Prince Charming • Fairy Godmother • Lady Tremaine • Lucifer • Suzy • Perla • Bruno
Alice in Wonderland: Alice • Mad Hatter • March Hare • Dormouse • White Rabbit • Cheshire Cat • Tweedle Dum and Tweedle Dee • Queen of Hearts • King of Hearts • Caterpillar • Dinah • Oysters
Peter Pan: Peter Pan • Tinker Bell • Wendy Darling • John Darling • Michael Darling • Captain Hook • Mr Smee • Nana • Tick Tock • Tiger Lily
Lady and the Tramp: Lady • Tramp • Si and Am • Jock • Trusty • Peg
Sleeping Beauty: Aurora • Phillip • Maleficent • Flora • Fauna • Merryweather • Diablo • Samson • King Stefan • Goon • Owl • Rabbit
Mary Poppins: Mary Poppins • Bert • Penguin Waiter • Carousel Horse
One Hundred and One Dalmatians: Cruella De Vil • Lucky • Patch • Rolly
The Jungle Book: Mowgli • Baloo • Bagheera • Shere Khan • Kaa • King Louie • Hathi, Jr. • Raksha
Pete's Dragon: Elliott
The Fox and the Hound: Tod • Copper
The Aristocats: Marie • Berlioz • Toulouse • Duchess • Thomas O'Malley
The Rescuers: Bernard • Bianca
Oliver & Company: Oliver • Dodger • Tito • Rita • Francis • Einstein
The Little Mermaid: Ariel • Flounder • Sebastian • Eric • Ursula • Triton • Max • Scuttle
Beauty and the Beast: Belle • Beast • Lumiere • Cogsworth • Mrs. Potts • Chip • Maurice • Philippe • Gaston • LeFou
Aladdin: Aladdin • Abu • Genie • Jasmine • Jafar • Sultan • Iago • Rajah
The Nightmare Before Christmas: Jack Skellington • Sally • Zero • Lock, Shock, and Barrel • Oogie Boogie • Dr. Finkelstein • Mayor of Halloween Town • Santa Claus
The Lion King: Simba • Nala • Timon • Pumbaa • Zazu • Rafiki • Scar • Ed
Pocahontas: Pocahontas • John Smith • Meeko • Flit • Percy
Hercules: Hercules • Megara • Hades
Mulan: Mulan • Li Shang • Mushu • Fa Zhou • Khan
The Emperor's New Groove: Kuzco • Yzma • Kronk
Mickey, Donald, Goofy: The Three Musketeers: Mickey Mouse • Minnie Mouse • Donald Duck • Goofy
Chicken Little: Chicken Little
The Princess and the Frog: Tiana • Dr. Facilier
Tangled: Rapunzel • Flynn Rider • Pascal • Maximus • Mother Gothel • Queen Arianna • King Frederic • Cassandra • Fidella • Pub Thug
Wreck-It Ralph: Wreck-It Ralph • Fix-It Felix Jr.
Frozen: Anna • Elsa • Olaf • Kristoff • Sven • Hans • Snowgies • Bruni
Big Hero 6: Hiro • Baymax • Fred • Wasabi • Honey Lemon • Go Go Tomago • Tadashi Hamada • Yokai • Mochi
Zootopia: Judy Hopps • Nick Wilde • Mayor Lionheart • Flash • Yax • Gazelle • Chief Bogo • Clawhauser • Finnick • Mr. Big • Bellwether • Jerry Jumbeaux Jr.
Moana: Moana • Maui • Pua • Heihei • Tamatoa • Kakamora
Chip 'n Dale Rescue Rangers: Chip • Dale • Gadget • Monterey Jack
Phineas and Ferb: Perry
The Lion Guard: Kion • Ono • Bunga • Beshte • Fuli
DuckTales (2017): Scrooge McDuck • Huey, Dewey, and Louie • Webby Vanderquack
Kingdom Hearts: Sora • Riku • Kairi • Aqua • Xemnas • Ansem, Seeker of Darkness • Ventus • Terra • Chirithy • Lea • Young Xehanort
UniBEARsity: Mocha • Pudding • Whip • Puffy • Mont • Blanc • Souffle • Blue Rose • Charmant • Portiron • Rogue Rose • Fauve • Lucien • Horloge • La Mer • Ma Puce
Sofia the First: Sofia • Minimus • Skye
Elena of Avalor: Elena
Enchanted: Giselle
Disney Fairies: Periwinkle • Rosetta • Silvermist
The Sword in the Stone: Wart • Merlin
Oliver & Company: Oliver
Raya and the Last Dragon: Raya • Sisu
Twisted Wonderland: Grim • Riddle Rosehearts • Azul Ashengrotto • Leona Kingscholar • Kalim Al-Asim • Vil Schoenheit • Idia Shroud • Malleus Draconia • Dire Crowley • Mirror of Darkness
v - e -

d

Disney
Mickey Mouse & Friends:

Mickey • Minnie • Donald • Daisy • Goofy • Pluto • Fifi • Pete • Clarabelle Cow • Horace Horsecollar • Willie the Giant • Chip and Dale • Mortimer Mouse • Chief O'Hara • Detective Casey • Butch the Bulldog • Golden Harp • Father Time • Peter Pig


The Lion King: Simba • Nala • Shenzi, Banzai, and Ed • Ostrich • Gazelle • Rhino • Hippo • Zebra • Blue Beetle • Grub • Zazu • Rafiki • Timon • Pumbaa • Mufasa • Scar
Tangled: Rapunzel • Flynn Rider • Stabbington Brothers • Pub Thugs • Attila • Vlad • Big Nose • Hook Hand • Ulf • Shorty • Pascal • Maximus • Mother Gothel • The King • The Queen • Captain of the Guards • Warthog • The Lantern
Wreck-It Ralph: Ralph • Vanellope • Felix • Sgt. Calhoun • King Candy • Taffyta Muttonfudge • Candlehead • Surge Protector • Gene • Nicelanders • Rancis Fluggerbutter • Other Sugar Rush Racers • Sour Bill • Blue Racer • General Hologram
Big Hero 6: Hiro Hamada • Baymax • Robert Callaghan • Go Go Tomago • Honey Lemon • Wasabi • Fred • Fred's Dad • Tadashi Hamada • Cass • Yama • Alistair Krei • Heathcliff • Abbigail Callaghan • Attila • Sergeant Gerson • Cass
Zootopia: Judy Hopps • Nick Wilde • Flash • Clawhauser • Gazelle • Yax • Bogo • Mayor Lionheart • Bellwether • Doug • Finnick • Mr. Big • Mr. Otterton • Manchas • Gideon • Jerry Jumbeaux Jr. • Nanga • Priscilla • Mr. Hopps • Mrs. Hopps • Business Lemming • Duke Weaselton • Fru Fru • Kozlov • Officer McHorn • Wrangled • Wreck-It Rhino • Pig Hero 6
The Jungle Book: Mowgli • Kaa • Baloo • Akela • Raksha • Gray • Shere Khan • Colonel Hathi • King Louie • Bandar-Log Monkey • Flying Squirrel • Crocodile • Peacock • Vulture • Elephant • Bee Hive
Alice Through the Looking Glass: Alice Kingsleigh • Dormouse • Tweedledee and Tweedledum • Cheshire Cat • Bandersnatch • Bayard • White Queen • March Hare • White Rabbit • Mad Hatter • Absolem • Time • Wilkins • Humpty Dumpty • Red Queen • Borogrove • Frog Delivery Man • Gentleman Fish • Vegetable Soldier • Vegetable Servant • Vegetable Executioner • Armored Chess Piece
Pirates of the Caribbean: Jack Sparrow • Will Turner • Elizabeth Swann • Joshamee Gibbs • Tia Dalma • James Norrington • Marty • Cotton • Bootstrap Bill Turner • Pintel • Ragetti • Angelica • Blackbeard • Prison Dog • Maccus • Davy Jones • Helmsman • Philip Swift • Syrena • Captain Salazar • Ghost Lesaro • Shansa • Henry Turner • Carina Smyth • The Redhead • Murtogg • Mullroy • Treasure Chest • Stray Cat • Tiny • Pirate With Pigs • Ghost Shark • Ghost Seagull • Auctioneer
Aladdin: Aladdin • Jasmine • The Sultan • Prince Achmed • Gazeem • Razoul • Rajah • Iago • Abu • Genie • Jafar • Magic Carpet • Pink Flamingo • Beggar Jafar • Golden Scarab Beetle • Magic Lamp • Snake Charmer • Golden Camel
The Nightmare Before Christmas: Jack Skellington • Sally • Lock, Shock, and Barrel • Oogie Boogie • Easter Bunny • Santa Claus • Behemoth • Wolfman • Corpse Family • Mummy Boy • Mayor of Halloween Town • Dr. Finkelstein • Jewel • Zero
Mulan: Mulan • Yao, Ling, and Chien Po • Fa Li • Fa Zhou • Hayabusa • Khan • Cri-Kee • Little Brother • Mushu • Shan Yu • Captain Li Shang • The Emperor of China • The Matchmaker • General Li • Grandmother Fa • First Ancestor Fa • Chi-Fu • Great Stone Dragon
Moana: Moana • Sina • Frigatebird • Chief Tui • Gramma Tala • Pua • Frigatebird • Kakamora Chief • Maui • HeiHei • Ghost Matai • Eel • Tamatoa • Frog Monster • Sloth Monster • Eight Eyed Bat • Chicken Feed • Maui's Hook • The Ocean
Beauty and the Beast: Belle • Maurice • Chip Potts • Mrs. Potts • Gaston • LeFou • FrouFrou • Chapeau • Plumette • Beast • Cogsworth • Lumiere • The Enchantress
Lilo & Stitch: Lilo Pelekai • Nani Pelekai • David Kawena • Mrs. Hasagawa • Mertle Edmonds • Stitch
DuckTales: Scrooge McDuck • Donald Duck (Classic) • Huey, Dewey, and Louie • Webbigail Vanderquack • Mrs. Beakley • Beagle Boys (Big Time, Burger, and Bouncer) • Gyro • Darkwing Duck • Falcon Graves • Pixiu Chinese Dragon • Peghook's Ghost • Launchpad McQuack • Hack and Slash Smashnikov • Gizmoduck • Shadow Magica • Ma Beagle • Flintheart Glomgold • Pharaoh Toth-Ra • Headless Man-Horse
v - e - d
Characters
Main Characters: Sora • Riku • Kairi • King Mickey • Donald Duck • Goofy • Roxas • Axel/Lea • Naminé • Xion • Aqua • Terra • Ventus


Villains: Xehanort • Ansem • Xemnas • Maleficent • Pete • Vanitas • Xigbar/Braig • Xaldin • Vexen • Lexaeus • Zexion • Saïx/Isa • Demyx • Luxord • Marluxia • Larxene • Terra-Xehanort • Young Xehanort • Xehanort's Guardian
Other Characters: Jiminy Cricket • Ansem the Wise/DiZ • Yen Sid • Master Eraqus • Dilan • Even • Aeleus • Ienzo • Lingering Will • Hayner • Pence • Olette • Kairi's Grandma • Riku Replica • Jiminy's Journal • Foretellers • Master of Masters • Luxu • Ephemer • Skuld • Chirithy • Lauriam • Elrena
Original Monsters: Heartless • Nobodies • Unversed • Dream Eater
Disney Characters introduced in Kingdom Hearts: Queen Minnie • Daisy Duck • Pluto • Chip and Dale • Huey, Dewey, and Louie • Magic Brooms • Alice • White Rabbit • Doorknob • Cheshire Cat • Queen of Hearts • Card Soldiers • Tarzan • Jane Porter • Clayton • Terk • Kerchak • Kala • Sabor • Hercules • Philoctetes • Hades • Cerberus • Rock Titan • Ice Titan • Aladdin • Abu • Jasmine • Genie • Carpet • Jafar • Iago • Peddler • Cave of Wonders • Pinocchio • Geppetto • Monstro • Cleo • Ariel • Flounder • Sebastian • Ursula • King Triton• Flotsam and Jetsam • Glut • Jack Skellington • Zero • Sally • Oogie Boogie • Lock, Shock, and Barrel • Dr. Finkelstein • Mayor of Halloween Town • Peter Pan • Tinker Bell • Captain Hook • Mr. Smee • Wendy • Crocodile • Merlin • Winnie the Pooh • Tigger • Piglet • Eeyore • Rabbit • Owl • Roo • Bees • Beast • Belle • Snow White • Cinderella • Fairy Godmother • Aurora • Pongo • Perdita • Dalmatian Puppies • Simba • Mushu • Dumbo • Bambi • Chernabog
Disney Characters introduced in Kingdom Hearts II: Flora, Fauna, and Merryweather • Maleficent's Raven • Scrooge McDuck • Mulan • Li Shang • Shan Yu • Hayabusa • Yao, Ling, and Chien Po • The Emperor • Lumiere • Cogsworth • Mrs Potts • Chip • Wardrobe • Pegasus • Megara • Pain and Panic • Hydra • Horace Horsecollar • Clarabelle Cow • Clara Cluck • Jack Sparrow • Elizabeth Swann • Will Turner • Captain Barbossa • Bo'sun • Jacoby • Twigg • Cursed Crew • Prince Eric • Attina • Andrina • Santa Claus • Skeletal Reindeer • Timon • Pumbaa • Nala • Rafiki • Scar • Shenzi, Banzai, and Ed • Mufasa • Kiara • Pridelanders • Hyenas • Tron • Master Control Program • Commander Sark • Kanga • Gopher • Stitch • Chicken Little
Disney Characters introduced in Birth by Sleep: Prince Phillip • Maleficent's Goons • Doc • Grumpy • Happy • Sleepy • Bashful • Sneezy • Dopey • The Prince • Evil Queen • Magic Mirror • Prince Charming • Jaq • Lady Tremaine • Anastasia • Drizella • Lucifer • Grand Duke • Grand Councilwoman • Captain Gantu • Jumba • Experiment 221 • Lost Boys
Disney Characters introduced in Dream Drop Distance: Quasimodo • Esmeralda • Phoebus • Judge Claude Frollo • Victor, Hugo, and Laverne • Kevin Flynn • Sam Flynn • Quorra • CLU • Rinzler • Black Guards • Blue Fairy • Beagle Boys • Chernabog's Minions • Julius
Disney Characters introduced in Kingdom Hearts χ: Mad Hatter • March Hare • Razoul • Royal Guards • Maurice • Gaston
Disney Characters introduced in Kingdom Hearts Union χ: Sultan • Samson • Vanellope von Schweetz • Fix-It Felix Jr. • Sergeant Calhoun • King Candy • Sour Bill • Cy-Bugs • Hero's Duty Troops
Disney Characters introduced in Kingdom Hearts III: Zeus • Apollo • Athena • Hermes • Lava Titan • Tornado Titan • Little Chef • Woody • Buzz Lightyear • Rex • Hamm • Sarge • Green Army Men • Little Green Men • Rapunzel • Flynn Rider • Pascal • Maximus • Mother Gothel • Sulley • Mike Wazowski • Boo • Randall Boggs • Child Detection Agency • Trailer Son and Mom • Elsa • Anna • Kristoff • Olaf • Sven • Marshmallow • Hans • Mr. Gibbs • Tia Dalma • Davy Jones • Kraken • Cutler Beckett • Baymax • Hiro Hamada • Go Go Tomago • Honey Lemon • Fred • Wasabi • Lumpy • Wreck-It Ralph
Disney Characters introduced in Kingdom Hearts Dark Road: Tweedledee and Tweedledum
Disney Characters introduced in the manga: Caterpillar • Chi-Fu
Square Enix Characters: Leon • Cloud • Moogle • Others