The Bride is a prominent character at The Haunted Mansion at Disneyland, the Magic Kingdom, and Tokyo Disneyland. She resides in the attic of the attraction, and is a source of much speculation and theories from over the years.
Development
Early Drafts
When work had begun on the Haunted Mansion, animator and director Ken Anderson was put in charge of coming up with a backstory. Among the many drafts he wrote, one of the most famous involved a sea captain named Captain Gore and his wife named Priscilla. When she discovered his history as a bloody pirate, he killed her - typically depicted as throwing her down a well. In the afterlife, she haunted him until he finally took his own life, by hanging himself in the attic's rafters.
Another draft by Anderson involved the wedding of Mlle. Vampire and Monsieur Boogeyman, which was hosted by the Lonesome Ghosts. Many famous monsters were in attendance, including Dracula, Frankenstein's Monster, and the Headless Horseman. At the altar, she rejected him and the reception turned chaotic.
While neither story ended up sticking, the bride, herself, did. She was depicted in various concept art by Marc Davis until she finally made it into the mansion on opening day.
In the Attraction
The first bride that made it into the attraction was one of a skeletal-like corpse holding a candlestick. She originally sat half-way through the attic on the right side. Once the Hatbox Ghost was removed, she moved to his spot - on the left near the exit. This bride lasted until the mid-70s at both Disneyland and the Magic Kingdom.
The next bride had a completely black face, with glowing eyes and a glowing red heart. This bride lasted from the mid-70s until the early 90s.
The following brides were given faces for the first time. At Disneyland, she was given blonde hair and an innocent-looking gaze. Later, the veil was pulled over her face to make her look more ominous. At the Magic Kingdom, she had white hair and blue skin.
In 2006, along with the refurbishments, the Bride was over-halled with a new backstory and look, becoming Constance Hatchaway in the process. She is the bride that can be found in the mansion, today.
Appearances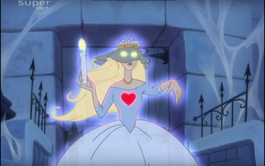 In the episode "House Ghosts", the Bride makes a short cameo. When Pete runs into a mausoleum, she confronts him, holding out her hand. He takes hold of it and kisses it, before it disintegrates off of her arm. When he looks up, her face became a corpse-like one, scaring him.
The Bride makes a brief appearance in the "Grim Grinning Ghosts" segment of this Disney Sing Along tape. She appeared in front of Phantom Manor with the Phantom and the Disney Villains. When Donald Duck scared them at the end of the song, she ran back into the manor.
A statue of the Bride can be found in the second Epic Mickey game in Bog Easy. Mickey and Oswald have to move it around to find a gear that one of the Lonesome Ghosts stole.
Print Media
Comics
In the Haunted Mansion comic book series by Slave Labor Graphics, the Bride is a woman called Emily de Claire. She met Master Gracey and fell in love with him. The day of their wedding, she went searching in the attic for something old. She was confronted by the ghosts of Gracey's dead crew, and she was scared to death. She stayed in the attic and no one disturbed her, while she looked out the window, waiting for her love to return.
The Bride was a resident at Lonesome Manor in the Tales from the Wasteland comic book series, inspired by the Epic Mickey video games. After a bet from Pete, Oswald the Lucky Rabbit, Donald Duck, and Goofy have to stay in Lonesome Manor all night. A bride confronts Oswald, begging him to be her husband. When he refuses, she chases them around the manor, until they manage to flee from her.
Ghost Gallery
In this fan-made biography page, the Bride at the Magic Kingdom's mansion is called Emily Cavanaugh. She came from a rich family, but was very flighty. After her parents suddenly died, she met Master Gracey and eventually became his second wife. During their honeymoon, she played a game of hide and seek with him. She hid in a large trunk, where Madame Leota locked her inside and she suffocated to death.
Records
The Bride makes a small appearance in the Story and Song from The Haunted Mansion. When Mike and Karen run up to the attic, they are confronted by the Bride. She is described as a dark figure, strangely illuminated with a glowing heart and glowing eyes. When speaking about the Hatbox Ghost, she is referred to as 'his bride'.
She is depicted in the Disneyland record The Haunted Mansion: See, Hear, Read. She stands in the attic and is, once again, identified by her glowing red heart.
Other
She appeared in a pop-up book made for the attraction. Her veil is a flap that can be lifted, revealing a corpse-like face.
Disney Parks
The Bride can still be seen at the Haunted Mansion at Tokyo Disneyland, today. She stands in the attic, holding onto a candlestick with glowing yellow eyes.
She made her debut as a live-character during the Spooky "Boo!" Parade during the 2019 Halloween season. She walked on the parade route, while a group of five suitors surrounded her.
See also
The Bride could also refer to the following characters, whom are all based on the original bride character.
v - e - d

Disney
Mickey Mouse & Friends: Mickey • Minnie • Donald • Daisy • Goofy • Pluto • Fifi • Pete • Clarabelle Cow • Horace Horsecollar • Willie the Giant • Chip and Dale • Mortimer Mouse • Chief O'Hara • Detective Casey • Butch the Bulldog • Golden Harp • Father Time • Peter Pig


The Lion King: Simba • Nala • Shenzi, Banzai, and Ed • Ostrich • Gazelle • Rhino • Hippo • Zebra • Blue Beetle • Grub • Zazu • Rafiki • Timon • Pumbaa • Mufasa • Scar
Tangled: Rapunzel • Flynn Rider • Stabbington Brothers • Pub Thugs • Attila • Vlad • Big Nose • Hook Hand • Ulf • Shorty • Pascal • Maximus • Mother Gothel • The King • The Queen • Captain of the Guards • Warthog • The Lantern
Wreck-It Ralph: Ralph • Vanellope • Felix • Sgt. Calhoun • King Candy • Taffyta Muttonfudge • Candlehead • Surge Protector • Gene • Nicelanders • Rancis Fluggerbutter • Other Sugar Rush Racers • Sour Bill • Blue Racer • General Hologram
Big Hero 6: Hiro Hamada • Baymax • Robert Callaghan • Go Go Tomago • Honey Lemon • Wasabi • Fred • Fred's Dad • Tadashi Hamada • Cass • Yama • Alistair Krei • Heathcliff • Abbigail Callaghan • Attila • Sergeant Gerson • Cass
Zootopia: Judy Hopps • Nick Wilde • Flash • Clawhauser • Gazelle • Yax • Bogo • Mayor Lionheart • Bellwether • Doug • Finnick • Mr. Big • Mr. Otterton • Manchas • Gideon • Jerry Jumbeaux Jr. • Nanga • Priscilla • Mr. Hopps • Mrs. Hopps • Business Lemming • Duke Weaselton • Fru Fru • Kozlov • Officer McHorn • Wrangled • Wreck-It Rhino • Pig Hero 6
The Jungle Book: Mowgli • Kaa • Baloo • Akela • Raksha • Gray • Shere Khan • Colonel Hathi • King Louie • Bandar-Log Monkey • Flying Squirrel • Crocodile • Peacock • Vulture • Elephant • Bee Hive
Alice Through the Looking Glass: Alice Kingsleigh • Dormouse • Tweedledee and Tweedledum • Cheshire Cat • Bandersnatch • Bayard • White Queen • March Hare • White Rabbit • Mad Hatter • Absolem • Time • Wilkins • Humpty Dumpty • Red Queen • Borogrove • Frog Delivery Man • Gentleman Fish • Vegetable Soldier • Vegetable Servant • Vegetable Executioner • Armored Chess Piece
Pirates of the Caribbean: Jack Sparrow • Will Turner • Elizabeth Swann • Joshamee Gibbs • Tia Dalma • James Norrington • Marty • Cotton • Bootstrap Bill Turner • Pintel • Ragetti • Angelica • Blackbeard • Prison Dog • Maccus • Davy Jones • Helmsman • Philip Swift • Syrena • Captain Salazar • Ghost Lesaro • Shansa • Henry Turner • Carina Smyth • The Redhead • Murtogg • Mullroy • Treasure Chest • Stray Cat • Tiny • Pirate With Pigs • Ghost Shark • Ghost Seagull • Auctioneer
Aladdin: Aladdin • Jasmine • The Sultan • Prince Achmed • Gazeem • Razoul • Rajah • Iago • Abu • Genie • Jafar • Magic Carpet • Pink Flamingo • Beggar Jafar • Golden Scarab Beetle • Magic Lamp • Snake Charmer • Golden Camel
The Nightmare Before Christmas: Jack Skellington • Sally • Lock, Shock, and Barrel • Oogie Boogie • Santa Claus
Mulan: Mulan • Yao, Ling, and Chien Po • Fa Li • Fa Zhou • Hayabusa • Khan • Cri-Kee • Little Brother • Mushu • Shan Yu • Captain Li Shang • The Emperor of China • The Matchmaker • General Li • Grandmother Fa • First Ancestor Fa • Chi-Fu • Great Stone Dragon
Moana: Moana • Sina • Frigatebird • Chief Tui • Gramma Tala • Pua • Frigatebird • Kakamora Chief • Maui • HeiHei • Ghost Matai • Eel • Tamatoa • Frog Monster • Sloth Monster • Eight Eyed Bat • Chicken Feed • Maui's Hook • The Ocean
Beauty and the Beast: Belle • Maurice • Chip Potts • Mrs. Potts • Gaston • LeFou • FrouFrou • Chapeau • Plumette • Beast • Cogsworth • Lumiere • The Enchantress
Lilo & Stitch: Lilo Pelekai • Nani Pelekai • David Kawena • Mrs. Hasagawa • Mertle Edmonds • Stitch
DuckTales: Scrooge McDuck • Donald Duck (Classic) • Huey, Dewey, and Louie • Webbigail Vanderquack • Mrs. Beakley • Beagle Boys (Big Time, Burger, and Bouncer) • Gyro • Darkwing Duck • Falcon Graves • Pixiu Chinese Dragon • Peghook's Ghost • Launchpad McQuack • Hack and Slash Smashnikov • Gizmoduck • Shadow Magica • Ma Beagle • Flintheart Glomgold • Pharaoh Toth-Ra • Headless Man-Horse
Community content is available under
CC-BY-SA
unless otherwise noted.