This article is about the Toy Story character. For other uses, see Bullseye (disambiguation).
"Run like the wind, Bullseye!"
―Woody to Bullseye.

Bullseye is a supporting character in the Disney/Pixar Toy Story franchise, first appearing in Toy Story 2. He is a toy horse that was a part of Al's collection, which had been in storage for several years. Eventually, Bullseye and Jessie leave with Woody and become the new toys of Andy Davis, and is later given away to Bonnie Anderson and is currently her toy. He is also considered to be Jessie's best pal and friend.
Background
Bullseye was the first Woody's Roundup toy that Woody met when he arrived at Al's apartment. Despite the fact that he is a horse, he has traits of a puppy dog. He was extremely affectionate toward Woody, Jessie, and the other toys. He doesn't have a speaking voice; instead, he neighs and makes other horse noises, as well as dog noises.
Unlike Jessie, Bullseye's original owner is unknown, as compared to Stinky Pete, Bullseye no longer has a box. At some point, he was found by Al and added to his collection and remained in storage for many years.
Official description
"This toy horse rides like the wind, especially when it's Woody giving the command. In a 21st-century real-life version of the 1950s TV episode "Woody's Finest Hour," Bullseye must gallop like crazy to rescue Jessie and Woody from a speeding plane."[1]
Personality
Bullseye is a friendly and carefree toy horse that enjoys friendship, companionship, and adventures with his friends. Bullseye appears to enjoy simple activities, including running, sprinting, playing with Jessie and Woody, and being played with by his owner. He is also very loyal to his friends and will go wherever they go and will do what they tell him. He also has a strong bond with Jessie, one of his best and closest friends.
Physical appearance
Bullseye is a ragged horse with a pink muzzle and black eyes. He also has dark brown hoofs, a brown tail, and sewn with brown wool entirely. Unlike the other dolls manufactured in the Woody's Roundup line, Bullseye is the only one who doesn't have a pull string. Bullseye also has a detachable brown saddle with cactus designs on each side. On the bottom of his plastic hoofs, he has each letter in Andy's name written on each (A, D, N, and Y).
Appearances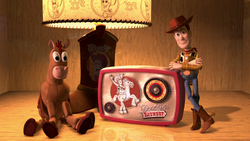 In Toy Story 2, he is a toy horse that is part of Al's Roundup collection, which he intends to sell at a toy museum in Japan. He is the first of the toys that Woody meets when he arrives at Al's Penthouse. Being in storage for several years, Bullseye is excited to see Woody finally join the collection. Despite Woody refusing to stay with the gang initially, Bullseye still happily assists Woody in retrieving his severed arm back. This shows that Bullseye is not one to hold grudges against others. He is also shown to loathe fights, as seen when he hides into a can when Jessie is about to furiously pounce on Woody for angrily blaming her for the TV incident that prevented Woody from getting his severed arm back himself. However, Stinky Pete, the Prospector stops the fight, and Bullseye expresses disappointment as much as Jessie does when Woody declares he will leave as soon as his arm is fixed. Later, when Woody is about to leave the apartment after having his arm reattached, Bullseye is still shown to be upset, but later brightens up after Woody, having learned about Jessie's tragic past, decides to stay with the gang to go to the museum.
When Andy's toys, led by a new Buzz Lightyear, break into Al's Penthouse, Slinky and Bullseye have a growling match that Jessie tries to stop, but Slinky coils her up along with Bullseye. After Woody decides to go back to Andy's house, he decides to take the Roundup collection with him. And when he asks Bullseye, the horse eagerly licks Woody. However, Stinky Pete locks Woody, Jessie, and Bullseye inside the room, and the Roundup toys end up being loaded into Al's case for its shipment to Japan from Tri-County International Airport.
At the airport, Bullseye manages to escape the case just before it reaches the end of a conveyor belt, but Jessie still remains trapped inside the case as it is loaded into the luggage transporter. Woody and Buzz mount the newly freed Bullseye, and they gallop across the airfield to rescue Jessie. Despite being separated from Woody, Buzz orders Bullseye to follow him, as they are later seen galloping next to the front tires of the plane when Woody and Jessie climb out of the aircraft. Woody and Jessie swing between the tires through Woody's pull-string, and they land on Bullseye, right behind Buzz, just before the plane takes off. Back at Andy's house, Bullseye (and Jessie) are now part of Andy's toys and have every letter of Andy's name printed on the sole of each of his hooves. Finally, Bullseye joins the other toys as they gather round to see Wheezy sing "You've Got a Friend in Me".
In Toy Story 3, he is first seen in Andy's realistic play scenario when he ferries Woody and Jessie as they chase after a train, which has been robbed by an evil, nefarious bandit couple One-Eyed Bart and Betty (portrayed by the Potato Heads).
Years later, when a teenage Andy opens his toy box to decide what he will do with the toys, he puts Bullseye in the bag destined for the attic. But Andy's slightly-aged mom mistakenly thinks that the bag is trash, and puts it out on the curb. But Bullseye, along with the other toys that have ended up in the bag, manage to escape and board the box bound for Sunnyside Daycare. Bullseye decides to follow Woody back home when Woody decides to leave Sunnyside, but Woody persistently insisted Bullseye stay with the other toys as he didn't want him to be lonely in the attic, leaving Bullseye heartbroken.
When Woody, having learned of the evil intentions at Sunnyside, returns to the daycare center and reunites with his friends, Bullseye gives Woody his hat back. Bullseye also gives Mr. Potato Head (who has caught up with the toys in a cucumber body after his tortilla body is destroyed by a pigeon) his plastic potato body back when the toys escape Sunnyside.
Finally, Bullseye, along with the other toys, is given to Bonnie Anderson by Andy when he goes away for college. In the end credits, he turns on the boom box to play "Hay Un Amigo En Mi", the Spanish version of "You've Got a Friend in Me" to which Buzz and Jessie perform a pasodoble.
Bullseye appears as a minor character in the Toy Story Toons shorts. He is present when the smaller version of Buzz Lightyear presents himself to Bonnie's toys in "Small Fry", and also appears in "Hawaiian Vacation" when Barbie and Ken sneak away in Bonnie's backpack, thinking that they snuck away to Hawaii. Later in that same short, he is ridden by Barbie during one of their personal events.
Bullseye appears once more in the fourth movie, though like many of the other toys, he has a very small role in the ultimate story. He first appears in the flashback nine years prior to the third and fourth film. As Jessie and Bullseye watch a thunderstorm approach, a streak of lightning startles both of them, causing Bullseye to cover his eyes in fear. Jessie comments on how it's raining cats and dogs. As she looks out the window and pets Bullseye, saying that she hopes Andy and the toys make it back inside alright. Suddenly, Hamm yells to them from the floor that Andy's coming, causing the two to fall limb as a soaked Andy drops off his toys. Andy soon leaves for dinner and goes to wash his hands when Woody and the others rise up in a panic due to Andy accidentally leaving RC outside in the rain. When Woody and Jessie fail to spot RC through the window, Woody assigns Jessie, Buzz, and Slinky to follow him to Molly's room while the rest of the gang stays put. It can be assumed Bullseye was saddened by Bo Peep's departure after being sold off to another owner. He is then seen at the end of the "You've Got a Friend in Me" sequence, being carried away by Bonnie in a colander along with the other toys
Nine years later and two years after the third film, Bullseye now lives with the rest of the toys with Bonnie being their new owner. He first appears with the rest of the toys waiting in the closet for Bonnie to finish her breakfast. The toys are cramped and annoyed with one another, with Bullseye comforting an anxious Jessie as she does her breathing exercises while she sits on him. He, along with Jessie, is one of Bonnie's more favorite toys rather than Woody, who Bonnie neglects. When Bonnie arrives in her room, she plays "town", and uses Bullseye as Jessie's horse while she leaves Woody in the closet. Woody watches in sadness as Bonnie plays "Hat Shop" and tries Mr. Potato Head's hat on Bullseye. Suddenly, Bonnie's father walks in and tells her to get ready for kindergarten orientation, much to her dismay. When Bonnie asks if she can bring a toy (namely Jessie) with her, Mr. Anderson says toys aren't allowed in school. After they leave, the toys are about to get up when Dolly tells everyone to freeze, since Bonnie always forgets something and could be back any second. After seeing Bonnie crying under her bed when she comes back into the room, Woody decides to sneak into her backpack to keep an eye on her, much to the other toy's dismay. During her orientation, she creates Forky, a spork who suddenly comes to life.
When Bonnie returns and drops her backpack off in her room, Woody climbs out and is scolded by the rest of the gang for breaking the rules. But Woody alleviates the situation by saying that not only did Bonnie have a great day in class and they're all going on a road trip (to which Jessie hugs Bullseye in excitement), but Bonnie made a literal friend in class. Woody pulls out Forky and introduces him to the gang. Like the others, Bullseye is both shocked and confused by both Forky's existence and his love of trash. They then watch in confusion as Woody fishes Forky out of the trash, saying how he will keep an eye on his during the road trip.
Bullseye is then seen throughout the "I Can't Let You Throw Yourself Away" sequence, sitting still as Woody frequently keeps Forky from throwing himself out. That night, while everyone else is asleep, Forky escapes out of Bonnie's hands and jumps out of the RV window. Woody then says he'll meet them at the RV park in the morning with Forky and jumps out the RV window.
The next morning, the toys sneak a spoon into a sleeping Bonnie's hand as a substitute for Forky, but to no avail, as Bonnie is distraught over losing her favorite toy. As she goes outside with her parents to look for him, the toys contemplate on what to do. Buzz (after listening to his "inner voice", AKA his voicebox) then states he must go find Woody and Forky and jumps out the window, leaving the other toys to make sure the Andersons don't leave the RV park. Meanwhile, Woody talks to Bo Peep (who is now a lost toy and helps Woody rescue Forky from the Antique Store) mentions to her how the whole gang is still together, including Bullseye.
That afternoon, the gang begins to panic as the Andersons prepare to leave with Buzz, Woody, and Forky still out there. While they struggle to think of a plan, Jessie quickly leaps out of the window and pops the front tire of the RV, much to the group's happiness.
By that night, Mr. Anderson finally fixes the tire, but Buzz arrives just in time. Buzz explains to the gang that he and Woody must be extracted from the Antique Store. As the Andersons climb into the RV, the toys collapse. Buzz whispers to the gang that Bonnie will realize she left her backpack back at the store and they will go back for it. But Bonnie doesn't notice and the RV begins to drive off. Buzz uses his voicebox and his "inner voice" once again to think of a plan. Mrs. Anderson believes Buzz to be broke and throws him in a drawer when Buzz quickly yells out to Bonnie (in a way to sound like one of his phrases): "Your backpack is at the Antique Store. Let's go!" The plan works, and the RV turns around to return to the Antique Store.
After getting her backpack with Forky inside, Woody sneaks off to help Gabby Gabby and tells him to get the RV to the carousel as a meet-up spot. While Bonnie is sleeping, Forky explains it to the gang, and Jessie comes up with a plan. Buzz climbs to the roof and tells Mrs. Potato Head where to go using her ear. Meanwhile, Mrs. Potato Head hides under Mr. Anderson's seat and repeats the directions to Trixie, who mimics the GPS in order to tell Mr. Anderson where to go. When the plan begins to fail, Buttercup then sneaks under the gas pedal and pulls it forward so the RV can go faster, eventually causing the RV to be chased by the police.
After successfully getting to the RV to the carousel, Buzz tells everyone to get to the roof while Forky locks the Andersons out of the car after dealing with the police chasing them. After stacking themselves up, the toys open up the awning as a bridge between them and the carousel. They soon climb up and the older toys are shocked to see their old friend, Bo. Woody, who wants to stay with Bo and help other lost toys, is given a large hug by Jessie. Bullseye then runs up and begins licking Woody's face, which eventually causes the rest of the gang to join the hug. Forky sneaks up to join them but leaves the doors unlocked, causing the RV to pull away. After jumping back into the RV, the gang watches as Bo and Woody wave goodbye on top of the carousel.
A year later, Bonnie drops off her backpack after her first-grade orientation. Jessie emerges from the bag and is barraged with questions by the other toys. Jessie interrupts everyone by saying Bonnie made another new friend and introduces the gang to Karen Beverly, a toy knife Forky becomes smitten over.
Gallery
Trivia
Bullseye was originally going to have a speaking voice by Martin Short, but John Lasseter decided to make him a non-speaking character since he thought it would be more appealing to audiences.
During the rescue scene in Toy Story 2, Bullseye is somehow able to run just as fast as a plane getting ready to take off, similar to how RC can catch up to a moving truck in the first film.
Bullseye may have been an inspiration to Sven the reindeer from Frozen in the sense that they both act as dogs, are very cheerful, and show extreme loyalty to their masters (Kristoff and Jessie respectively).
Even though he is Woody's horse, Bullseye seems to be more attached to Jessie, as shown mostly in Toy Story 3. He can be often seen with her at his side, usually with an arm around him. Other times (such as when something dramatic is going on), he can be seen hiding behind her, almost as if it were for protection or out of habit. This is probably due to spending more time with Jessie while still living in Al's apartment, although his loyalty to Woody still remains, such as when Woody tried to get his arm back from Al, or when Woody left Sunnyside Daycare.
Bullseye appeared on a Toy Story 2 poster with Woody and Jessie in Meet the Robinsons.
Bullseye was mentioned by Buzz when he and Woody appeared at the 2016 Oscars.
Bullseye is shown standing upright in Disney Parks, but in most Toy Story films and in the Disney on Ice and Disney Live! shows, he was shown on all fours.
Unlike the other Woody's Roundup toys, Bullseye's origins were never revealed. It could be possible Al had already owned him or he never had a true owner and was bought from collector to collector.
As of Toy Story 4, Bullseye now has the letter B for Bonnie on his front left hoof.
References
External links
v - e - d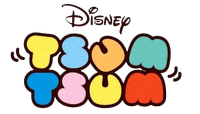 Disney
Mickey & Friends:

Mickey • Minnie • Donald • Daisy • Goofy • Pluto • Chip and Dale • Oswald • Ortensia • Duffy • ShellieMay • Gelatoni • StellaLou • CookieAnn • 'Olu Mel • Huey, Dewey, and Louie • José Carioca • Panchito Pistoles • Clarabelle Cow • Horace Horsecollar • Max Goof • Clarice • Pete • Scrooge McDuck • Ludwig Von Drake • Dr. Frankenollie • Julius

Pooh and Pals: Pooh • Tigger • Piglet • Eeyore • Rabbit • Owl • Roo • Kanga • Gopher • Christopher Robin • Lumpy
Lilo & Stitch: Stitch • Lilo • Scrump • Pleakley • Jumba • Angel • Leroy • Dr. Hämsterviel • Ugly Duckling • Sparky • 627 • Gigi • Babyfier • Yang • Slushy • Shortstuff • 625 • Amnesio • Dupe • Sample • Clip • Tank • Yin • Hunkahunka • Plasmoid
Silly Symphonies: Donald Duck • Big Bad Wolf • Practical Pig • Fiddler Pig • Fifer Pig • Ugly Duckling
Snow White and the Seven Dwarfs: Snow White • Evil Queen • Doc • Grumpy • Happy • Bashful • Sneezy • Sleepy • Dopey
Pinocchio: Pinocchio • Jiminy Cricket • Figaro • Cleo • Geppetto • Blue Fairy • Honest John and Gideon • Lampwick • Monstro
Fantasia: Mickey • Yen Sid • Chernabog • Hyacinth Hippo • Ben Ali Gator
Dumbo: Dumbo
Bambi: Bambi • Thumper • Miss Bunny • Friend Owl • The Great Prince of the Forest
The Three Caballeros: Gauchito • Burrito
The Adventures of Ichabod and Mr. Toad: Mr. Toad
Cinderella: Cinderella • Jaq and Gus • Prince Charming • Fairy Godmother • Lady Tremaine • Lucifer • Suzy • Perla • Bruno
Alice in Wonderland: Alice • Mad Hatter • March Hare • Dormouse • White Rabbit • Cheshire Cat • Tweedle Dum and Tweedle Dee • Queen of Hearts • King of Hearts • Caterpillar • Dinah • Oysters
Peter Pan: Peter Pan • Tinker Bell • Wendy Darling • John Darling • Michael Darling • Captain Hook • Mr Smee • Nana • Tick Tock • Tiger Lily
Lady and the Tramp: Lady • Tramp • Si and Am • Jock • Trusty • Peg
Sleeping Beauty: Aurora • Phillip • Maleficent • Flora • Fauna • Merryweather • Diablo • Samson • King Stefan • Goon • Owl • Rabbit
Mary Poppins: Mary Poppins • Bert • Penguin Waiter • Carousel Horse
One Hundred and One Dalmatians: Cruella De Vil • Lucky • Patch • Rolly
The Jungle Book: Mowgli • Baloo • Bagheera • Shere Khan • Kaa • King Louie • Hathi, Jr. • Raksha
Pete's Dragon: Elliott
The Fox and the Hound: Tod • Copper
The Aristocats: Marie • Berlioz • Toulouse • Duchess • Thomas O'Malley
The Rescuers: Bernard • Bianca
Oliver & Company: Oliver • Dodger • Tito • Rita • Francis • Einstein
The Little Mermaid: Ariel • Flounder • Sebastian • Eric • Ursula • Triton • Max • Scuttle
Beauty and the Beast: Belle • Beast • Lumiere • Cogsworth • Mrs. Potts • Chip • Maurice • Philippe • Gaston • LeFou
Aladdin: Aladdin • Abu • Genie • Jasmine • Jafar • Sultan • Iago • Rajah
The Nightmare Before Christmas: Jack Skellington • Sally • Zero • Lock, Shock, and Barrel • Oogie Boogie • Dr. Finkelstein • Mayor of Halloween Town • Santa Claus
The Lion King: Simba • Nala • Timon • Pumbaa • Zazu • Rafiki • Scar • Ed
Pocahontas: Pocahontas • John Smith • Meeko • Flit • Percy
Hercules: Hercules • Megara • Hades
Mulan: Mulan • Li Shang • Mushu • Fa Zhou • Khan
The Emperor's New Groove: Kuzco • Yzma • Kronk
Mickey, Donald, Goofy: The Three Musketeers: Mickey Mouse • Minnie Mouse • Donald Duck • Goofy
Chicken Little: Chicken Little
The Princess and the Frog: Tiana • Dr. Facilier
Tangled: Rapunzel • Flynn Rider • Pascal • Maximus • Mother Gothel • Queen Arianna • King Frederic • Cassandra • Fidella • Pub Thug
Wreck-It Ralph: Wreck-It Ralph • Fix-It Felix Jr.
Frozen: Anna • Elsa • Olaf • Kristoff • Sven • Hans • Snowgies • Bruni
Big Hero 6: Hiro • Baymax • Fred • Wasabi • Honey Lemon • Go Go Tomago • Tadashi Hamada • Yokai • Mochi
Zootopia: Judy Hopps • Nick Wilde • Mayor Lionheart • Flash • Yax • Gazelle • Chief Bogo • Clawhauser • Finnick • Mr. Big • Bellwether • Jerry Jumbeaux Jr.
Moana: Moana • Maui • Pua • Heihei • Tamatoa • Kakamora
Chip 'n Dale Rescue Rangers: Chip • Dale • Gadget • Monterey Jack
Phineas and Ferb: Perry
The Lion Guard: Kion • Ono • Bunga • Beshte • Fuli
DuckTales (2017): Scrooge McDuck • Huey, Dewey, and Louie • Webby Vanderquack
Kingdom Hearts: Sora • Riku • Kairi • Aqua • Xemnas • Ansem, Seeker of Darkness • Ventus • Terra • Chirithy • Lea • Young Xehanort
UniBEARsity: Mocha • Pudding • Whip • Puffy • Mont • Blanc • Souffle • Blue Rose • Charmant • Portiron • Rogue Rose • Fauve • Lucien • Horloge • La Mer • Ma Puce
Sofia the First: Sofia • Minimus • Skye
Elena of Avalor: Elena
Enchanted: Giselle
Disney Fairies: Periwinkle • Rosetta • Silvermist
The Sword in the Stone: Wart • Merlin
Oliver & Company: Oliver
Raya and the Last Dragon: Raya • Sisu
Twisted Wonderland: Grim • Riddle Rosehearts • Azul Ashengrotto • Leona Kingscholar • Kalim Al-Asim • Vil Schoenheit • Idia Shroud • Malleus Draconia • Dire Crowley • Mirror of Darkness
v - e -

d

Disney
Mickey Mouse & Friends:

Mickey • Minnie • Donald • Daisy • Goofy • Pluto • Fifi • Pete • Clarabelle Cow • Horace Horsecollar • Willie the Giant • Chip and Dale • Mortimer Mouse • Chief O'Hara • Detective Casey • Butch the Bulldog • Golden Harp • Father Time • Peter Pig


The Lion King: Simba • Nala • Shenzi, Banzai, and Ed • Ostrich • Gazelle • Rhino • Hippo • Zebra • Blue Beetle • Grub • Zazu • Rafiki • Timon • Pumbaa • Mufasa • Scar
Tangled: Rapunzel • Flynn Rider • Stabbington Brothers • Pub Thugs • Attila • Vlad • Big Nose • Hook Hand • Ulf • Shorty • Pascal • Maximus • Mother Gothel • The King • The Queen • Captain of the Guards • Warthog • The Lantern
Wreck-It Ralph: Ralph • Vanellope • Felix • Sgt. Calhoun • King Candy • Taffyta Muttonfudge • Candlehead • Surge Protector • Gene • Nicelanders • Rancis Fluggerbutter • Other Sugar Rush Racers • Sour Bill • Blue Racer • General Hologram
Big Hero 6: Hiro Hamada • Baymax • Robert Callaghan • Go Go Tomago • Honey Lemon • Wasabi • Fred • Fred's Dad • Tadashi Hamada • Cass • Yama • Alistair Krei • Heathcliff • Abbigail Callaghan • Attila • Sergeant Gerson • Cass
Zootopia: Judy Hopps • Nick Wilde • Flash • Clawhauser • Gazelle • Yax • Bogo • Mayor Lionheart • Bellwether • Doug • Finnick • Mr. Big • Mr. Otterton • Manchas • Gideon • Jerry Jumbeaux Jr. • Nanga • Priscilla • Mr. Hopps • Mrs. Hopps • Business Lemming • Duke Weaselton • Fru Fru • Kozlov • Officer McHorn • Wrangled • Wreck-It Rhino • Pig Hero 6
The Jungle Book: Mowgli • Kaa • Baloo • Akela • Raksha • Gray • Shere Khan • Colonel Hathi • King Louie • Bandar-Log Monkey • Flying Squirrel • Crocodile • Peacock • Vulture • Elephant • Bee Hive
Alice Through the Looking Glass: Alice Kingsleigh • Dormouse • Tweedledee and Tweedledum • Cheshire Cat • Bandersnatch • Bayard • White Queen • March Hare • White Rabbit • Mad Hatter • Absolem • Time • Wilkins • Humpty Dumpty • Red Queen • Borogrove • Frog Delivery Man • Gentleman Fish • Vegetable Soldier • Vegetable Servant • Vegetable Executioner • Armored Chess Piece
Pirates of the Caribbean: Jack Sparrow • Will Turner • Elizabeth Swann • Joshamee Gibbs • Tia Dalma • James Norrington • Marty • Cotton • Bootstrap Bill Turner • Pintel • Ragetti • Angelica • Blackbeard • Prison Dog • Maccus • Davy Jones • Helmsman • Philip Swift • Syrena • Captain Salazar • Ghost Lesaro • Shansa • Henry Turner • Carina Smyth • The Redhead • Murtogg • Mullroy • Treasure Chest • Stray Cat • Tiny • Pirate With Pigs • Ghost Shark • Ghost Seagull • Auctioneer
Aladdin: Aladdin • Jasmine • The Sultan • Prince Achmed • Gazeem • Razoul • Rajah • Iago • Abu • Genie • Jafar • Magic Carpet • Pink Flamingo • Beggar Jafar • Golden Scarab Beetle • Magic Lamp • Snake Charmer • Golden Camel
The Nightmare Before Christmas: Jack Skellington • Sally • Lock, Shock, and Barrel • Oogie Boogie • Easter Bunny • Santa Claus • Behemoth • Wolfman • Corpse Family • Mummy Boy • Mayor of Halloween Town • Dr. Finkelstein • Jewel • Zero
Mulan: Mulan • Yao, Ling, and Chien Po • Fa Li • Fa Zhou • Hayabusa • Khan • Cri-Kee • Little Brother • Mushu • Shan Yu • Captain Li Shang • The Emperor of China • The Matchmaker • General Li • Grandmother Fa • First Ancestor Fa • Chi-Fu • Great Stone Dragon
Moana: Moana • Sina • Frigatebird • Chief Tui • Gramma Tala • Pua • Frigatebird • Kakamora Chief • Maui • HeiHei • Ghost Matai • Eel • Tamatoa • Frog Monster • Sloth Monster • Eight Eyed Bat • Chicken Feed • Maui's Hook • The Ocean
Beauty and the Beast: Belle • Maurice • Chip Potts • Mrs. Potts • Gaston • LeFou • FrouFrou • Chapeau • Plumette • Beast • Cogsworth • Lumiere • The Enchantress
Lilo & Stitch: Lilo Pelekai • Nani Pelekai • David Kawena • Mrs. Hasagawa • Mertle Edmonds • Stitch
DuckTales: Scrooge McDuck • Donald Duck (Classic) • Huey, Dewey, and Louie • Webbigail Vanderquack • Mrs. Beakley • Beagle Boys (Big Time, Burger, and Bouncer) • Gyro • Darkwing Duck • Falcon Graves • Pixiu Chinese Dragon • Peghook's Ghost • Launchpad McQuack • Hack and Slash Smashnikov • Gizmoduck • Shadow Magica • Ma Beagle • Flintheart Glomgold • Pharaoh Toth-Ra • Headless Man-Horse