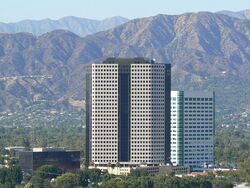 Burbank, California
is a city in
Los Angeles County, California
. It was founded in 1887 and incorporated in 1911. As of
2004
, its population was 105,400.
Burbank is best known as the home of The Walt Disney Company and Walt Disney Studios.
Notable Disney films and television programs filmed in Burbank
Most Disney productions filmed in Burbank are filmed at the Walt Disney Studios. An asterisk indicates the production company is not owned by Disney. If no production company is listed, this indicates the film was produced under the Disney marque. Films are in italics.
Boy Meets World (1993-2000, ABC, Touchstone Television)
Davy Crockett, King of the Wild Frontier (1955)
Disneyland (1954-Current, ABC)
Home Improvement (1991-1999, ABC, Touchstone Television/Wind Dancer*)
Lizzie McGuire (2001-2004, The Disney Channel, Walt Disney Television/Stan Rogow Productions*)
Lost (2004-2009, ABC, Touchstone Television/Bad Robot*)
My Wife and Kids (2001-2005, ABC, Touchstone Television/Wayans Bros. Entertainment*)
The Prestige (2006, Touchstone/Warner Bros.*)
Pretty Woman (1990, Touchstone)
Sports Night (1998-2000, ABC, Touchstone Television/Imagine Television)
People