"Burdens & Boynado" is the thirteenth episode of Season Four of the sitcom Austin & Ally. It aired on August 23, 2015.
Synopsis
Trish's boy band client, Boynado, cannot agree on anything. Trish and Dez make up a camp to help them get along. However, the last activity pushes the band to its limits, making them split up. Dez makes Trish realize that Rupert is causing all the problems. If she can find a replacement then Boynado can get back together. Meanwhile, Austin and Ally help an Austin Moon impersonator named Benny get back on his feet. Nobody listens to him anymore now that Austin can sing again. Austin offers him to stay at their music factory. Unfortunately, Benny begins taking advantage of the place, leaving messes and procrastinating about what he is going to do in the future. Ally eventually gets Austin to kick him out. While Benny is finishing packing, nearby, Trish explains that the problem with Boynado is Rupert. Benny hears and explains that Rupert is his favorite Boynado member and he knows all of Rupert's parts. Trish hires Benny to replace Rupert in the band. Benny does an amazing job and no longer lives at the music school.
v - e -

d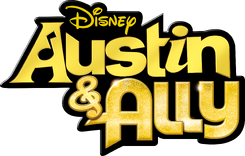 Songs
"Can't Do it Without You" • "Double Take" • "Break Down the Walls" • "A Billion Hits" • "Not a Love Song" • "It's Me, It's You" • "The Butterfly Song" • "Trash Talka" • "Better Together" • "You Don't See Me" • "Heard it on the Radio" • "Heart Beat" • "Na Na Na (The Summer Song)" • "The Way That You Do" • "Illusion" • "Don't Look Down" • "Who I Am" • "Got It 2" • "Christmas Soul" • "Can You Feel It" • "Face to Face" • "No Ordinary Day" • "You Can Come to Me" • "I Think About You" • "Finally Me" • "The Ally Way" • "Steal Your Heart" • "Timeless" • "Living in the Moment" • "I Got That Rock and Roll" • "The Me That You Don't See" • "Better Than This" • "Chasin' the Beat of My Heart" • "You Wish You Were Me" • "Redial" • "I Love Christmas" • "Austin & Ally Glee Club Mash Up" • "Who U R" • "Upside Down" • "Stuck on You" • "Me and You" • "What We're About" • "Look Out" • "Superhero" • "Parachute" • "No Place Like Home" • "Play My Song" • "Dance Like Nobody's Watching" • "Take it from the Top" • "Jump Back, Kiss Yourself" • "Perfect Christmas" • "You've Got a Friend" • "Two in a Million"